The spooky season is over. Yeah, all of us here are feeling pretty sad about it, too. As the pumpkins on our front steps go from terrifying smiles to even more sinister rotting frowns, it's good to know that there is still a boatload of fantastic movies and shows on the horizon. So, whether you're waiting for next October or, like me, horror is on 24/7/365, there's plenty more shocks, screams, and scares to obsess over.  
Here's a list of upcoming releases and where you can find some post-October scares. Some of the titles will be released theatrically, to streaming services, VOD, or on physical media. Because some of the titles are still in production, we may not know how they'll be released just yet. This is in no way a complete list, and release dates are subject to change.
---
November 5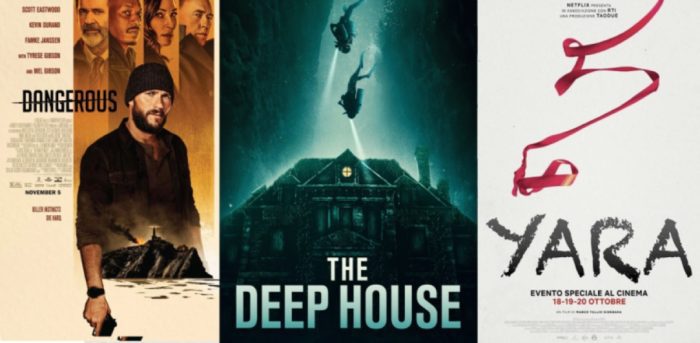 Saw V director David Hackl brings us the story of a sociopath (Scott Eastwood) looking for the truth behind his brother's murder. It also stars Kevin Durand, Famke Janssen, Tyrese Gibson, and Mel Gibson (not related). 
The Deep House (Epix / VOD)
A couple of social media influencers travel to France to explore the ruins of a haunted house. What's the twist? The house now sits at the bottom of a secluded lake.  
Based on a real case, this Italian film finds a determined prosecutor going to extreme lengths to get to the truth in a case involving a missing 13-year-old. 
November 7
There's nothing like a killer comeback. After Dexter's final season in 2013 left fans of the series with a sour taste in their mouths, the cleanest serial killer in the business is back. Dexter will have to toe the line in a close-knit winter wonderland town of nosy neighbors and cops as a string of murders reignites his dark passenger's hunger. 
November 8
This Dutch-language film became available on VOD over the summer but is now making its way to Shudder. Tailgate tells the story of a man taking a trip with his family until a road rage incident turns into a nightmare on wheels as the other driver begins pursuing them.  
November 9
Screening as a part of this year's Salem Horror Fest in October, Hideout is a supernatural thriller by way of Reservoir Dogs. After a liquor store robbery goes awry, a group of thieves finds themselves taking hostages in a house in the middle of nowhere. A game of cat and mouse unfolds, but this thriller soon blurs the lines between who is holding who hostage.  
Another title from this year's Salem Horror Fest, Lair draws you in with a Conjuring style premise of haunted items and possession. The opening alone will have you hooked through the rest of the movie as a vacationing family is put through the wringer by a paranormal investigator experimenting with possessed antiques. 
Ten strangers' lives intersect when a mutating fungus begins spreading and wiping out everyone that comes into contact with it. 
A Stalker in the House (VOD)
Ever had a bad date? Well, Scout Taylor Compton (Rob Zombie's Halloween) has, but Mike's (Jack Pearson) just not getting it. Now, every time she's alone with someone else, they become a target for the obsessive stalker who sneaks around her home when she's out or sleeping. 
That Cold Dead Look in Your Eyes 
Onur Tukel's (Summer of Blood) latest about a man about to lose everything. Could the new technology installed in the city be to blame for his vivid hallucinations and constant stress? He'll have to escape the city or end up trapped in his ferocious nightmare forever. 
November 11
When their plane crashes miles from the shoreline, a stranded group of tourists must fight to survive as supplies run low and two sharks circle the waters below. Stars 30 Rock's Katrina Bowden. 
A critic favorite, this slow-rising intense thriller starts with a couple stranded in the wrong place on a road trip. It gets menacing as they begin to suffer hallucinations after seeking shelter in the farmhouse of an elderly woman and her unusual son. 
November 12
Bruce Willis is the most dangerous game in Broil director Edward Drake's latest. Doing time for a crime he didn't commit, Thomas Malone (Willis) can win his freedom if he can survive the six people hunting him.  
November 15
You may have missed this cult classic from Ben Wheatley (In the Earth) when it was released ten years ago, but this story of a hitman getting back into the game after a botched job benched him a year earlier is definitely worth a watch. What starts as a simple assignment soon becomes a terrifying journey into the heart of darkness.  
November 16
Ankle Biters

 (aka 

Cherrypicker

) (VOD/DVD)

 
When four sisters mistake an act of lovemaking by their mother's new boyfriend for an attack on her life, they band together to protect her at all costs.
Nia DaCosta's Candyman comes home for the holidays on physical media… or you can try saying his name five times in your bathroom mirror. 
The Evil Dead: Groovy Collection

(4K/Blu-Ray)

 
Featuring some fantastic cover art, this collection contains The Evil Dead and Evil Dead 2 on 4K and Blu-ray, the complete series of Ash Vs Evil Dead on Blu-Ray, plus a bonus DVD with over three hours of content. The real draw is the "Groovy" artbook, but without Army of Darkness or the recent documentary Hail to the Deadites, the collection has its drawbacks. 
Maniac Cop 2

&

3

(4K/Blu-Ray)

 
Need more Bruce Campbell in your life? Need to upgrade that VHS or lackluster Blu-Ray? Consider the sequels to Maniac Cop, where a vigilante cop goes on a murder spree for justice now in stunning 4K with Dolby Atmos audio tracks. 
Fresh from its festival run, Motherly is the story of Kate (Lora Burke), who relocates to a secluded farmhouse with her daughter following a tragic incident. When that past catches up to them, Kate will have to fight to protect her daughter so history doesn't repeat itself. 
November 19
Evil Dead's Bruce Campbell, Spawn's Michael Jai White, and Final Destination's Devon Sawa take out parasitic alien shoppers as the worst day of the year for retail workers gets even worse in this bonkers looking romp. 
Serving an affluent family during a dinner party, a hired waitress tests the beliefs and values of the partygoers as they try to broker a deal to mine the Welsh countryside. The Feast looks like an uncompromising ecological folktale that threatens to be both grotesque and brutal. 
Though it's more comedy fare than horror, Ghostbusters: Afterlife still deserves mention. Halloween: The Curse of Michael Myers' Paul Rudd (see how I'm trying to make this fit) stars as we welcome a new generation of Ghostbusters in Jason Reitman's new Ghostbusters adventure.
The director of Train to Busan takes us to a world where you know when your time is up, and creatures appear to drag you to hell. 
Westworld's Angela Sarafyan and NOS4A2's Paul Schneider star in the Epix original film about a family on the rocks trying to reconnect on vacation. Things get interesting when their neighbors show up for dinner and begin musing about the devil before holding the family hostage. 
Inspired by the ludicrous real-life conspiracy theory that democratic politicians are lizard people involved in sex cults and child trafficking out of a pizza place in Texas, this deeply satirical horror-comedy sees a journalist team up with a far-right militiaman on a journey to expose the ugly truth.  
Available on VOD now, Nicolas Cage's admitted "Wildest film [he's] ever made" makes its way to Shudder. Cage is fitted with an explosive bodysuit that will kill him unless he manages to bring back the reprehensible governor's (Bill Moseley) granddaughter (Sofia Boutella) from a cursed realm known as The Ghostland. 
November 23

Arrow Video's limited edition release of Dario Argento's vibrant Giallo in stunning Ultra HD. 
Invasion of the Body Snatchers

(1978) (4K Blu-Ray)

 
Kino Lorber restores Phillip Kaufman's science fiction horror classic starring Donald Sutherland, Brooke Adams, Jeff Goldblum, Leonard Nimoy, and Veronica Cartwright.  
Night Gallery

: Season One (1969)

 
The First Season of Rod Serling's follow-up show to The Twilight Zone arrives on Blu-Ray care of Kino Lorber. 
Phantom of the Mall: Eric's Revenge

(1989) (Blu-Ray)

 
When greedy land developers set fire to his house and steal his land, Eric (Derek Rydall) returns to haunt the shopping center they built in its place. Three cuts of the 1989 film come to Blu-Ray, care of Arrow Video. 
Mitch Jenkins and Alan Moore imbue a feeling of Twin Peaks in their film The Show. What starts as a quest to recover a stolen artifact quickly becomes a portrait of a town that changes when the sun goes down.  
Seen at Salem Horror Fest back in 2020, Shudder is picking up this ambient, slow roll, dead of winter tale about Catherine (Teagan Johnston), a talented musician seeking solace in her aunt's remote cottage after her band breaks up. After hiring a photographer (Jenna Schaefer) to take photos inside an abandoned farmhouse, Catherine soon notices strange, supernatural things following her wherever she goes.  
November 24

While I'm not yet sold on this reboot of films based on the Capcom horror game franchise, I can't say I'm not intrigued. While some of the more digital monsters leave a little something to be desired, the movie does seem to hit on the tone of the video game more. This time we'll see Kaya Scodelario and Robbie Amell portray siblings Claire and Chris Redfield as they investigate the origins of the T-Virus inside the Spencer Mansion.
November 26
Shepherd (UK release; US release unknown)
Following the death of his unfaithful wife, Eric (Tom Hughes) takes a job as a shepherd on a majestic island. What begins as a simple job far away from the life he left behind quickly becomes a fight for his sanity.
November 30
Currently available to see on VOD platforms, Coming Home in the Dark is a brutal horror-thriller about a kidnapped school teacher forced to face his past and one of the best horror films I've probably seen this year. This one is unmissable. Mark your calendars.  
James Wan's part giallo, part Hellenlotter film arrives on physical media. The perfect gift for your friend, whether they're real or imaginary. 
Rose Glass's religious horror film about an overzealous nurse and her terminal atheist patient loses its Epix exclusivity.
December 1
Mena Suvari and Alexis Knapp star in this story of a woman forced to face her past while investigating her mother's death. 
December 3
Malignant's Annabelle Wallis joins Kiera Knightley, Matthew Goode, Kirby Howell-Baptiste, Lucy Punch, and Lily-Rose Depp for a Christmas dinner party with a twist: it's the end of the world. Imagine if It's a Disaster had some yuletide flair, and you're probably on the right track.  
December 7 

Available now on VOD, Jacob Gentry's dizzying horror conspiracy thriller about a video archivist who becomes obsessed with a series of pirated interruptions and how they may relate to the disappearance of his wife. 
Season two of the Creepshow series comes home for the holidays. Including all nine episodes from the season plus the animated Halloween and Christmas specials, three featurettes, a photo gallery, and a comic art booklet. 
Krampus: The Naughty Cut 

(4K/Blu-Ray)

 
Michael Dougherty's 2015 horror-comedy gets an unrated cut courtesy of Shout's Scream Factory. 
Available now on VOD, Josh Ruben's wickedly fun werewolf whodunit arrives on Blu-Ray. 
December 9
An antique wooden advent calendar may contain the secret to healing a wheelchair-bound ex-dancer, but it also causes immeasurable repercussions.
December 13 
Balsam: A Paranormal Investigation 

(DVD / VOD)

 
In this documentary, Friday the 13th's Kane Hodder leads a team of paranormal investigators through The Grand Old Lady Hotel in Balsam, North Carolina. A place dubbed by locals as "The South's Stanley Hotel." 
December 17
On the imminent arrival of their first child, Georgia (Chloe Grace Moretz) and her boyfriend Sam (Algee Smith) begin a journey to escape the country amidst an android uprising. The couple must venture through the artificial intelligence stronghold known as No Man's Land if they have any hope of Georgia safely giving birth. 
Guillermo Del Toro's remake of Edmund Goulding's 1947 film will feature Bradley Cooper filling Tyrone Power's shoes as Stan Carlisle, a carny with a knack for manipulation. Stan gets more than he bargains for when he meets Dr. Lillith Ritter (Cate Blanchett), a psychiatrist more dangerous than he is. 
December 21
Joan Crawford's final film about a prehistoric missing link that goes on a murderous rampage arrives on Blu-Ray for the first time courtesy of Shout factory. 
The Vampire Lovers: Collector's Edition

(Blu-Ray)

 
Shout's Scream Factory release about the chaos caused by a female vampire in an eighteenth-century European village. This release features a newly restored 4K scan from the original camera negative, multiple audio commentaries and featurettes, an alternate/deleted scene, and more. 
January 1
The only synopsis I can find says Dr. Gift is an '80s slasher-ghost story starring Danielle Harris (Halloween 4, Hatchet II). And that's enough for me to want to see it.
Lore 

(2022) (UK release; US release date unknown)

 
Anthology film about four friends on a ghostly tour telling each other the scariest stories they know. 
A telephone psychic (Susan Priver) is pulled into a web of mystery when she receives a call from a serial killer. Enlisting the help of a clairvoyant and her father, the group will try to stay one step ahead of the murderer as the killings she sees in his future become more and more brutal.  
January 14
Hello, Sidney. Neve Campbell, Courtney Cox, and David Arquette return to Woodsboro after a new Ghostface surfaces. Directors Matt Bettinelli-Olpin and Tyler Gillett (Ready or Not) are playing this one close to the chest, but hopefully, we're in for a fun-filled, blood-soaked ride. 
January 18
Shock 

(aka 

Beyond the Door II

) (Blu-Ray)

 
Mario Bava's superior sequel to Beyond the Door gets a 2K restoration for this high-definition presentation from Arrow Video. And by sequel, I mean in the same way Lucio Fulci's Zombi 2 is a sequel to Dawn of the Dead.  
January 21
Servant 

Season 3 (Apple TV+)
M. Night Shyamalan's Emmy-nominated series returns, and fans should prepare for a much darker season. After the tragic death of her thirteen-week-old son, Dorothy Turner (Lauren Ambrose) suffers a psychotic break. To snap her from a catatonic state, her therapist suggests using a doll for therapy with her husband. Believing the doll is her child, Dorothy hires a nanny (Nell Tiger Free) to care for her son, and strange things start happening. Catch up on the series now—this one's wild.
January 25
Sleep

 (aka 

Schlaf

)

 (Blu-Ray)

 
Currently available with an Arrow Player subscription, this 2020 German folktale finally makes its way to Blu-Ray in a Limited-Edition Arrow Video package. Marlene (Sandra Hüller) discovered the place from her nightmares when she visited the remote village of Stainbach, and it caused her to be institutionalized. Years later, her daughter travels back to the town and learns of a horrific family curse—a demon that causes never-ending nightmares. 
Woodlands Dark and Days Bewitched 

(Blu-Ray)

 
Kier-La Janisse's festival favorite documentary is about the roots of folk horror, its revival in the last decade, and how we protect, sequester and distort historical narratives to fit our current predicaments. 
January 28
Jared Leto is the titular biochemist suffering from a blood disorder that accidentally turns himself into a vampire while seeking a cure. This adaption of the Marvel comic book from the studio that gave us Venom is only rated PG-13, but Leto looks utterly terrifying in the CGI-enhanced sequences of the trailer. 
February
March
Unwelcome

(3/17)

The Texas Witch

 

(3/25)

Weredeer

(TBD)
Beyond
Zomblogalypse

(4/1 UK only; US date unknown)

 

 

Insidious: The Dark Realm 

(4/5)

Wolf Hollow

(5/5)

Witch

(5/10)

Nope 

(7/22)

 

Dark Harvest

(2022) (9/9)

Halloween Ends

(10/14)

 

Paranormal Activity 8: The Other Side 

(10/28)
TBD
Bagman Rising

 

Creepshow: Season 4 (Shudder)

Dark Circles

 (aka 

The Events Surrounding a Peeping Tom

)

 

Ellen

(Series)

Evil

:

Season 3 (Paramount+)

 

The Exorcist

 (2023) 

 

Hellraiser 

(F

ilm – 2022) (Hulu)

 

Hellraiser 

(TV series)

 

Horror Express

 (2022)

 

The Possessed 

 

The Seed 

(2021)

 

She's Still Here

 

Stranger Things

 (Season 4) (Netflix)

 

Tattered Hearts

 

The Texas Chainsaw Massacre

 (2022) (Netflix)

 

They See You

 

Terrifier 2

Videotheque

 
---
Looking for more upcoming horror in 2022? We've got you:
"Final Girls Berlin Film Fest Announces Full 2022 Lineup"