When The Evil Dead premiered in 1981, Bruce Campbell was only 23. Twenty-one-year-old Sam Raimi didn't know what he had started. The Evil Dead had even earlier beginnings as a short film entitled Within the Woods (1978). The young filmmakers started with a budget of around $1500 and started a franchise that would continue to this very day. They used this film as a marketing and fundraising tool for the feature-length film they hoped to make. The filmmakers were persistent in their fundraising and didn't give up on making this film.
After other avenues were exhausted, they resorted to asking family members for assistance. There are stories about how far Raimi would go to get the perfect shot. There is a story about him nearly running Campbell over with a dirt bike while trying to get the ending sequence. He had a camera strapped onto his bike. Fast-forward to today and The Evil Dead is still going strong. Persistence pays off! There have been sequels, remakes, a tv series, graphic novels, video games…and even a musical production.
What Is It About This Concept That Is So Persistent?
This is a beloved franchise with branches that spread into comic books, television series, and even a musical production. Several films have been made since Evil Dead that features young people traveling to a cabin in the woods. The cabin can even be seen as a character itself.
Young people going on a trip to an isolated cabin and having their vacation turn into a nightmare has been repeated. Why? Well, it taps into a fear we have of the unknown outside of our familiar surroundings. When we travel to the deep, dark woods, we are outside of our element and domain. How much do you trust your friends and traveling companions? How well do you know your family? How safe are you really?
And, of course, Bruce Campbell brings his unique delivery and humor to the franchise. The Evil Dead would not have had this long life without him!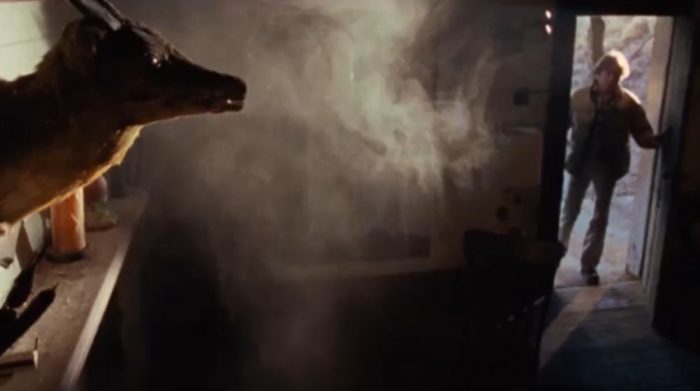 The Cabin Is Gone
The actual cabin is gone and according to Atlas Obscura, the cabin from the original Evil Dead was in Morristown, Tennessee, but unfortunately, it burned down, so there isn't much to see. Screen Rant explains what happened. Rumors circulated that Raimi had it burned because he believed it was haunted, and, alternately that the cabin was struck by lighting. The truth seems to the that some young people who were camping illegally outside the cabin accidentally started it.
Screen Rant asks that you please don't make a pilgrimage to see the cabin. The article warns us that the site is on private property in rural Appalachia. When we trespass on private property in these mountains, we can get shot at…or worse. Don't you watch the movies?
Next Came Evil Dead II
This installment brought us the goofy slapstick humor we all love. It was unique at the time. Everyone was not doing this, but, as I've said before…mixing horror and humor can be tricky and can miss the mark, but this was on target! The filmmakers had a much better budget for this film after the success of The Evil Dead. This film continues themes introduced in the first film, as well as revisits the original film. It then plops him into the Middle Ages.
Next, the Army of Darkness Invaded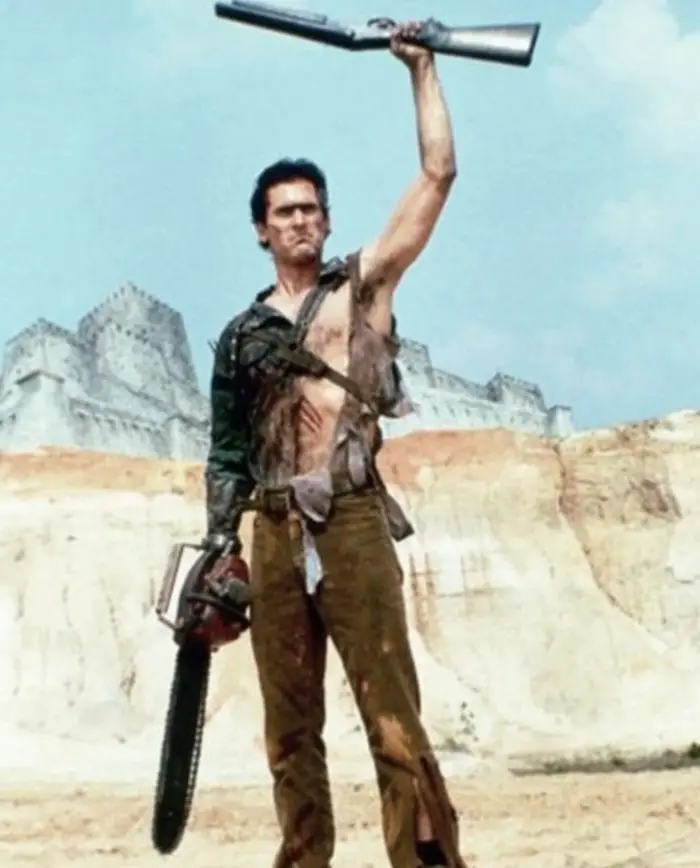 This is my favorite incarnation of the franchise. We take Ash Campbell out of the cabin and his job at S-Mart and drop him into Medieval times! I love horror-comedy and this film has a perfect mix of comedy and horror. Ash continues with the smart-arse banter that we love him for. There are scares and gross effects. I fondly recall this one as I saw it when it was first released. I worked at K-Mart and enjoyed that Ash worked at a similar establishment. I saw this film on a date in our small-town theater. I don't think I went out on another date with that guy, but I have watched this movie many times!
A New Day for The Evil Dead
The reboot arrived in 2013. Rodo Sayagues and Fede Alvarez brought Sam Raimi's original story back to life in 2013. According to IDMB, the film had a budget of $17,000,000 with a worldwide gross of $97,542,952. This installment did not include Bruce Campbell's character but introduced a new group of young people. The story involved five youthful friends summoning evil with a book in a cabin. Bruce Campbell makes a brief appearance in the credits but is not included in the main film. Reviews described the film as darker and more serious than the original.
Evil Dead Rise is an upcoming film written and directed by Lee Cronin, produced by Robert Tapert, and Sam Raimi, and Bruce Campbell serving as executive producers. It is expected to be released in 2022 via HBO, according to Variety.  This film isn't expected to feature Ash Williams or the cabin in the woods but will feature two sisters battling the evil dead in an urban setting.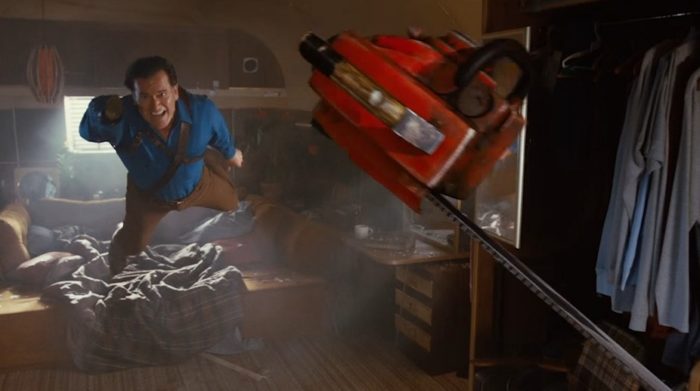 Ash Versus the Evil Dead
Ash vs the Evil Dead, a series on Starz was awesome! We got our dose of Ashy Slashy and learned more background about his life and introduced new characters. Lucy Lawless makes an appearance. She and Bruce Campbell worked together previously in Xena, Warrior Princess. We also learn some backstory about Ash after his run-ins with the Evil Dead, and how his community shunned him, blaming him for the deaths at the cabin. There is also new life in the series and young people accompany Ash in his pursuit of the Evil Dead.
"Groovy."
A season 2 episode of Creepshow depicted Ted Raimi taking the Necronomicon to a public television studio for an Antiques Road Show-type appraisal. As the antiquarian book expert reads a passage aloud, Ted Raimi transforms into a deadite. The public television station is plunged into chaos as the deadite disease spreads among the cast and crew members. (Sean Parker reviewed this episode when it aired.)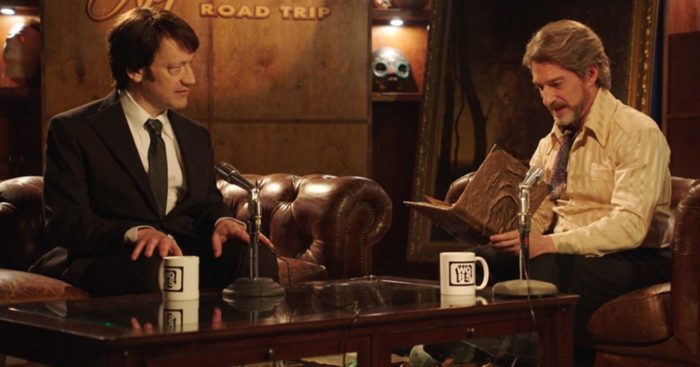 The Evil Dead won't die. We won't let it! After 40 years, the franchise has a cult following and is being discovered by a new generation of fans. Bruce Campbell and the deadites are here to stay. I don't like musicals but I might have to check this one out.