Have you ever just stumbled upon a movie by chance and then really liked it? That's what happened to me with The Spore. The opportunity to review it fell into my lap pretty unexpectedly, and I'm super glad it did. I had a really fun time watching this movie, and if you get the chance to check it out, I think you will too.
Directed by D.M. Cunningham and starring Haley Heslip, Peter Tell, Jackson Ezinga, and Jeanie Jefferies, The Spore is an eco/body horror film that follows a deadly fungal infection as it slowly spreads through a small community. Rather than tell a single, continuous narrative, it takes a quasi-anthology approach, telling the stories of various residents in this community as they come into contact with the horrific fungus.
However, unlike traditional anthologies, these stories aren't entirely isolated from one another. Not only are they all about the same mysterious disease, but they also interconnect in much the same way as the segments in the 2016 gem Southbound. On top of that, as The Spore goes on, you also learn more and more about its deadly malady. The information is never laid out in a systematic way through exposition dumps, but you pick up bits and pieces just by seeing the various ways it affects different people.
Initially, these stories are pretty slow. The first few are almost entirely devoid of any real plot or characterization, so they're all about the atmosphere and the visuals. That approach is always risky, but it works quite well here. The atmosphere is pretty gripping, and the fungus's victims are absolutely grotesque.
For example, a lot of them look like they've been mummified, and one of them even looks like a smaller-scale version of Michael Rooker's character at the end of Slither. Admittedly, you do sometimes get the feeling that The Spore has to limit its great visuals due to some budgetary restraints, but when it does show you the gruesome effects of this fungus, they're a real treat to behold.
All that being said, I have to admit that the slow pace and the lack of any real story began to grate on me after about 20 minutes or so. It just became too much for me, and if I didn't have to watch the whole thing to review it, I might've even turned it off soon after that.
But luckily, The Spore picked up the pace about halfway through, just a hair's breadth before I started to really check out, and if I had known it was going to do that, I would've enjoyed the slow parts a lot more. See, my problem wasn't with the slowness per se. Rather, it's that I thought the film was going to maintain that same extreme style-over-substance feel the whole way through, and I knew that an entire hour and a half of it would just drive me crazy.
However, now that I know the movie picks up later on, I'm totally fine with that slow first half. I can accept it and enjoy it for what it is, and if I were to watch the film a second time, I would absolutely eat up every second of it. So if you watch it and you find yourself feeling the same way I did, stick with it. Just enjoy the visuals and the atmosphere for the time being and know that you'll get some meatier storytelling soon enough.
And when that time comes, it gets very meaty. The second half of The Spore adds some really great dialogue that instantly endears you to a few of its characters, so even though you don't get to spend too much time with them, you come to really care about them. You want them to stay safe, so when things inevitably start to go south, it's more than just atmosphere and visuals. There's genuine emotion here as well, and it really draws you into the story in a way the first half never did.
On top of that, the second half also raises the age-old question of how far you should go to help other people. At one point in the film, one of the characters has to choose between throwing others to the curb to stay safe or putting herself in danger to help them, and while that's admittedly a bit of a cliché, The Spore just does it so well that you'll feel the weight of the dilemma no matter how many times you've seen it before.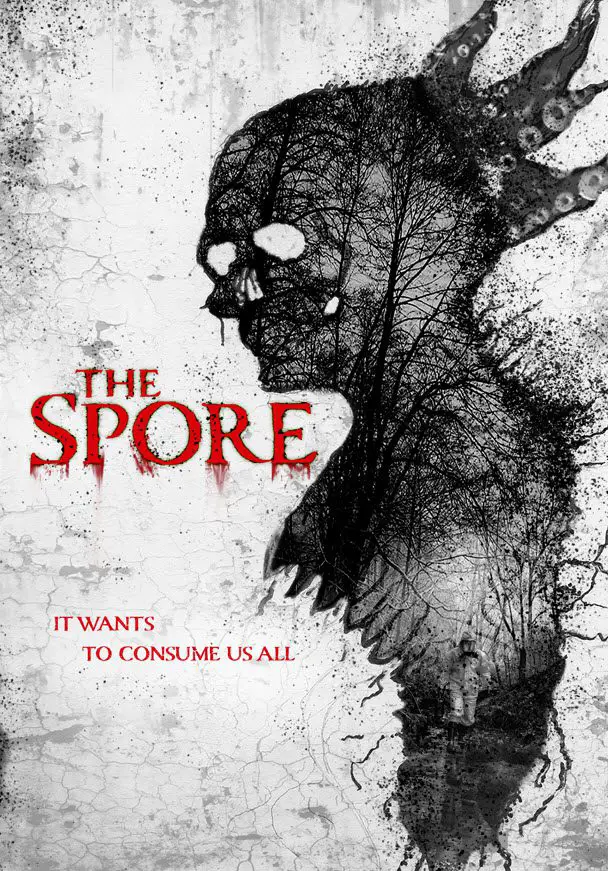 All in all, I don't really have anything negative to say about this film. The only thing that bothered me was the extreme slowness in the first half, but that ended up not being a problem after all, and as I said, if (hopefully when!) I get a chance to watch it again, it won't faze me in the slightest. Granted, if you absolutely hate that ultra slow-burn approach, then maybe it'll kill the whole movie for you, but other than that, there's nothing in it that I think is really going to give fans too many problems.
So if you get a chance to watch The Spore, I highly recommend it. It's a really fun mashup of eco-horror and body horror (with a few creature feature elements too) that combines some of the best elements of anthology films and more traditional singular storylines, so if any part of that description appeals to you, I think you're going to like this movie.
The Spore had its premiere at Grimmfest on October 9, and if you're attending the virtual festival, you'll be able to watch it on October 15 from 1:30-11:30 PM (BST). But if you're in the states and you can't attend Grimmfest, don't worry, The Spore is getting released here, too. It'll be available on VOD and DVD (but sadly, not Blu-ray) on November 9.