Relationships are hard. Trusting someone else enough to give them your heart is difficult in this callous, unfeeling world where intimacy is often confused with the physicality of being naked instead of the emotional aspects. No matter how deeply one person feels for another, could the other ever understand? I felt a genuine connection to Emily Bennett's Charlie at the start of Alone With You, waiting on someone to recognize the outpouring of emotion flowing through them by considering their actions over articulating themselves through proper communication. 
The first few moments of Alone With You tell a sad story of a flailing relationship. We meet Charlie (Bennett) nostalgically recalling her best memory at the beach with her girlfriend, Simone (Emma Myles), before catching her with another lover. Shifting to what feels like months later, Charlie and Simone are about to celebrate an anniversary milestone. The tone feels hopeful, and Charlie seems excited to have surmounted the tumult that once consumed her relationship. While awaiting Simone's return from an out-of-town photoshoot, things take a mysterious turn. While getting prepared to impress her beau, strange noises begin emanating from inside the apartment. It appears she's not alone as we see a shadowy figure lurk in the background, and the scene becomes more harrowing as her door jams, trapping her inside the apartment with it.  
There are a lot of well-conceived moments of back-and-forth facilitating an argument in Charlie's consciousness in Alone With You. Charlie remembers the good times in her relationship while slowly becoming disappointed by the lack of Simone's presence and acknowledgment. As that heavy-heartedness grows greater, Charlie begins finding anger and resentment. The film properly descends slowly on a degrading scale from hopeful to lonely. We only get the one perspective here, but adjusting to the point of view of her facetiming friend Thea (Dora Madison), Simone may be properly in the wrong, but Charlie does seem to make herself unavailable to exclusively tend to Simone, even if it isn't warranted.  
Horror icon Barbara Crampton makes an appearance in a supporting role as Charlie's mother, who first comes across as a well-intentioned but overbearing individual herself, transforming into an unaccepting, reserved, and manipulative character as the exchange between mother and daughter continues. It feels like a relationship severed years ago through religious zeal and prejudice toward the lifestyle Charlie leads, viewing Charlie's actions as a choice as opposed to the reality of who she is through the designation of Simone as her roommate. Still, some of the same socially reserved traits found in Charlie's mother make themselves known in Charlie as the audience becomes more aware of her personality. I think that's worth noting because of how intricate Emily Bennett and co-writer/director Justin Brooks' characters are in the film.  
Every time Charlie edges toward anger, the lights flicker, and things tend to get stranger. At the end of the conversation with her mother, Charlie quizzes her on the time. Her darkened apartment, routine, and calls from Thea bar have given the impression it's late in the evening. However, the clock on her laptop isn't working, and the light at her mother's house in the same time zone doesn't align with reality. Her mother confirms it's quarter past two in the afternoon. You now get this feeling of depression setting in, and there are moments throughout the isolative narrative. As Justin Brooks said in an interview with Horror Obsessive's Alix Turner,  
I think, personally, this film comes almost from a grieving of self, a loss of identity. It's the loss of oneself and the relationship you have with who you are. I think any of us that have gotten deeply involved in relationships find that we lose ourselves a little in those relationships, and that's really what I wanted to talk about in the beginning.
As the film intensifies and Charlie begins unraveling, unnerved by a possible presence within the apartment and overwhelmed by strange, inexplicable occurrences, it began to remind me of Coraline. Hear me out on this. The film feels heavily inspired by Roman Polanski's Repulsion and reminded me a lot of the 2015 film Dark. Still, with the eerie dismantling of tangibility in the apartment, reason is traded for fantasy as the film works towards its resolution. In Coraline, it's a child seeking affection from her disapproving mother and entering a version of her home where everything is joyful, quickly finding that it's all a lie. In Alone With You, Charlie uses all her energy fighting with Thea and her mother, succumbing to the emotional weight of defending her relationship with Simone that she so desperately wants affection and comfort from. As a result, the veneer of perfection presented in the apartment begins to peel, and Charlie is forced to accept a hard truth. Her final call to 911 sealed the comparison to me, along with the audio presentation on the 911 line degrading a little more with every new call she makes. The conclusion reveals the reason why everything in Charlie's life is falling apart. 
Alone With You is an extremely taut psychological thriller. Once the otherworldly, abnormal pieces start, it hooks you, making the claustrophobic unraveling of Charlie's psyche a suspenseful ride. The ending isn't hard to assume, especially once you recognize the way Charlie is coping with the situation, but the presentation is exhilarating. Between Bennett and Brooks' short, Bed, and now Alone With You, I'd say this is a pair of filmmakers just getting started, and they are highly effective in their horror prowess. Bennett and Brooks are a sharp, creative pair. Alone With You blew me away with their powerful story of relationship nostalgia and how sentimental memories can haunt us after a distressing breakup, making us question everything about ourselves.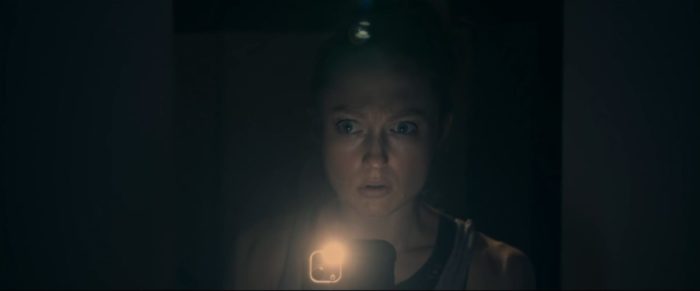 Alone With You is playing Sunday, October 10, as part of Salem Horror Fest's second weekend. It will also appear as a part of their virtual festival beginning October 22. Bennett and Brooks' Bed is also playing in the shorts section of the festival. Individual tickets are not for sale. Passes for the whole festival, including the virtual portion or just a weekend, can be purchased through the Salem Horror Fest website.