One would like to imagine that the premise behind horror-comedy Werewolves Within came as an extension of director Josh Ruben's debut Scare Me. That 2020 campfire-style horror indie involved a hapless writer (played by Ruben himself) trying to finish his werewolf revenge novel. Instead, for the less well-versed like yours truly, Ruben's sophomore effort is actually based on a Ubisoft video game. It's not your typical video game adaptation but more of a genre-bending chamber piece, branded with a larkish personality.
Written by Mishna Wolff (hehe!), Werewolves Within is a murder mystery whodunit with an irresistible lycanthropic twist: instead of Knives Out, think "Claws Out." It's also a small-town farce where the political/environmental division of the town gets torn apart even more by a wolf person. Based on the opening quote, the film owes a great debt to the good-heartedness of Mr. Rogers, who was always a good neighbor and could have taught the people of Beaverfield a thing or two.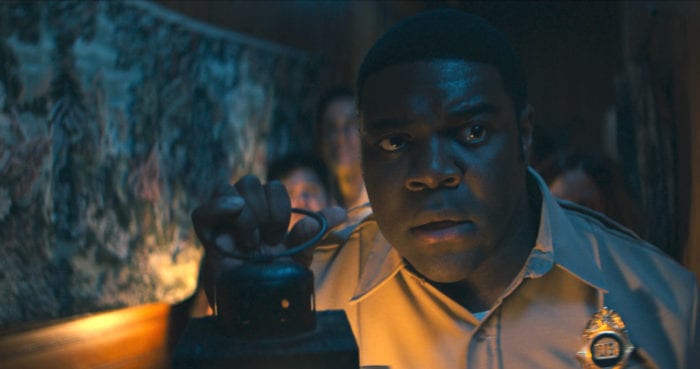 Forest ranger Finn Wheeler (Sam Richardson) is excited to be stationed in the seemingly charming town of Beaverfield, hoping the distance will strengthen his relationship with his girlfriend (her idea, not his). Once in Beaverfield, Finn checks in to his temporary stay at the Beaverfield Inn, run by sandwich-making owner Jeanine Sherman (Catherine Curtain). He then gets the lowdown on Beaverfield's weird denizens by fetching mail person Cecily (Milana Vayntrub), and everyone seems to be pretty vocal about the new gas pipeline project created by a shady politician (Wayne Duvall) that's divided the town. There's kooky, gabby soap-bottle-angel maker Trish (Michaela Watkins) and her handsy husband Pete (Michael Chernus); gay tech billionaire couple Joachim (Harvey Guillén) and Devon (Cheyenne Jackson); and white-trash mechanic Gwen (Sarah Burns) and her loutish boyfriend Marcus (George Basil).
Everyone in town soon gets shaken up, holing themselves up in the Beaverfield Inn during a snowstorm, when Trish's precious dog gets taken—and then the body of Jeanine's husband turns up. The murderous culprit has to be a werewolf, but who is the wolf in the quirk's clothing? Is it one of the heat-packing locals, the newcomers, or environmentalist Dr. Ellis (Rebecca Henderson), who's staying at the inn and busy sequencing animal DNA in her room? Or, maybe it's the unfriendly hunter, Emerson Flint (Glenn Fleshler), who secludes himself in the woods. As Randy Meeks would say, "Everybody's a suspect!"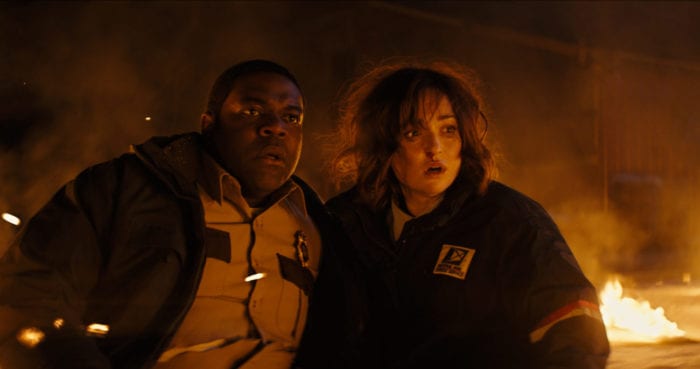 Anyone hoping to get the chills during Werewolves Within will be howling at the wrong moon. It's framed as a horror film, knowingly heavy with jump scares and making sure no one is safe, but director Josh Ruben decidedly tilts toward the "comedy" for this horror-comedy hybrid. The success of that comedy largely comes down to Ruben's gamely wacky ensemble, all of whom have a strong hand in comedy on the small screen.
The crucial grounding force lands in the hands of Sam Richardson (HBO's Veep), who's very likable and root-worthy as Finn and who doesn't even realize that his relationship has already ended before he even got to Beaverfield. If her running gig as the "AT&T Girl" taught us anything, Milana Vayntrub (NBC's This Is Us) is another delight. So effervescent as the proudly progressive, kombucha-drinking Cecily, Vayntrub is a talent worth keeping an eye on in the future.
Like everyone in the roster of small-town eccentrics acting as a red herring, the broad, clownish style of comedy extends to all of them, as well. That choice admittedly takes time adjusting to in the early going, especially when so many of the characters have to stay in an archetypal lane. Nevertheless, stereotypes are rooted in truth, and these actors never fail to find little grace notes or sly line deliveries in their performances. Besides Richardson and Vayntrub, standouts in the supporting cast include Sarah Burns (HBO's Barry) going all-in with her trash shtick and Harvey Guillén (FX's What We Do in the Shadows), who only knows how to slay a one-liner. If there are any nits to pick, it's that more time could have been allotted to just hang out with these characters.
With the isolated cabin feel of Scare Me and the arch tone of The Wolf of Snow Hollow, Werewolves Within is still its own fresh entity, where the ingredients all add up to a tight little package. The whodunit of it all is certainly involving, and with a town of weirdos, the film does appreciably keep the guessing game going. While most of the werewolf attacks occur off-screen (or the mystery attacker is just not seen), there are still surprising bursts of violence when it comes to humans fighting humans. Mishna Wolff's script is quick-witted, Josh Ruben's direction is modest but stylish, and augmenting the menacing score is a couple of '90s songs dear to this one's heart, including Ace of Base's "The Sign" and Savage Garden's "Truly Madly Deeply." Ending on a satisfying punchline, Werewolves Within is a hoot and a half, and Mr. Rogers might have even gotten a kick out of it.
IFC Films is releasing Werewolves Within in theaters on June 25, 2021 and on Digital Rental & VOD on July 2, 2021.