25 years have passed since audiences first saw Scream and have since been terrified of receiving calls on their landline phones. In 1996, cell phones were the size of bricks, and very few people had them because of the price. Furthermore, they were incapable of working with door locks, lighting, or even sending text messages. When Casey Becker (Drew Barrymore) first answered a call about her favorite scary movie back then, terror struck quickly. She couldn't tell what number the call came from or had to worry about the convenient comforts of door locks programmed into her cell phone. Hell, the device she was stalked on was corded. Technology has changed drastically over 25 years, and when the times change, so do our villains.
Calling someone with the invocation of "What's your favorite scary movie?" abruptly changed with the onset of caller ID. The rise of cell phones and the power to control your entire home with just a few thumb motions may provide more obstacles for a new slasher, but a little know-how goes a long way. Even the anonymous call blocker on my phone fails to save me from people calling about my car's extended warranty, so how confident are you that your device could keep you safe in this situation?
Back in August, directors Matt Bettinelli-Olpin and Tyler Gillett (Ready or Not) said on the Hello Sidney podcast that cutting a trailer for the latest Scream movie was going to be tricky:   
That's going to be the challenge with the trailer. There's a lot in this movie that can be spoiled really easily. We're so curious to see how the marketing department is going to thread the needle. Because it's a very narrow one.
After viewing the trailer about a dozen times, I can tell you the marketing department has done its job rather well. Aside from assuming that the film is going to start in a very similar way to the original 1996 film, the only real takeaways from the trailer are the predominant use of cell phones on modern technology and that "the attacks are all on people related to the original killers." These revelations tell us very little, except that our killer is good at hacking into unsecured wi-fi, and, like Randy Meeks (Jamie Kennedy) told us in the original, "everyone is a suspect," especially those returning from the original Woodsboro Murders.  
The cast of the latest Scream is stacked, as well. Kyle Gallner (The Cleansing Hour), Jenna Ortega (The Babysitter), Dylan Minnette (Don't Breathe), Jack Quaid (The Boys), and Jasmin Savoy Brown (The Leftovers) are all on the list to help supply an impressive body count and provide red herrings. At the same time, the returning survivors of the Scream series officially include Neve Campbell, Courtney Cox, David Arquette, and Marley Shelton. Earlier this year, rumors circled about the possible return of original cast member Matthew Lillard after tweeting in September 2020 that it could have been possible his character, Stu, survived. Whether Scream (2022) features Stu in any capacity is speculation at this point. Still, given that the attacks are all on people related to the original killers, Stu could easily fit into the storyline, even if it's only in a similar fashion to the way Randy appeared to tell his friends the rules of the horror trilogy in Scream 3. Plus, let's not rule out Kirby (Hayden Panettiere), who we never actually witnessed die in Scream 4 despite her massive amount of blood loss.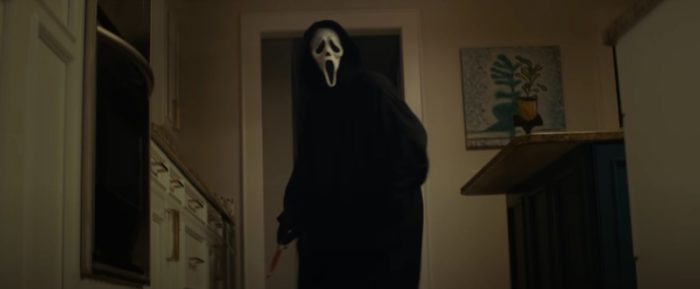 There were a few things I noted in the trailer that may not be the first thing people will notice, but a lot of those locations look strikingly similar to those of the original film. Sidney's appearance with a gun at the end of the trailer looks very similar to where she and her ex-boyfriend/killer Billy Loomis (Skeet Ulrich) shared a very revealing moment over a discussion about corn syrup. Another image shows Sidney outside a home with a picket fence that may very well be her old house from the original, as well, and even the Casey Becker setup appears to take place in an updated yet familiar location. I cannot confirm whether these are the actual locations or not, but that's some damn fine set construction to give a homecoming vibe for the new film.  
This may be a continuing story for Sidney, Gale, Dewey, and Judy Hicks, but according to the directors, Scream (2022) is a reboot, looking to scare up a slasher for a new era. The directors are primed to craft the kind of fun experience the late Wes Craven and writer Kevin Williamson created. Still, I'd say our legacy characters should keep their heads on a swivel because now the reboot rules apply. 
Scream's fifth installment, simply titled Scream, is slated to hit theaters on January 14, 2022.  
Looking for more on modern slashers? We've got you:
"Candyman, Halloween Kills, and the Future of the Slasher Film"
"Spoiler-Free: Scream (2022)—The Same, but Different"