Scream has always been my favorite slasher movie. It's in a league of its own, untouchable in the subgenre. Twenty-six years ago, Scream became an instant classic, not only because it's a fast-paced whodunnit, but for its self-aware take on the genre. The characters know they're in a movie, or at least someone's sick vision of what that would look like, and fill certain stereotypes in the genre while also breaking the rules of the old-school slasher films. Scream (2022), aka Scream 5, aka Stab 9, tries to honor this lasting legacy with a—to borrow terminology from the film—"Requel." 
Requels are defined in Scream (2022) as rebooted franchise films that also act as sequels to legacy films. Star Wars, Halloween, etc. They've all done it, and maybe one in five actually works. So why do we keep pandering to audiences who set their expectations too high only to be disappointed when the new film isn't the same as the film they're used to? I'm looking at you, Rian Johnson, director of the almost universally hated films The Last Jedi and the diegetic Stab 8. Scream (2022) knows it's a requel, at times mirroring the transitions of the original movie in the same way Halloween (2018) does. Scream (2022) has a lot to say on this topic, and the department store snobbery of the term elevated horror.  
Let's face it, adding the word elevated to horror is a pretentious way of saying something is better than the genre that spawned it. If I said, "I bought an elevated sub from Jersey Mike's," would someone think it's any better? What's next, elevated action films—elevated superhero movies? Well, maybe that describes whatever happened with The Eternals. Still, I think you get my point.  You can frame films like The Babadook and Hereditary any way you like, but you'll still find them beside Jason Voorhees and Michael Myers while scrolling through your streaming apps. Amidst a sea of films with identity issues, Scream (2022) is proud to be a kick-ass old-school blood-and-guts horror film for slasher fans. 
I'll take a stab at creating a synopsis. When her sister Tara (Jenna Ortega) is attacked by someone wearing a Ghostface mask, Sam (Melissa Barrera) returns home to Woodsboro with her boyfriend (Jack Quaid). Leaving town five years earlier, Sam carries a dark secret that threatens everyone around her. She turns to a veteran player for help carrying the burden. The rules are explained, reunions are made, no one can be trusted, and all bets are off. 
It should be pretty clear that I don't want to give anything away here. If you like the Scream films, you're going to see the movie no matter what I say. My bigger concern is for those sweet horror-loving Gen-Zers who are coming of age at the altar of Scream (2022), just learning about the franchise and starting here without viewing previous entries or its many references. Scream movies are all about references.
Remember, it's been twenty-six years since the original and eleven years since Scream 4. Any eighteen-year-olds among the audience have grown up in a world where reboots, sequels, requels, and fourteen years of interconnected Marvel Cinematic Universe movies are the norm. There is so much they've yet to discover in horror. My guess is many will try to take in the original film and skip to the new one, making the mistake of ignoring the plight of Sidney (Neve Campbell), Gale (Courtney Cox), and Dewey (David Arquette) through three additional movies.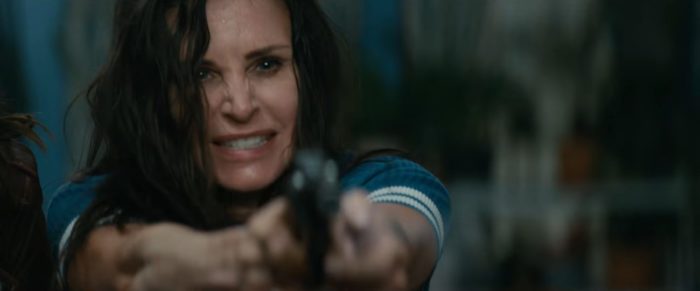 Maybe the best aspect of the new Scream is that it doesn't forget where it came from. Sure, it occasionally insists upon itself, but I think the original has earned its place as a top-tier film. And yes, the legacy characters earn a bit of a token status for having survived four rounds of Ghostface killings already, appearing more as supporting cast for the next generation. But Scream (2022) leans into the past to an enjoyable extent. Something commendable in this era of requel pretentiousness. I mean, it's kind of ostentatious for a movie studio to suddenly wash its hands of decades of film history—the past matters in Scream (2022). Old characters return, old locations are revisited, and specific references to bangs and lemon squares are made for superfans to gush over. 
The movie also offers Scream 3 an extensive reprieve. The franchise's most trashed film is also its biggest outlier. Wes Craven directed the film, but the studio rejected Scream (1996) and Scream 2 writer Kevin Williamson's script. The Ring's Ehren Kruger stepped in, removed the cast from the familiar Woodsboro setting, and moved them to an LA movie studio. Like Jason Takes Manhattan, it's been the franchise's punching bag. The series tried to do something different, and it got a lot of crap for it. Scream 4 sees the franchise return to Woodsboro with a Williamson script. It would be Wes Craven's last time behind the camera.
Scream (2022) owes a lot to the path paved by Scream 3. Scream (2022) is the first film without the master of horror or the beloved writer. Writers James Vanderbilt (Zodiac) and Guy Busick (Ready or Not) craft a commentary on fandom and the dangers it presents to the creative process, advocating for new ideas and storylines while simultaneously delivering the same slasher storyline the fandom craves. In a masterstroke of irony, the film accomplishes the sarcastic feat through audience viewings of Scream (2022). It doesn't get more meta than that. 
A few moments in the marketing campaign sprang to mind as well. Besides the fantastic poster art the film generated from Creepy Duck design, there were a lot of early rumors about cast members returning and plot points that turn out to be total trolls. Forget what you've heard, they messed with you, and it fits into the film's narrative of movies caving to comic-con consensus. It's ardent genius.
As for the kills and brutality portions of the film, Scream (2022) has a couple of memorable kills, nothing overly grotesque or comparable to Scream's (1996) double disembowel opening, but some you'll recall if there's a sixth entry. 
As I drove home from the theater—and thinking how awesome it is to hear audible screams from movie patrons again—I thought about where to rank the new film in my head. I liked the movie overall, but it's a long way off from contending with the original. My biggest criticism in Scream 3, which for me continues to be the worst of the series, was always the dialogue. Scream and Scream 2 have whip-smart dialogue that is quotable, quick, and clever. Williamson has always been great at writing dialogue, and while Scream's (2022) writers create some intelligent moments, it doesn't hit the same notes as the original or the sequel, which remain in the top spots.  
Scream (2022) ends up in a tie with Scream 4 for me. I enjoy the social commentaries in both about life imitating art imitating life, something I think Scream's (2022) requel over original debate has an edge on. Still, in some ways, they feel interchangeable. A new hip young cast resembling the old one: check. A return to Woodsboro for the old characters: check. Meta motive: check. They both have the harrowing moments, big laughs, and pulse-pounding excitement we've come to expect from the Scream franchise. I'll also admit I jumped out of my seat a couple of times during Scream (2022). A few unexpected moments will catch you off-guard and some places where the film falls a bit flat. Regardless Radio Silence's (Directing team Matt Bettinelli-Olpin and Tyler Gillett) film fits well with the franchise. I think Wes Craven would have enjoyed it too.  
Scream (2022) is now playing in theaters