Ozploitation and the Australian New Wave have brought a plethora of amazing films to the world with films like The Nightingale being of the former category, and The Babadook being the latter. From, inadvertently, creating an LGBTQ+ icon, to making one of the most extreme, and realistic, depictions of rape and sexual assault culture faced by the indigenous Australians of the film's time. There is nary a doubt of the impact of Jennifer Kent on the genre, and industry, as a whole. In a world where there is an exponential amount of male directors to female directors, Jennifer Kent has shown the elegance and brutality that different viewpoints can bring to film.
Jennifer Kent's career started with acting for a plethora of Australian TV shows, but there was one really significant moment in her life, one that would make any inspiring filmmaker jealous: she worked with Lars von Trier. She states in an interview with The Guardian that she had just watched Dancer in the Dark, one of von Trier's greatest films, and said, "I want to work with this guy." So she somehow found his address and wrote him a letter stating she would, "rather stick pins in my eyes than go to film school," and that, "maybe it was the suggestion of a woman sticking pins in her eyes that really interested Lars, who knows?" Nevertheless, it worked. Kent ended up getting to work on set for the entirety of von Trier's genre-bending Dogville, which she labeled as her, "film school." Needless to say, that is one of the most badass origin stories.
Monster was the directorial debut for Jennifer Kent, which she refers to as, "baby Babadook," and that it, "contains the seed of The Babadook." That is not far from the truth in any sense. If someone wanted to watch The Babadook but didn't have an hour and 33 minutes to spare, they could watch Monster and pretty much get the gist of The Babadook (though if you haven't seen The Babadook, it is a must-watch).  Monster takes on a visual style reminiscent of Psycho or a Hammer film, with some beautiful looking black and white. While Kent really nails the lighting to bring her own style to the black and white, the switch to color, which will be covered later, was the right move.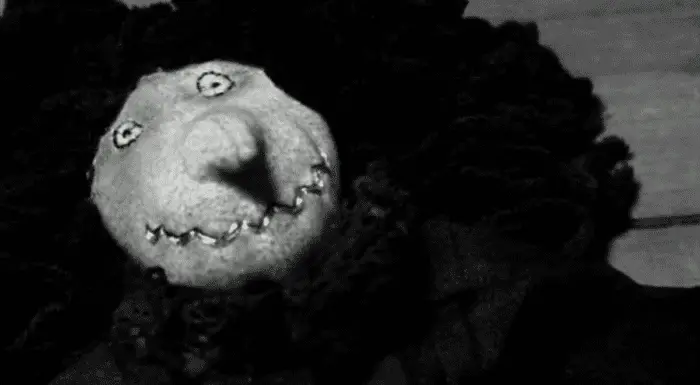 Kent's use of lighting in Monster makes the freshman feeling short and adds a really distinct style to it, elevating it to a very polished-looking final product. There are many visual elements that Monster and The Babadook share, and it is understandable why she decided to transfer so many of those ideas into the feature. Two things to note about Monster: 1) The kid (Luke Ikimis-Healy) is so much more tolerable than Sam (Noah Wiseman), and 2) the person who plays the Monster is named Trash Vaudeville…that is all.
It wasn't until nine years later, and one installment in the Two Twisted anthology, that Jennifer Kent followed up Monster with her genre-shattering debut feature The Babadook. While it is unfortunate that it took that long, it was finally delivered to us in all of its glory. The Babadook took audiences by storm, showing us just how insanely talented she is and what she can pull off with a feature budget.
The Babadook is a deep look into the human condition and touches on many different ideas, depression being one of the other main ideas. The Babadook succeeds on so many different levels, it succeeds as a horror film, as a family drama, and, in parts, a very dark comedy. Kent takes each idea, sticks to her guns, and pulls it off so well. Being able to pull of such a distinct vision is no easy feat, but she states one of the things she learned from vTFS (von Trier Film School, my term) was, "what I think I learned from him was that it's OK to be stubborn…[he was] someone who had a very singular vision and followed it from start to finish. Not without difficulty—there was a lot of difficulty—but he was courageous so that was a very valuable experience." It takes a lot of guts to have an idea and stop at nothing to pull it off.
Visually, her two features could not be more different, with The Babadook being full of very muted colors and seeming somewhat reserved, while The Nightingale is far more colorful but extremely chaotic. The Babadook looks like depression. There is not a single moment when watching The Babadook where it feels happy, even when things are going okay between Amelia (Essie Davis) and Sam, it just looks absolutely depressing.
There is something that needs to be said for Jennifer Kent's direction, specifically with Noah Wiseman. The character isn't specifically stated to be on the spectrum but he does display some of the traits. Her handling of his character is meant to unnerve us, to push us to the edge, and in turn, that really helps the audience understand and sympathize with Amelia's actions. Was Mr. Babadook something that she manifested from her depression, a shared psychosis, or an actual entity that picked the right (and soon to be wrong) family to prey on? There are so many interpretations you can come to based on which context clues you decide to follow.
The Nightingale was Jennifer Kent's sophomore film and excels over The Babadook in so many different facets. While she may have gone to the Lars von Trier film school, it definitely appears that she took everything she learned from making The Babadook and applied it to her second film. The Nightingale covers much more of a broad scope, taking us on a hectic and brutal adventure through 1825's Van Dieman's Land, which we now refer to as Tasmania.
I saw The Nightingale in a theatre of about 25 people, and by the halfway mark that number was down to about 12. That's not because this is a bad movie, in any sense, it is just a lot to take in. The film starts off heavy with two rapes and two murders, one being a very innocent baby. Jennifer Kent wanted to make a real film, and she succeeded. She stated, "[w]hilst The Nightingale contains historically accurate depictions of colonial violence and racism towards our Indigenous people, the film is not 'about' violence." It feels like it is a film about needing or wanting to find love and commonality in such a tumultuous time.
As with The Babadook, The Nightingale has some absolutely brilliant acting from Claire (Aisling Franciosi) and Billy/Mangana (Baykali Ganambarr). Billy assists Claire as a tracker to help her find the people who brutally killed her family, and raped her. Initially, they vehemently despise each other, but slowly grow a bond through sharing stories of their tragic pasts. This all leads to one of the most heartbreaking final moments in a film, that could make anyone with a beating heartbreak down sobbing. When seeing this film in theatres, there was not a dry eye in the room. When I noticed everyone crying at the end, it was one of the most cathartic moments I have had in a cinema setting. When asked about the anger and backlash she had received towards this film Jennifer Kent simply said, "my commitment to cinema is just to make people feel something…even if that's anger at me or the situation."
Jennifer Kent has cemented herself as a powerhouse of a filmmaker, whose unrelenting love of horror and cinema expertly go hand in hand. From learning directly under one of the most controversial filmmakers alive to making one of the most controversial modern films, there is not a single doubt that Kent will continue to make powerful and emotional films, no matter the genre. Her knowledge of the craft and complete understanding of all aspects of film are evident in all of her work, and I for one am waiting with bated breath for whatever project she will grace us with next.