One year after Joe Bob nuked Valentine's Day with love and affection, our favorite horror host returned with Darcy the Mail Girl for another dose of skewed love and affection with Joe Bob's Heartbreak Trailer Park.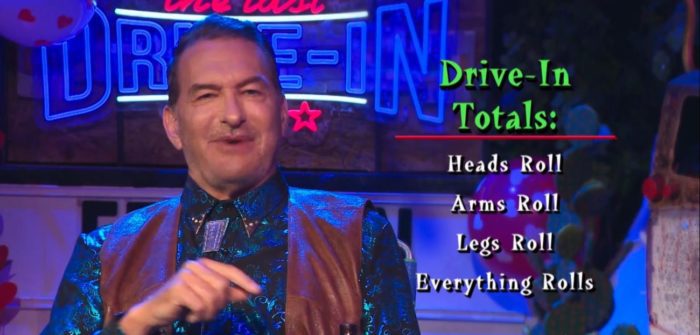 In 1993, a wise man named Haddaway once asked the proverbial question, "What Is Love?" He spent four minutes and twenty-nine seconds seeking an answer to his question. It got me thinking—even though we are all different, we all seek love in some form or another.
Whenever Joe Bob and Darcy have another special edition of The Last Drive-In on Shudder, it is a cause for celebration among the horror community. Before the show's premiere, Joe Bob announced on social media that none other than the Boulet Brothers would join him to share the love. Now, I'm going to admit right away that I was unfamiliar with the Boulet Brothers as I'm not much of a fan of television as I have grown older. My knowledge of the pop culture zeitgeist has waned in the last decade or so. At the same time, if Joe Bob feels that the Boulet Brothers share the same love as he and the entire Mutant Family, that makes me excited for what awaits at the Heartbreak Trailer Park!
And, like usual, Joe Bob was correct! Joining Joe Bob and Darcy for the first half of the Heartbreak Trailer Park double-feature, the Boulet Brothers sat with Joe Bob to discuss the film Black Roses and the horror community as a whole. Both Boulet Brothers, Dracmorda and Swanthula, spent their time chatting with Joe Bob about the grime and sleaze of New York, their show: The Boulet Brothers' Dragula, and how the horror community and queer community have been able to come together over the years.
As someone unfamiliar with the Boulet Brothers before the Heartbreak Trailer Park, I found their discussions with Joe Bob fascinating and engaging. Mixing discussions of horror films with the world of the Boulet Brothers, the conversations at each break kept me engaged throughout Black Roses.
And speaking of Black Roses, how can you go wrong with a late '80s flick about a demonic metal band turning their listeners into demons? Black Roses was a flick I heard about over the years but never found the time to seek it out. Any horror film from the late 1980s is something that piques my interest—I'll admit, my excitement level went up a notch or two.
By the first break, that excitement level diminished exponentially, but that didn't mean Black Roses wasn't an entertaining watch. It's corny and cheesy in all the right ways. From Satan having two forms: dorky lead singer and a rubber-suited demon who Ed Wood would love, to the hilariously "demonic" song lyrics. Maybe Black Roses struck me in the right mood, mixing that cheese with Joe Bob's insight and the Boulet Brothers rapport, this was an excellent kickoff for the Heartbreak Trailer Park.
What I enjoyed about the first have of the Heartbreak Trailer Park was the surprising amount of enjoyment that I got from the film and Joe Bob with the Boulet Brothers. Would the first half have played better with a typical stock horror movie? Possibly, but what I love about Joe Bob and The Last Drive-In team is the love and surprise they have for horror. Did anyone want Black Roses shown? Probably not—but because the Boulet Brothers asked to screen the film: we got a showing like no other. That is true love.
If the first half of the Heartbreak Trailer Park was a surprising love story, the second half was a comforting, long-term relationship. Joining Joe Bob for the second half of the Heartbreak Trailer Park were director Frank Henenlotter and actor James Lorinz for Frankenhooker. 
I'll admit, it had been a while since the last time I saw Frankenhooker, and I'm glad this was my return visit. Sitting down to enjoy one of the best black comedies of all time, plus hearing Joe Bob and Henenlotter converse was a lovely way to spend a couple of hours. When Joe Bob gets to sit down and shoot the bull with one of his good friends, it's a sight to behold. Add onto that one of Joe Bob's favorite films, and you got yourself one heck of a night planned!
Frank Henenlotter has always made films that skew to the grindhouse-style of filmmaking perfect for screenings on The Last Drive-In. Both Joe Bob and Henenlotter came up through the grimy New York City of the '70s and '80s, and listening to them chat about that time and place is a treat for me. I am someone who loves the old, unsanitized New York City but never got to experience "The Deuce" and its surrounding areas. For me, hearing these two chat about this period in history adds to the list one of many reasons why I love The Last Drive-In.
Joining Joe Bob and Henenlotter, James Lorinz was a welcome addition to offer his insight into how he played one of the most interesting characters in film history. As I rewatched Frankenhooker, memories of James Lorinz's performance came flooding back. I remember enjoying James Lorinz's take on Jeffrey, but rewatching it on the Heartbreak Trailer Park, I was taken aback by how entertaining Lorinz's performance as Jeffrey was. Hearing the love and respect between Henenlotter and Lorinz about the Frankenhooker on the Heartbreak Trailer Park is a comforting feeling. That love and camaraderie is something you can feel when watching Frankenhooker.
As much as Joe Bob despises what Valentine's Day might mean in the corporate sense, his Heartbreak Trailer Park showcased that he has plenty of love in his heart. Granted, instead of an overpriced Hallmark card and substandard chocolates, he holds a bloody heart similar to Mola Ram from Indiana Jones and the Temple of Doom. He gathers together those involved in the horror community: filmmakers, actors, performers, and the Mutant Family, for a big ol' get-together to share their love and affection for all things horror. So, what is love? Haddaway may still be searching, but for us horror fans, home is where the heart is.