Have you ever wondered what it would be like if Connie Britton's character on Nashville was a murderer and kept the whole thing secret for years? Me either… Or maybe that is what it was about. I don't really know; I never watched it. Anyway, someone thought it would be a fun concept to take the idea of a budding new act seeking out country music royalty concept from the show and adding a dash of horror by asking how far you'd be willing to go in order to achieve your dreams. A first look at those results can be seen in the newly dropped trailer for Torn Hearts.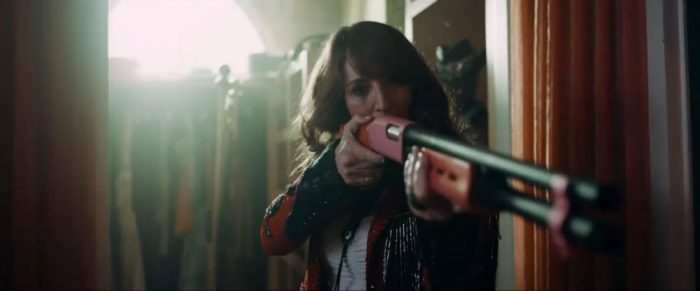 I'd be lying if I didn't mention that I've had my eye on Torn Hearts ever since Katey Sagal joined the cast. Sagal, known for her roles in Married with Children, Futurama, Sons of Anarchy, and the recent short-lived well-liked Rebel, is also a tour de force singer. Her credits include contributing backup vocals for various singers, including Bob Dylan and Bette Midler. The actress also has two country albums under her belt and contributions to many film and television soundtracks. Watching Sagal embody a full-fledged horror persona will likely be the newest thing for the actress, venturing closest prior when she played a greedy banker in Tales from the Crypt episode "For Cryin Out Loud."
Rounding out Torn Hearts' cast are Black Mirror's Abby Quinn, Truth or Dare's (2017) Alexxis Lemire, Satanic Panic's Clarke Wolfe, Evil Dead's (2013) Shiloh Fernandez, and The Blair Witch Project's Joshua Leonard. Quinn and Lemire will serve as the stagnating country duo who discover through serendipity the address of their idol Harper Duchess (Sagal). The two decide to go knocking on the Dollywood-esque gates of their hero and ask to collaborate on a new song that will propel them into stardom. The collaboration devolves into a nightmare, with Duchess attempting to divide the duo the way she may have split up her own. The two quickly discover that their hero isn't at all who they thought she'd be. 
Adding more fuel to this "Ring of Fire" is knowing the film is directed by horror powerhouse Brea Grant. Grant has appeared in a slew of horror titles such as Rob Zombie's Halloween II, After Midnight, and The Stylist and has recently moved behind the camera, writing and directing two fantastic films released in 2020, Lucky and 12 Hour Shift. Having her name attached as the director of this charming and macabre-looking country chaos film only increases my excitement for its release.  
Torn Hearts takes the stage via Epix and VOD on May 20.