A bit over a week ago, we got our first American teaser trailer for David Cronenberg's new movie Crimes of the Future, and we were also treated to a French trailer that showed even more footage from the film. Both of these previews teased some really nasty body horror, but at that point, we weren't entirely sure when the movie would be coming out. We knew it was scheduled to be released sometime in June, but we were still waiting to get an exact date.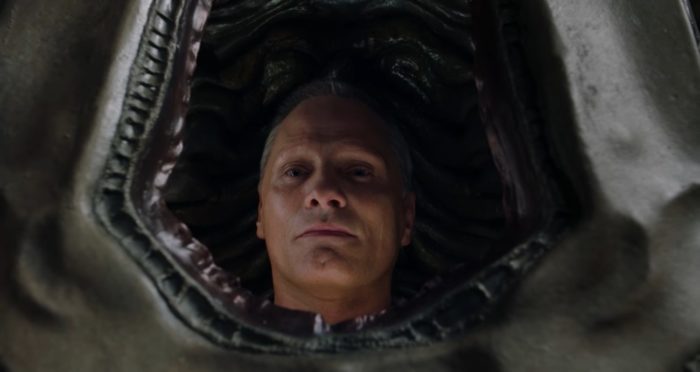 And today, we have that date. Neon, the distributor of Crimes of the Future, has officially announced that they're going to release it in New York and Los Angeles on June 3rd, and then it's going to expand to a wide audience a week later, on June 10th. On top of that, David Cronenberg himself also released a statement about the movie, shedding a bit more light on what we can expect from it. He said:
Crimes of the Future is a meditation on human evolution. Specifically—the ways in which we have had to take control of the process because we have created such powerful environments that did not exist previously. [The movie] is an evolution of things I have done before. Fans will see key references to other scenes and moments from my other films. That's a continuity of my understanding of technology as connected to the human body. Technology is always an extension of the human body, even when it seems to be very mechanical and non-human…
I don't know about you, but I'm really excited about this news. Sure, we already knew more or less when Crimes of the Future was coming out, but getting a concrete date just makes it feel a bit more tangible. It gives us something a little more concrete to look forward to, so I'm anxiously awaiting the day I can buy my ticket for opening night.