Shudder fan-favorites Joe Bob Briggs and Darcy The Mail Girl return for the 2021 holiday season with a new Christmas special, dubbed Joe Bob Ruins Christmas. In his announcement on Twitter, Joe Bob teased the special will be an auction, telethon, and feature genre-bending movie choices. He goes on to say, "Join us for a major distortion of what Christmas is all about." It will air on Shudder on Friday, December 17th at 9 p.m. Eastern / 6 p.m Pacific, with the VOD becoming available usually several days later.
This will be Joe Bob's fourth Christmas special on Shudder. Previous years were titled A Very Joe Bob Xmas, Joe Bob's Red Christmas, and Joe Bob Saves Christmas. Titles featured include the Phantasm series (excluding Phantasm II) Black Christmas (1974), Silent Night, Deadly Night Part 2, Deadly Games and Christmas Evil. The Day of the Beast (El día de la bestia) is another film that takes place on Christmas and is played during the regular The Last Drive-in With Joe Bob Briggs season. Joe Bob's definition of holiday titles varies from year to year, with Phantasm only tangentially related as the trademark Sentinals resemble Christmas Tree ornaments, while Christmas Evil follows an obsessive man who dresses as Santa Claus and goes on a murderous rampage.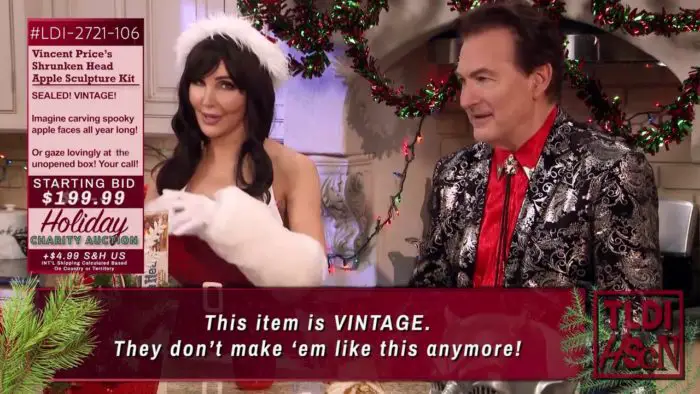 2020's Christmas special (Joe Bob Saves Christmas) featured a charity auction with Joe Bob and Darcy offering up a variety of horror memorabilia from replica masks to a signed copy of Tom Savini's book. Proceeds from the auction went to several different charitable organizations: The Trevor Project, The National Women's Law Center, The Peaceful Valley Donkey Rescue, and the Organization for Autism Research. The total raised was over $40,000. From the announcement we can only assume something similar will return for the 2021 Holiday season, possibly with a twist as the title is Joe Bob Ruins Christmas. 
Joe Bob has also presented several Halloween specials and a Thanksgiving marathon titled Dinners of Death which featured Joe Bob's favorite film, The Texas Chain Saw Massacre, followed by Wes Craven's The Hills Have Eyes, Takeshi Miike's Dead or Alive, and Blood Rage. With Thanksgiving fast approaching it would make for a fun rewatch (but maybe not while eating!)
What are your guesses for this year's lineup? What are your favorite Christmas horror films? Let us know your predictions and thoughts in the comments and be sure to tune in to Shudder on December 17th for the special.
---
Looking for more on the 2021 Joe Bob Ruins Christmas Special? We've got you:
"Joe Bob Ruins Christmas Does the Opposite"