Thanksgiving is generally associated with family dinners and massive sales by retailers as a kick-off to the holiday shopping season. But for the horror community, those things weren't important. In 2018 Joe Bob Briggs' return to Shudder with his newest marathon entitled Dinners of Death was the only thing that mattered. Black Friday gave way to "Black Thursday."
Prior to the debut of the recently-aired marathon, Joe Bob stated he would be hosting his all-time favorite movie, but declined to specify what that movie was. Fans speculated on which film that may be, but the general consensus said The Texas Chainsaw Massacre was the likeliest candidate.
Sure enough, after Joe Bob gave viewers an utterly hilarious-yet-informative history of bigotry in the United States and around the world, Dinners of Death started off the night with the Tobe Hooper classic The Texas Chainsaw Massacre. Joe Bob Briggs' knowledge about horror movies is, of course, what he's famous for, but in discussing Texas Chainsaw, he may have actually outdone himself. It was clear this is a movie Joe Bob is fiercely passionate about. What's more, Briggs was adamant that director Tobe Hooper be given due credit for his contributions to the horror genre and to film in general.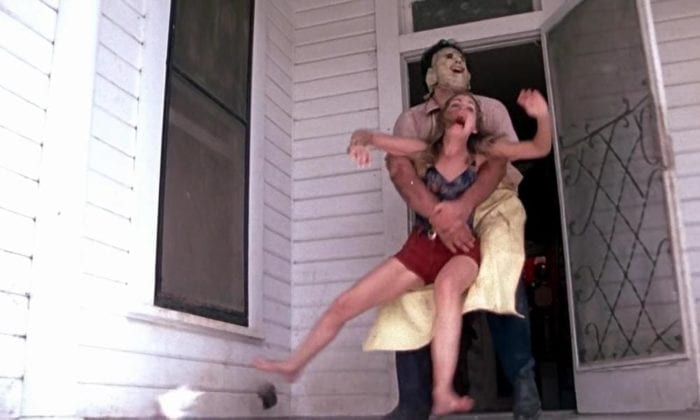 25YL was live-tweeting the entire event from 9PM EST until nearly 7AM and horror fans were loving every minute of Dinners of Death…with one exception.
When Darcy the Mail Girl, aka Diana Prince, let slip that she preferred the 2003 remake of The Texas Chainsaw Massacre to the 1974 original, Joe Bob appeared to be in a genuine state of emotional shock. Fans responded similarly. The Texas Chainsaw Massacre is, by all accounts, one of the most important films in horror movie history, so anytime someone expresses a preference for the remake over the original, pushback is going to happen.
In Darcy's defence though, it should be pointed out that R. Lee Ermey gives a terrific performance in 2003's The Texas Chainsaw Massacre. Ermey could make any movie worth watching, he's just a fun guy to watch on-screen. I say that as someone who generally disliked the 2003 remake. In fact, John Squires of Bloody-Disgusting once accused me of hackery for my inclusion of The Texas Chainsaw Massacre in an article I penned listing the worst horror remakes of all time. I'm still right and he's still wrong, but I will concede one thing: Sheriff Hoyt is a badass.
Tonally, though, the remake of Texas Chainsaw Massacre is a dumpster fire, so I'm with Joe Bob on this one. That said, Darcy is still a fantastic mail girl, her and Joe Bob have a great "odd couple" kind of chemistry going on. I hope she remains in her role with Joe Bob for as long as he's hosting marathons. On the subject of Texas Chainsaw, however, she's mistaken.
Following the conclusion of The Texas Chainsaw Massacre, Joe Bob led us into the 1977 Wes Craven classic, The Hills Have Eyes, a perfect follow up. Joe Bob's interview with Michael Berryman was deeply informative. Berryman was a class act as he described working on the set of The Hills Have Eyes and discussed his love of animals.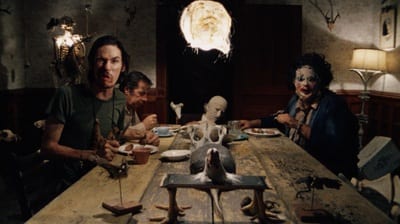 Darcy showed up again to give her two cents and once-again stated that she preferred the remake of The Hills Have Eyes to the original. This time, however, she was absolutely right. Joe Bob seemed pained that he couldn't disagree with her assessment on this subject. Tough as it may be to say, Alex Aja's remake of The Hills Have Eyes is just a better movie than the original.
At this point, Dinners of Death was beginning to feel a lot like TNT's MonsterVision; new content but an unmistakably familiar feeling.
Briggs must have sensed it too because after The Hills Have Eyes, he changed course completely by showing the Japanese film Dead or Alive, courtesy of director Takashi Miike.
Fans following on Twitter noticed an immediate change in tone once Dead or Alive got going. For those of us familiar with the work of Takashi Miike, this was merely a pleasant surprise. To those unfamiliar with his filmography, it was probably a jarring experience.
Dead or Alive is a deeply strange film, chock full of vicious sadism, beastiality, fecal matter drownings, and just about anything else one could imagine, but would probably rather not. Joe Bob Briggs made it a point to remind viewers that there was simply no point in trying to understand what the "deeper meaning" of the movie may or may not be, because it's simply not possible.
Joe Bob rounded out the marathon with Blood Rage, which he described as the only Thanksgiving-themed horror movie. Darcy and fans online pointed to a number of other horror movies set around the holiday, including Thankskilling. Blood Rage is an exercise in cheesy acting and b-movie standards, but surprisingly also an exercise in amazing practical effects.
During a cut back to Joe Bob Briggs our host delivered a proclamation of why, exactly, horror fans clamor to see movies in theaters and participate in live-tweeting events for movie marathons when every title they could possibly want to see is now on-demand.
That answer was simple: shared experience. Nothing is more frustrating than seeing a great movie alone and having no one to discuss it with. Joe Bob says he's fighting a battle against the decline of shared viewing experiences and added that it's a battle he'll probably lose.
The horror community as a whole certainly laments the prospect of Briggs losing such a battle, but regardless of the outcome, he doesn't have to fight it alone. Everyone who tuned in is fighting it with him. We at 25YL are certainly joining the ranks in that battle, along with countless other websites, magazines, independent movie studios, and podcasts.
Whether the battle is won or lost, it's most assuredly worth fighting for.
Shudder has more marathons with Joe Bob Briggs planned for the future, including a Christmas special next month. In 2019 it appears Briggs will be hosting a weekly double-feature on the streaming platform. For the foreseeable future, shared movie-watching events within the horror community aren't going anywhere.