The horror genre has existed in cinema for more than a century—in other words, horror films have been around about as long as motion pictures themselves. From the earliest horror short films directed by Georges Méliès in the 1890s to the faceted, robust production industry that propels the genre today, horror movies have always served us by enabling us to project our forbidden desires and secret fears while formalistically stretching cultural boundaries. Our Horror Through the Decades series examines definitive qualities of the horror genre in each decade from the 1940s through the 2010s. 
This week, Matt Armitage concludes this series by continuing his analysis of 2010s horror from Part 1.
---
Horror cinema in the 2010s generally was undergoing a newfound resurgence in popularity and respectability largely thanks to creative indie filmmakers and smart production companies. Additionally, several other trends were occurring in the world of horror that added to the decade being one of if not, the best decade the genre has seen. The first of these was the explosive growth in the popularity of Stephen King adaptations. A 'Kingaissance' if you will.
The Return of the King
After the highly regarded productions of Carrie and The Shining, movie versions of Stephen King's works gradually developed a reputation for being generally poor fare despite there being a steady stream of generally solid or even great straight-up horror adaptations such as Cujo, The Dead Zone, Pet Sematary, and The Mist. Larger budget adaptions that focused more on the dramatic and character-driven aspects of his tales were often hugely successful, examples being Misery, The Shawshank Redemption, Dolores Clairborn, and The Green Mile.
Unfortunately, Mr. King was extremely generous over the years in allowing adaptations of his work, and for every success, you've had duffers like Needful Things, Thinner, or Dreamcatcher. The 2010s haven't really been that different in the actual ratio of hits and misses, but by the end of the decade, King had become one of the hottest properties around thanks to a few very big hits. 
Things started innocuously enough with the CBS adaption of Under the Dome in 2013 which was well-received, at least initially, and ran for three seasons. Personally, I never made it past the first episode, but maybe that's just because I couldn't make Dean Norris be anyone other than Hank from Breaking Bad in my head. Every single time he appeared my brain screamed "Why is Hank here?"
I digress.
Hulu followed with a mini-series adaptation of 11.22.63, King's hefty time-travel novel based around trying to stop the assassination of JFK. It doesn't contain much in the way of horror, so let's suffice to say it was well-received and move on. Two for two on the TV front in the '10s so far.
The film adaptations in the early half of the decade, however, had less success, being pretty lackluster affairs: Carrie, A Good Marriage, Mercy, and Cell all bearing the lazy hallmarks of the worst of King films of past decades.
Then 2017 happened.
Two King film adaptations—each already with their own legion of fans—finally made their debut in 2017, both after years in production hell: IT and The Dark Tower. IT had been moving between writers and directors since its inception in 2009. The Dark Tower, however, had been re-imagined entirely, starting off as the first of a potential seven-film series from J.J. Abrams, then shifting to a Ron Howard project that would confusingly consist of a trilogy of films with two seasons of a TV show to bridge gaps between the films. The final film, which was intended to be followed by more films or a TV show, was a mangled mess that tried to combine elements from several of the books, with some other ideas possibly pulled out of a tombola. Another King massacre, but this is nothing new for King fans.
Buzz had started building around IT during 2017 however, thanks to some clever marketing and promising teaser trailers. Despite the doubts of many that you could improve on the successful 1990 mini-series, or replace Tim Curry's manic portrayal of Pennywise, critics lauded the film, box office takings went through the roof, and Bill Skarsgård's deft performance made IT one of the biggest films of the year.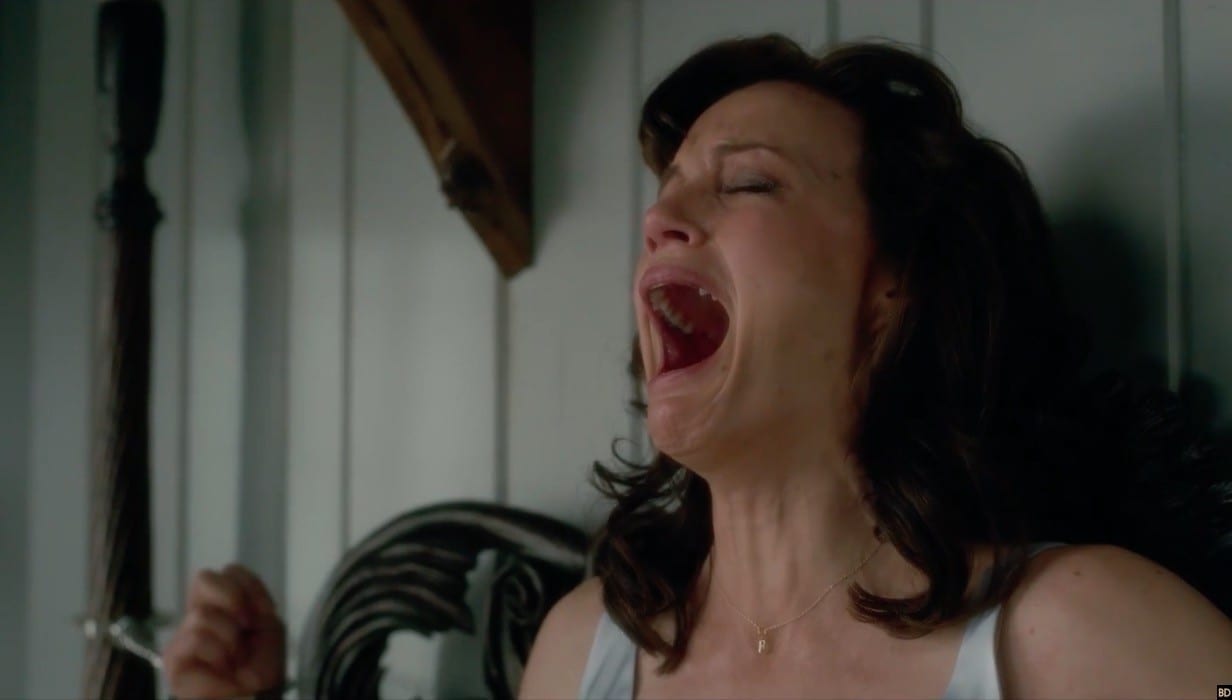 Some commissioning executive over at Netflix obviously had a touch of the old 'shine' about them because within scant weeks of IT's release in cinemas they released two King adaptions of their own: Gerald's Game and 1922. Gerald's Game was long considered unfilmable given that most of the action takes place inside the protagonist Jessie's mind, with her talking to herself and a cast of imaginary characters. Flanagan flipped this around, having Jessie's (now dead) husband take on the role of imaginary antagonist, and it becomes more of a taut bottle episode of a film, whilst still focusing on the trauma that Jessie has buried inside herself her entire adult life. Given the nature of the film—aside from Flanagan's skill as a filmmaker—its success hinged on the performance of Carla Gugino as Jessie. Whilst Gugino has an impressively large filmography, she hadn't been given much to really highlight her range and skill as an actor. In Gerald's Game, she found that vehicle. She would go on to star in Flanagan's The Haunting of Hill House and give another impressively nuanced performance with her portrayal of Olivia Crain.
1922 was released shortly after Flanagan's film, from the relatively unknown Zak Hilditch. His only previous feature was a 2013 Australian sci-fi apocalyptic thriller, These Final Hours, which was well-received but sadly under-watched. Luckily for Hilditch, Netflix was starting its phase of picking up the projects of eager young filmmakers who were willing to make films on a lower budget in order to increase its status as a source for great original films as well as television. Based on a short story from King's Full Dark, No Stars collection, 1922 initially bears little resemblance to Gerald's Game. However, despite being a much slower-burning film, it too hinges on its own focus on psychological trauma and the strong central performance of Thomas Jane playing the slowly-unraveling Wilfred James.
The middling reception of Spike's canceled-after-one-season The Mist did nothing to stop the momentum after 2017. King had become big business and everyone wanted a piece of the pie. IT was huge immediately, and Netflix's films gained slower word-of-mouth acclaim. Name recognition alone guaranteed a big audience for a King adaptation now. Hulu and Audience launched Castle Rock and Mr. Mercedes respectively the following year, Flanagan tackled another King feature Doctor Sleep in 2019, and in 2020 HBO offered up The Outsider. Things show no sign of slowing down, either. There are, at current count, at least 16 TV and film adaptations of his works in the pipeline. Expect King-overload to start kicking in within a couple of years, but in the meantime, we can only hope that ratio of good to bad stays on the positive side. 
Horror Television Hits Its Own Peak
It's hard to write about the horror of the 2010s on the silver screen without also writing about the renaissance on the small screen. They have in many ways inspired and fed from each other, more so perhaps than ever before because of the explosion in streaming services in the past decade which has changed the rules of both cinema and television.
The general approach to horror television in the '00s was a more friendly fantasy and supernatural vibe with maybe some serial-killing thrown in for fun. These were shows that aimed for tension and maybe a bit of a fright occasionally but veering well clear of trying to cause real terror. In reality, you could argue that there was no true horror TV in the '00s, but let's not get into such petty genre squabblings. Shows like Buffy, Supernatural, The Dresden Files, and Dexter filled the niche well. The latter part of the '00s was dominated by the sexy vampire phase, with Twilight hitting the box office like a glittery brick, and on the small screen, both True Blood and The Vampire Diaries capitalizing on the name recognition of popular book franchises and the public desire for ever more vampires, as long as they were hot.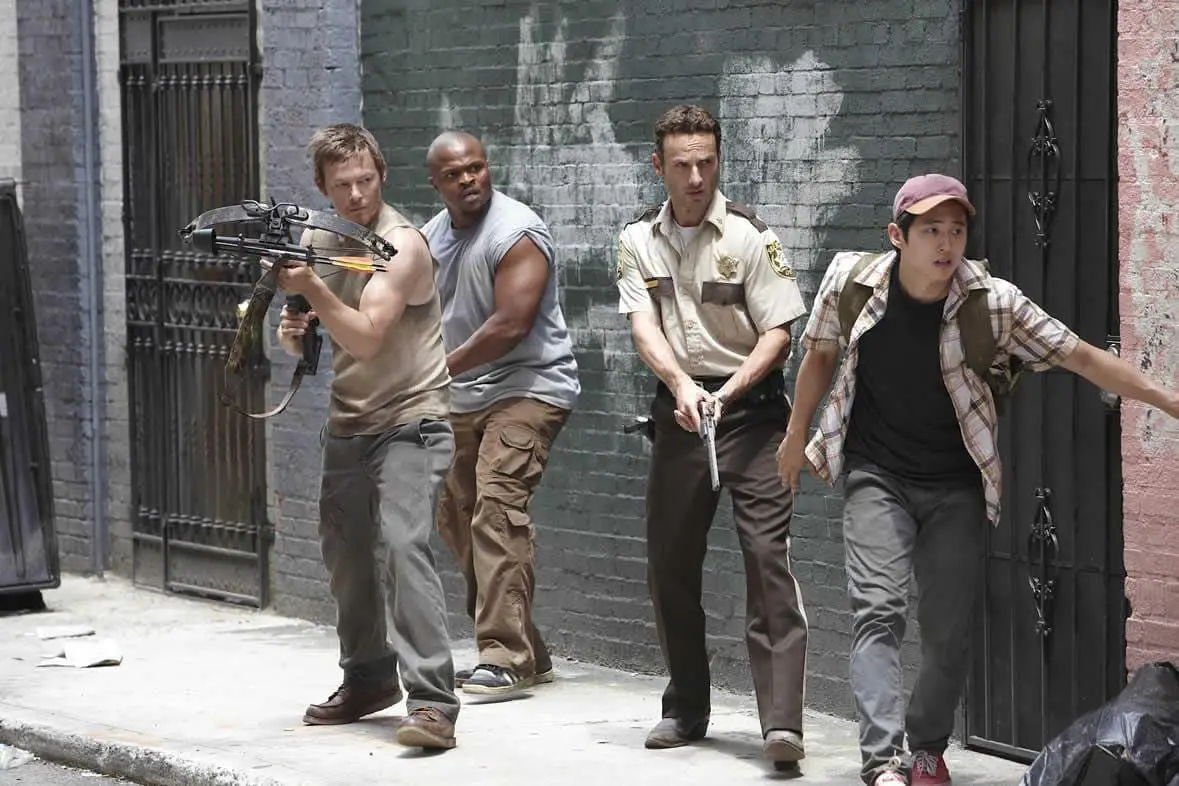 AMC launched their original series Mad Men in 2007 and Breaking Bad in 2008, and more or less overnight became the biggest rival to HBO's crown of intelligent but addictive TV. Then they took a chance on Frank Darabont's interest in making an adaptation of Robert Kirkman's long-running comic series The Walking Dead. To say the gamble paid off is an understatement. The Walking Dead was the most-watched premiere in AMC history and viewing figures continued to climb season by season for a long time. Darabont cut his teeth in horror (writing A Nightmare on Elm Street 3, The Blob [1988], and The Fly II), and continued to write and direct some of the most acclaimed Stephen King adaptions until recent years. His skill as a writer and director of drama and his obvious love and respect of the zombie subgenre made the first short season of The Walking Dead a masterclass in horror television. It also made TV executives everywhere sit up and take notice of the potential of the horror genre, finally. Without Darabont and The Walking Dead kicking down the door, there is a very good chance we would not have the glut of quality horror TV shows that we enjoy today.
Whilst Ryan Murphy and Brad Falchuk had conceived of American Horror Story even before they thrust Glee onto an unsuspecting world, it can't have hurt its chances of being green-lit by FX in 2011 that The Walking Dead had already proved there was a potentially large audience for harder horror shows than the lighter supernatural and criminal fare studios were happier to fund. It may be difficult to recall after its steady decline into gimmicks and soapy plotlines, but the first season of American Horror Story: Murder House was a well-crafted and at times genuinely scary television show. It certainly was not something we were used to seeing on the small screen, and critics and audiences responded, making it the biggest new cable series of the year.
Following these successes in bringing more hardcore horror themes to television, the floodgates truly opened, and the decade saw countless attempts by every network to duplicate the formula with more horror shows, with varying degrees of success. As The Walking Dead cemented the zombie subgenre's already-growing renaissance (arguably kickstarted by 28 Days Later in 2002) and the decline of the sexy vampires, a veritable glut of zombie television began to appear. Z-Nation from Syfy leaned more into the hard action and dark humor of the subgenre. While its characters and scripting paled in comparison to The Walking Dead, for those genre fans who were fine with some zombie-killing action followed by a quip, the show got the job done. For my money, the Z-Nation spinoff Black Summer (Netflix), which depicts the early days of the zombie apocalypse, is the better show of the two. Whilst it too doesn't over-focus on the character-building, it does establish the world well, then ramps up the adrenalin and keeps it going at a clip, making it an eminently bingeable watch at a mere eight episodes.
Serial show creator Bryan Fuller took the already-popular Hannibal Lecter franchise and merged it with arthouse writing and visuals, turned the horror up a notch, and yet somehow managed to keep a story arc going. In 2013 when Hannibal premiered, this kind-of-difficult to pin down arthouse storytelling was not as common as it is today. This was before Westworld, Watchmen—before The Leftovers even. Critics loved its depth and its dense multi-layered story, and the show had enough viewers to make it to a third season. Ultimately, ratings dwindled throughout the seasons even as the critical acclaim increased and NBC canceled the show. Led by two powerhouse performances from Mads Mikkelsen and Hugh Dancy, taking the characters of Hannibal Lecter and Will Graham to complex places the Lecter films had nowhere near the time or scope to do, Hannibal is, for me, one of the high-water marks of horror television. Recently made available on Netflix, perhaps now is when it will find the audience that it richly deserved.
As well as seasonal anthology shows like AHS, Scream, Slasher, and Channel Zero, episodic anthology shows made a resurgence with the growth in interest in TV horror. Similar to Channel Zero in taking its premise from existing online sources, The CW's Two-Sentence Horror Stories was inspired by the subreddit of the same name, taking a two-sentence seed and expanding them into 30-minute episodes. Hulu's Into the Dark series took the anthology show further, partnering with Blumhouse Productions and consisting of feature-length episodes. Classic anthology movie franchise Creepshow made a return in 2019 via the horror streaming service Shudder, this time with two stories per episode.
The problem with any episodic anthology show is that they tend to be hit and miss. If an episode is 20 minutes or so long, and a particular episode isn't doing it for you, it's not a great effort to sit through it and wait for the next one. Committing to sitting through an entire film is a different ballgame. Nonetheless, Into the Dark received good reviews, and there are some choice picks amongst the collection to be found. 
Netflix finally found its own horror golden goose in 2016 with the launch of Scifi/Horror series Stranger Things. The Duffer Brothers, after having their script rejected by numerous networks, were fortunate that Netflix was expanding its interest in developing more original programming after the success of House of Cards and Orange Is the New Black. Meshing together numerous influences, it is set in the 1980s but a 1980s that we recognize from science fiction and horror films made in the era, utilizing incidental music in the style of and from the period to lock us into that time entirely. Instead of being a messy mashup of genre tropes that it so easily could have become, Stranger Things managed to nail an almost perfectly harmonious blend of a nostalgic coming-of age-tale and addictive sci-fi/horror action, becoming one of the most successful TV franchises around and, by the third season, breaking viewing records for Netflix.
While some may dismiss Stranger Things as barely scraping into the horror genre, Netflix's first original series from their partnership with one of the decade's most productive and imaginative directors, Mike Flanagan, was not only undeniably horror but one of the most inventive and genuinely scary television shows ever: The Haunting of Hill House. Loosely based on the Shirley Jackson novel, Flanagan managed to weave the subtlety and psychological aspects that made the book so effective together with his own unique angle on grief and trauma and their psychological effects, which has been a subject he has returned to time and again throughout the decade, each time to incredible effect. Hill House raised the bar yet again in horror television. Along with Westworld, it demonstrated that genre shows can not only equal the quality and intellectual content of straight drama but in many ways delve even further into the recesses of our minds because they are less restricted by being required to be set within a commonly-accepted 'reality'.
Streaming the Screaming
With Blumhouse and A24 leading a renaissance in horror cinema with their production and distribution strategies, Netflix was starting to gain a massive amount of subscribers and dominance in the market. In their efforts to become a player in original programming and films rather than rely on licensing from large studios following cinema release, they needed to change their model. Starting in the mid-2010s they began picking up distribution rights for films at festivals, either for worldwide distribution on the service or sometimes just in certain territories. Instead of competing with production outfits like Blumhouse, Netflix provided an alternative route to market (and thus return on investment) rather than the traditional often-difficult cinema release, or the straight-to-disc route. 
Foreign horror that would otherwise have struggled to get any distribution in other territories was starting to find new audiences on Netflix, despite their own fairly laissez-faire efforts at marketing their own programming. Just like Blumhouse and A24, Netflix realised the benefits of funding the distribution of the projects of hungry young creatives who could make unique and original films on a far lower budget than traditional studios. By giving more creative freedom to the writers and directors, the end results often had a more singular clarity and focus than the big studio's focus-group led efforts. 
Along with their continuing and mutually beneficial relationship with Flanagan which began in earnest with 2016's Hush—an inventive take on the home invasion movie—Netflix steadily began to distribute an ever-increasing amount of indie and low budget horror. As other streaming services began to follow suit, this gave indie horror filmmakers more opportunity than ever before to get their films funded and distributed and also meant horror fans had more choice and far more access to indie horror without resorting to nefarious methods—which inevitably meant often only ever getting to see a lower quality version of the film.
Naturally, Netflix's seemingly bottomless and indiscriminate open wallet resulted in many vapid or mediocre horror films—we're looking at you Open House—but the sheer quantity also resulted in some gems alongside the King duo mentioned earlier. Worthy of mention are The Ritual (David Bruckner 2017), Ravenous (Robin Aubert, 2017), Apostle (Gareth Evans, 2018), and The Perfection (Richard Shepherd, 2018). They also rescued Flanagan's Before I Wake from distribution hell, which had been bouncing around since 2014 until Netflix acquired international rights in 2017 and US rights in early 2018. 
The fact that this is merely a sample of the worthy horror films distributed by Netflix should tell you what a great new source of quality horror Netflix has become, despite the criticism of many of its cheesier efforts. Other streaming services have followed suit but have lagged behind in acting as distributors of original films, preferring to focus on funding original television rather than films, whereas Netflix has chased both routes in its quest for dominance. Nonetheless, even when not acting as distributors, streaming services—particularly Netflix, Hulu, Amazon, and Shudder—have been valuable new sources for smaller horror distribution companies to license indie horror films to.
Without streaming services finding low budget films, gems like Creep, The Endless, They Look Like People, Coherence, Raw, and many others would be far more difficult and far more expensive. We take it for granted a little now, but until recently we would have needed to spend more on a DVD for one film than we do for a monthly subscription to an entire streaming service. With genre-focused services like Shudder providing not only new and original films and programming but also classic horror too, the options available to horror fans are light years ahead of where we were even at the beginning of the 2010s. 
It's safe to say that the rise of streaming services has been as much of a game-changer for horror as the rise of independent production companies, and the synergy between them is leading to ever-more opportunities for horror creatives. There is an argument to be made that this may contribute to the decline of the cinema theatre, but the place for that debate is not in this article. In my opinion, following the 2010s, horror has never been in a better place, and I look forward to seeing what delights the next decade brings.