Some horror movies seem so fundamental that they manage to defy the time in which they are made.  No matter the details of costumes and soundtrack trends, they feel on some level as if they have always been there and always will. The Exorcist is such a film; Halloween is another. Let's Scare Jessica to Death is not one of those. And yet, despite its often-limiting 1970s ethos and low-budget aesthetic, Let's Scare Jessica to Death does enough things right to earn a place in that category of horror films that linger vaguely in the cultural imagination, somewhat outside the bounds of genre conventions or narrative categories.
Directed by John D. Hancock and released in 1971, Let's Scare Jessica to Death is a low-budget indie venture, part psychological thriller, and part vampire movie, that tells the story of a woman named Jessica (Zohra Lampert), recently released from a mental hospital and seeking a new life in rural Connecticut with her husband Duncan (Barton Heyman) and their friend Woody (Kevin O'Connor). They move into a spooky deserted mansion, "the old Bishop place," planning to leave city life behind and grow apples but find a mysterious young woman named Emily (Mariclare Costello) squatting on the premises. They invite Emily into their little circle and soon Jessica finds that she cannot separate fear from imagination, paranoia from panic, when she realizes that Emily resembles a photograph of the long-dead Abigail Bishop, who drowned in the local cove a century before and was rumored to be a vampire who still haunts the woods nearby.
Almost everything about LSJTD feels improvised, from the script to the shooting locations to the performances; the whole thing seems like a film class short that was expanded to feature-length because the crew had a long weekend on their hands.  Over the decades since its release, LSJTD has become a cult favorite and so the details of that improvisation have been collected and passed around. John Campopiano and Matt Spry's article on Dread Central, for instance, calls the discovery of key filming locations "an unexpected but beneficial discovery," and the finished product suggests that most of its memorable elements might have been similarly serendipitous.
It is precisely this sense of being discovered rather than made that accounts for LSJTD's unsettling gothic charm. The film's strange events—a silent girl in a white dress roaming the local cemetery, the leering stares of the men in town (all with bandages on their arms or necks), and half-seen faces in the lake—are all shown through Jessica's increasingly agitated point of view. The opening and closing scenes show Jessica alone in a rowboat on the lake, murmuring, "Madness or sanity, I don't know which is which," and close-ups and distorted camera angles throughout emphasize her emotional fragility and possibly tentative grip on sanity. At the same time, however, the strange nature of the events around her suggests that, as is often the case in this genre, conventional notions of sanity may not be suitable for naming and confronting the otherworldly.
Though the film presents Jessica, Duncan, and especially Woody as hangers-on to the hippie movement of the late '60s, its evocations of the counterculture are ultimately more stylistic than thematic (see Ben McDonald's 2021 article on LSJTD for an effective analysis of the film's counterculture impulses). While Lisa Marie Bowman's 2018 review of the film calls it a "portrait of the death of counterculture idealism," there isn't much of a real culture for the characters to counter.  The only thing we know about their previous life is that Duncan has left behind a career as a symphonic cellist—hardly a metaphor for corporate malaise or stifling milquetoast suburbia. Rather, the cello's large and unwieldy black case is one of the film's clever uses of everyday objects to suggest lingering dread, since (because the trio drives around in a hearse instead of a station wagon) the cello often appears to be a misshapen casket, and in fact, becomes one at the end of the film when a bloodied body is found inside it. The more important effect of the trio's late-hippie aura is the isolation it creates around them, separating them from the barely-glimpsed community they have moved into and establishing a dead-end emotional world for Jessica.
LSJTD leans heavily into a tradition of gothic stories and films that focus on women's psychological trauma as a shortcut to gothic paranoia. Charlotte Perkins Gilman's "The Yellow Wall-Paper," Henry James's The Turn of the Screw and its greatest film adaptation, Jack Clayton's The Innocents, and especially Shirley Jackson's The Haunting of Hill House, which became Robert Wise's film The Haunting just eight years before LSJTD—these are the modern centerpieces of psychological horror in the eighty years or so before horror literature and film started to dominate mainstream popular culture in the mid to late 1970s. These texts center on a critical tension that Tzvetan Todorov identified as the crux of the "fantastic" genre: an uncertainty rising from the possibility of a supernatural experience and an equally possible psychological explanation for what merely seems supernatural. [1]  In LSJTD, this tension manifests itself in Jessica's increasingly frantic attempts to interpret a series of unsettling experiences she shares with women, such as a friendly swim with Emily that turns into a violent assault and the sense that the mute girl in white appears only to warn her, through the lens of the "rational" advice and assurances provided by men. Like the foundational books and movies from which it draws, LSJTD builds its gothic atmosphere from the audience's identification with a female perspective, one that is presented as distorted, suspected, and challenged not only by the entirely male community around her but by malignant voices in her own head.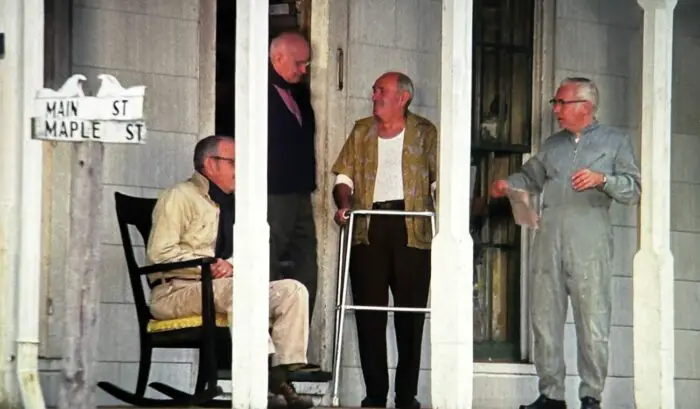 The film's opening scene establishes this juxtaposition between feminine introspection and masculine assurance, as Duncan and Woody look on in bemusement while Jessica runs through a cemetery to make rubbings of memento mori tombstone faces. "See?" Duncan assures her, "You're less frightened already." When Jessica sees the silent girl in white disappears among the stones, however, she admonishes herself not to share her experience with the men: "Don't tell them. They won't believe you."  The introduction of Emily into their private group seems to provide Jessica with a potential confidante since Emily admits that she too is open to emotional and imaginative suggestion: "Sometimes I…hear things," she says. "The shadows come to life." As the film goes on, however, the support Jessica is offered by the other characters gradually drops away, and the voices in her head become the only tool she has to interrogate her place in this potentially haunted world.  Woody becomes openly attracted to Emily, who then eagerly seduces Duncan under Jessica's ambivalent gaze; the voices in Jessica's head begin to take on multiple perspectives, sometimes alluring ("Follow me") sometimes taunting ("You want to die"), and sometimes simply, realistically self-doubting ("Did it happen?").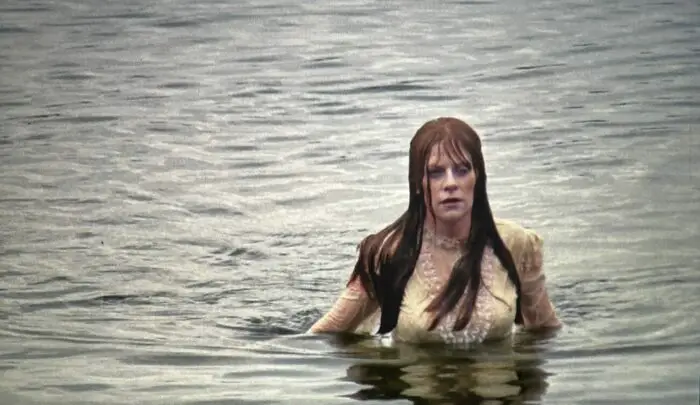 Many online commentators consider the film's greatest weakness to be its lack of resolution. The problem is not just that the audience is never sure what is real—Gilman and James and Jackson demonstrated that such a Todorovian hesitation can be both satisfying and scary. Instead, LSJTD suffers from never quite establishing what might be at stake in that tension between the psychological and the supernatural. Unlike The Turn of the Screw, in which the fate of two children hangs in the balance, or The Haunting of Hill House, where Eleanor's haunting threatens to dismantle mid-century possibilities for female independence, LSJTD suggests no particular larger world beyond Jessica's vision that might be affected by either her victimhood at the hands of vampires or her emotional collapse. The film also fails to establish what Jessica wants from her new life in rural Connecticut, leaving the viewer uncertain about whether, for instance, they should cheer this potential new life-growing apples or see it as an unrealistic post-hippie game.
In the end, Let's Scare Jessica to Death stands as a reminder of a pivotal moment in American horror culture.  It is moodier and more experimental than the coolly polished classics that preceded it in the '60s but less edgy and visceral than the independent films and directors about to change the terms of the genre in the '70s. Two other films noted for their low budgets and improvisational spirit, The Last House on the Left and The Texas Chain Saw Massacre, would be released one and two years later respectively—but both of those films have an intensity of purpose and, therefore, a legacy that LSJTD has not achieved.
Revisit Let's Scare Jessica to Death for its haunting imagery, its shaky attempts to interrogate 1970s counterculture and patriarchy, and Zohra Lampert's excellent performance in the title role.  A Blu-Ray version from Shout Factory was released in 2020 with all sorts of extras to keep the conversation going.
References
Todorov, Tzvetan.  The Fantastic:  A Structural Approach to a Literary Genre.  1970.