Netflix horror film The Perfection, starring Allison Williams (Get Out), is a shocking tale of revenge that keeps fans guessing until the very end. Centered around the elite world of classically trained cellists, the film contains a vibrant musical pulse. Charlotte (Allison Williams) attended an elite live-in music conservatory run by Anton (Steven Weber) until her mother became ill. She left the school as a teen but was remembered as a prodigy. In the decade Charlotte spent watching her mother deteriorate and eventually die, Elizabeth (Logan Browning) took her place as Anton's prodigy. Fast forward a decade later. Charlotte's mom dies. She subsequently reaches out to Anton and his wife Paloma (Alaina Huffman). Charlotte travels to Shanghai to see Elizabeth perform in concert, who is now the star in The Perfection that Charlotte could have been.
This all sounds really familiar, like it's setting up some sort of cheaper version of Black Swan (2010). All the world needs is another film about one woman being murdered by another, labeled as a "jealous psychotic." Thankfully, it's all just a bait and switch in The Perfection. Director and co-writer Richard Shepard takes so many curves throughout the film it's hard to keep up. Just hang on for the wild symphonic ride. Charlotte and Elizabeth are immediately attracted to one another. Allison Williams and Logan Browning (Dear White People)'s chemistry together mixed with beautiful cinematography makes for some steamy sex scenes. The Shanghai skyline also helps. Charlotte easily seduces her way back into Anton and Elizabeth's world. It seems like The Perfection is headed straight for Single White Female (1992) territory. The Fly (1986) meets Audition (1999) with a dash of American Mary (2012) is a little more accurate.
Charlotte and Elizabeth decide to go backpacking together for two weeks through China before heading back to Anton's conservatory in Boston. Their shared history, musical ability, and sexual attraction make them instant companions. Once on the journey, everything starts to turn into a living nightmare. The Perfection takes a hard turn toward Cronenberg influenced body horror. It seems that Charlotte had planned this all along. She slipped Elizabeth drugs that make her deathly ill and hallucinate…hard. Elizabeth becomes such a nuisance that the Chinese bus driver leaves them in the middle of nowhere. This is exactly what Charlotte wants. The real question is why? In a horrific sequence that any gorehound will love, Elizabeth chops off her own hand. The audience sees everything as Elizabeth sees it. We are also still in the dark. The scene is absolutely horrific. Elizabeth's hand is crawling with bugs from the inside out. Kudos to Logan Browning here, who goes for broke in a scene that had to require a lot of intensity. The audience believes everything that is happening because we don't yet know the full story.
That's how The Perfection works as a film. The story is told in chapters that each tell a contained story that don't completely make sense until viewed as a whole at the end of the film. It's like a painting that you have to stand a little farther back to grasp the entire piece. As soon as you think you have it figured out, The Perfection morphs into an entirely different film. This gives it a jarring feel but in a good way. It's one thing to pull the wool over the audience's eyes just for the sake of yelling 'gotcha,' but each twist and reveal in The Perfection adds meaning and layers to a complicated, gut-wrenching story of abuse. The drastic shifts in tone also allow both Allison Williams, Logan Browning, and even Steven Weber to show off their range. There's nothing in The Perfection that felt unearned to me, or that was simply there to serve the plot.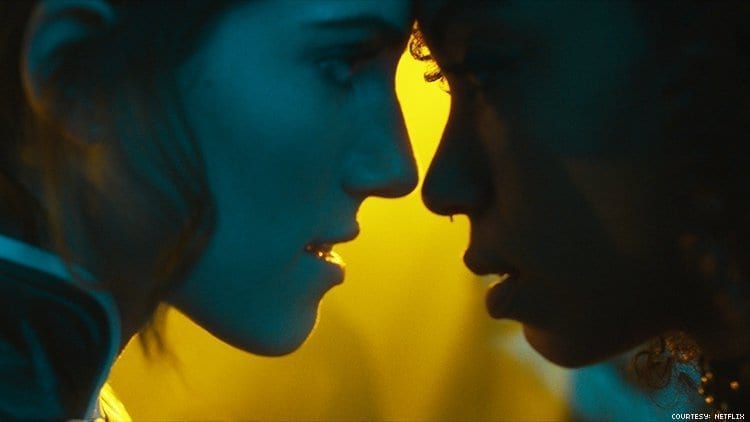 Visually, it's quite beautiful and visceral, despite the grisly subject matter. The violence and themes in the film's final act are both horrific and heart-stopping. The Perfection is an extremely intelligent, provocative thriller that doesn't stop making jaws drop until the final moment. There really is so much to love. Every second that Logan Browning and Allison Williams spend on screen together is pure gold, and Williams sells it when the audience is still supposed to think she's the standard femme fatale. The Perfection is also full of visual references to other "difficult" modern horror classics like Audition (1999) and Martyrs (2008). This film definitely took a lot of visual cues from extremes in both Asian and French horror films.
When Anton and Paloma truly reveal themselves for the monsters that they really are, the film suddenly shifts gears again and feels like something from the twisted mind of Takashi Miike (Ichii the Killer). The climax revolves around Charlotte having to perfectly play a classical piece in order to save a young child from being raped and tortured the way she and Elizabeth were as children. The final setting of Anton's mansion/conservatory feels like an old Universal castle with Anton as the evil doctor. He truly is a sickening, disgusting pedophile. What The Perfection says about the idea of "practice makes perfect" is truly stunning. The perversion of the quest for musical perfection wrapped up in a psychosexual body horror film disguised as a femme fatale thriller. The Perfection is undoubtedly one of a kind in its genre-bending.
Some audience members will be turned off by the subject matter to make it through the film, but those that can are in for a real treat. Richard Shepard has really thrown a lot of different elements into a blender to tell a timely story about sexual assault. It's also a plus that the film is anchored by two excellent, standout performances from women. It is definitely going to cause controversy, as it is already being accused of using rape as a plot device. To be clear, sexual assault of any kind should never be used to create a "strong woman." The Perfection doesn't use Elizabeth and Charlotte's assault to define them. They make their own destiny and create their own music in their own way, despite the horrendous things that they were put through. That's a symphony I'll keep coming back to hear.