Louise Fletcher sternly delivers a line in Flowers in the Attic, where I believe a lot of the inspiration for Children of Sin comes from, saying, "I will give you food and shelter, but never kindness or love. For it is impossible to feel anything but disgust for what is not wholesome." Christopher Wesley Moore's latest film takes V.C. Andrews' words and cruelty and applies them to Catholic conversion therapy camps, places where you "pray the gay away" and learn to live a submissive lifestyle in the hopes of reaching the coveted kingdom of heaven. In the event you are woefully unaware, these such places do exist and make me proud to be an atheist.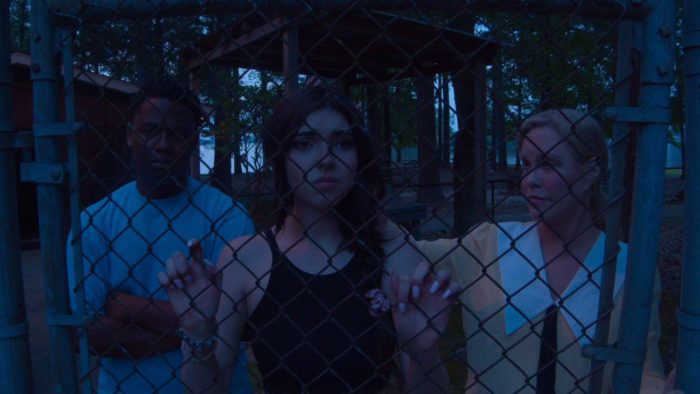 Children of Sin begins with brother and sister Jackson (Lewis Hines) and Emma (Meredith Mohler), who are sent to spend a few days on a religious sabbatical after their mother and stepfather (Jeff Buchwald) learn of their sins. Jackson is caught watching gay pornography and Emma says she's considering an abortion after her mom finds an at-home pregnancy test in the trash. Emma pleads with her mother to leave her stepfather whom Emma feels is overtly affecting her seemingly non-religious mother. Late one evening, Jackson and Emma are pulled from their beds and told they're escaping the madness. Instead, their mother drops them at Abraham House, saying it's only for a few days so she can find enough money to get the trio started somewhere new.  
Abraham House has the same feeling as the Pinehurst halfway house from Friday the 13th: A New Beginning, where Tommy Jarvis recuperates after killing Jason Voorhies in the previous installment. The place is similarly filled with a group of characters, though we rarely get to know more about them. Emma finds a kindred spirit in Rebecca (Ana-Claire Henley), and Jackson falls in with a couple of converted homosexuals, Kris (Cami Roebuck) and Hank (director Christopher Wesley Moore). The caretaker, Mary Esther (Jo-Ann Robinson), lays out her rules for having a good stay at Abraham House. Should you get three strikes, the resemblances to the aforementioned slasher franchise become even more comparable, and Mary Esther is willing to kill for her beliefs.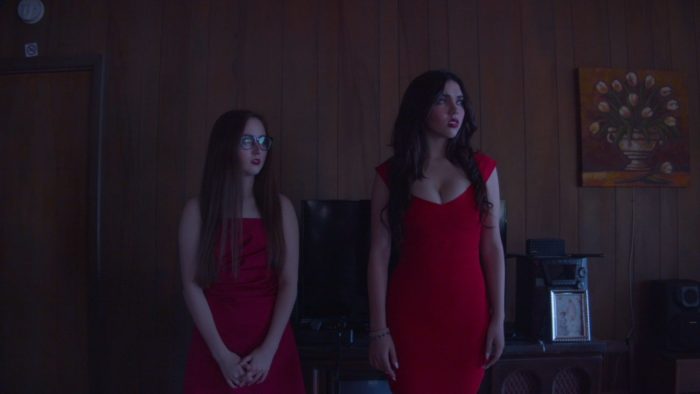 The film is at its best when it leans into its B-movie situation. The introduction piece in Jackson and Emma's home may be the most difficult part of Children of Sin to get through, as it fumbles through the exposition. Honestly, it may have served the movie better to start with Emma waking up at Mary Esther's religious conversion camp. The introductory scenes are awkwardly paced, and the acting isn't exactly academy award-worthy. Those initial twenty-two minutes aren't entirely unnecessary, but there are more creative avenues the film could have explored to take the burden off of the inauspicious opening. Extra lines of dialogue or momentary flashbacks may have helped fix most of that. 
Once at Abraham House, Children of Sin is a bit easier to watch. Robinson is excellent, imbuing a sense of charm into her the two-faced psychopath Mary Esther. One moment she's Norman Bates; in the next, she's his mother. Robinson walks the brilliant, brutal line of those evil matriarchs before her, such as Piper Laurie in Carrie or Fletcher in Flowers in the Attic. Mary Esther also exudes a lot of the same piety as Morfydd Clark in Saint Maud with a similarly checkered past, but without the expectation of succumbing to self-martyrdom. Esther's stern religious caveats show the duality of religious hypocrisy as souls on Earth attempt not to get bounced at the pearly gates by St. Peter.  
Offering a particular meditation on what some people consider sinful is what Children of Sin is really all about. Currently living in an era of people holding onto antiquated beliefs with submissive overtones and considering themselves righteous, Mary Esther would rather go on a murder spree than accept homosexuality or a subversive female perspective. Christopher Wesley Moore's story is terrific, but the film is clearly restrained by its limited budget. With a larger budget and some dialogue revisions, the film could have shined more prominently as the throwback to the '70s and '80s slasher horror that it is. This isn't Moore's first rodeo, though the constant edits and inconsistent scope make it seem otherwise. Continuity errors persist, including an enjoyable goof with a disappearing ax during a particularly crucial scene and some bewildering stylistic choices throughout the film.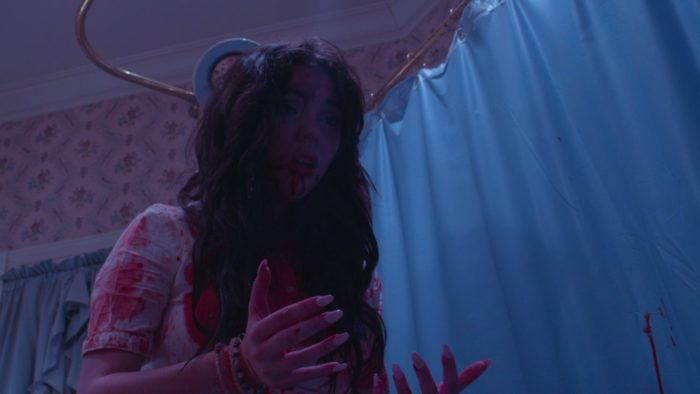 Overall, there's a lot to like about Children of Sin, and I think it has cult following written all over it. Moore's flick will definitely be polarizing to America's far-right repressed conspiracy theorists who like their horror movies free from thoughts that aren't aligned with their own, and I love that aspect. For me, the ideas in the film are fun, and I think Moore wields them as well as he can. Still, I wish the film were a little tighter and had more of those gut-punch moments. There are a couple of jaw-dropping scenes regarding sexual stimulation specifically, but that's about as gripping as the film gets. One offers a critical parallel between what acceptable devout behavior looks like and what is considered deviance through the eyes of a believer, and it's the film's best moment. It also helps to shift the tone of the film's satirical impetus, helping it become heavily atmospheric, thanks to Luke Zwelsky's notable score. Finally, the conclusion is impressively satisfying, designed to instill a Wes Craven comparison through The Last House on the Left and A Nightmare on Elm Street in colorization and set design respectively. Children of Sin's final moments and specific calling-out of the "Don't Say Gay" state add to the movie's overall likeability. 
For Me, Children of Sin is a bit of a mixed bag primarily due to the production's budget. The idea is just so much bigger than Moore can display it at this level. I'd recommend the film to fans of Flowers in the Attic. There are undoubtedly some recurring themes there, and anyone like me that seeks out these types of off-beat and charming lo-fi indie horror films. Hell, you may end up being drawn to the film simply because of the gorgeous poster by Marc Schoenbach of Sadist Art. 
Children of Sin will be available on Amazon Prime Video on April 22.