Soho Horror Film Festival continued their first of eight Shockdown Saturday events with the horror-comedy 15 Things You Didn't Know About Bigfoot (Number One Will Blow Your Mind!), a mockumentary that made the rounds through the festival circuit in 2020 and had me reeling with laughter at Chatanooga Film Festival last year. Unlike recent Bigfoot horror titles like Willow Creek and Monstrous, the second half to Soho Horror's "if you go down to the woods today…" theme provided lighted fare—the perfect juxtaposition to the dire horror of inescapable fate crafted by the first feature To Freddy. Again, the audience was treated to thematic shorts before the film, a feature of this festival that I absolutely love. 
Director Dave Haaz-Baroque provided a short burst of sophomoric humor through well-crafted puppets as a drinking frat-boy sasquatch provided a Drunk History-style yarn in Sasquatch's Scary Stories to Tell by the Campfire. Then Remi Frechette presented a twisty noir whodunit in the inventive silhouette laden There's a Gorilla in the Closet, where a couple of gumshoes stumble on a dinner party murder plot in a mansion. Both short films set the right tone as we moved into part two of the double feature.  
15 Things You Didn't Know About Bigfoot (#1 Will Blow Your Mind!) is a mouthful of a title; however, it is one befitting the nature of the film. The faux-documentary follows Brian (Brian Emond), an arrogant clickbait journalist, who dreams of success in covering more than just millennial nonsense stories like the Crimean craft beer scene and artisanal antibiotics. With his ever-vigilant cameraman-producer, Zach (Zach Lamplugh), Brian feels the stories the pair are forced to take are beneath them and unbecoming of his intellectual prowess as he longs to establish himself as a premiere journalist uncovering more deserving stories.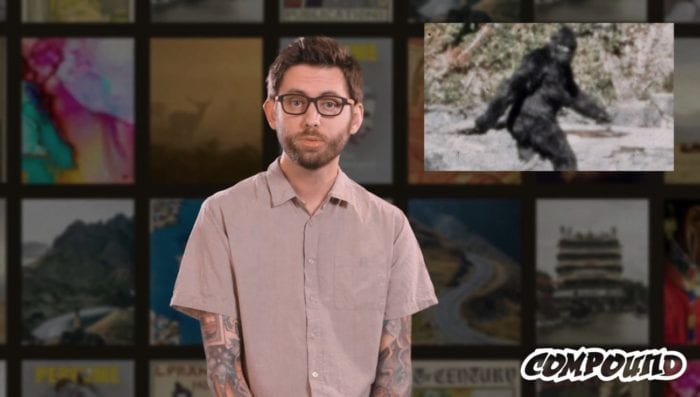 Brian gets wind of an opening for a new show opening up on their network, Compound, and gets excited that he may be in line to move up the food chain into some hardened stories. But first, he's put on the assignment of tracking Bigfoot through the southern Appalachian foothills in northern Georgia. The film is fantastically tuned into its presentation of a VICE-like show through its unnecessarily slick transitions and over-the-top personalities like the film's Dirty Dolla$ign$ (Tevin Williams), who hosts a show about smoking weed and eating fast food. When Dolla$ign$ compares Canadian Prime Minister Justin Trudeau to an American city mayor while making his way to the airport with Brian and Zach, Brian finds out he's been passed on again by the network. 
Brian's spirits are crushed and his mood is completely soured as he and Zach arrive at the largest Bigfoot convention in the southeast. Being that I thought Bigfoot was more of a northwestern occurrence, I had to see if such a festival existed. Lo and behold, it turns out there are many Bigfoot events in Georgia. Brian's bitter disposition is a win for the viewer as he and Zach travel to meet with an awkward, pheromone-based Bigfoot hunter and dismissive local police which serve up a few cringe-worthy, laughable moments that lead them to the loveable loner, Jeff (Jeffrey Stephenson). Jeff is a YouTube monster hunter known as The Cryptid Commander who is well-known for catching the best evidence of Bigfoot's existence on camera, but he sacrificed his personal relationship in the process.
Brian's ego continues to take a hit when he feels blindsided by the revelation that he and Zach will be spending three nights camping with Jeff as they go out searching for Bigfoot. The more humility that is forced onto Brian's staunch hubris makes for more wonderful comedic moments throughout the film as we see the character desperately attempting to restrain his frustrations and keep it together. The situation becomes even more amusing as Jeff sways back and forth between the vulnerability over his breakup and being the bad*ss authority Eagle Scout guide that's getting his own Compound documentary.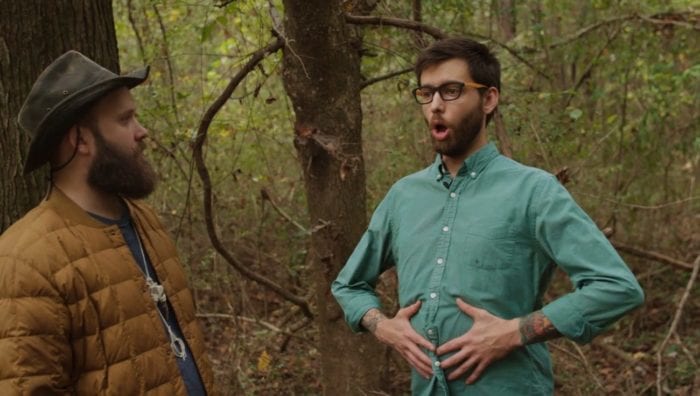 During their first night, Brian wakes up Zach after hearing noises in the woods. Upon investigation, something appears to be stalking the group among the trees. When the two emerge from their tent the next morning, their campsite has been trashed and someone, or something, has cracked their campfire skillet and forced the handle into the thick bark of a nearby tree. When they go looking for Jeff, he's briefly missing, and for a moment Brian and Zach ponder if Jeff could be capable of what they've witnessed.
Fun little parody moments of The Blair Witch Project show up by way of Bigfoot glyphs and hipster map arguments and help keep horror fans amused before the final act of 15 Things You Didn't Know About Bigfoot gets wild. The documentarians put their own lives at risk when they stumble upon a story you likely will not see coming, but trust me when I say it's a fun ride full of some hilarious belly laugh moments. 
15 Things You Didn't Know About Bigfoot (#1 Will Blow Your Mind!) satirizes the millennial news experience through clickbait culture as well as the current generation's lack of discernable life or survival skills. Even when Brian tries to play Jeff's intellectual superior, Jeff's abilities to traverse the woods and situational know-how play a huge part in getting Brian and Zach out of the woods with a career-making story. It also shows the fragility of the male ego through the characters' various on-air media personas: Jeff dealing with heartache versus confronting his problems, Zach's vulnerability to being ditched, and Brian's detachment from what's happening in front of him while searching for a better story. The film's finale provides heartfelt closure to the group's uproarious journey, and Brian finds that sometimes stories come from the most unexpected places. It isn't the most insightful or inspiring story out there, but co-writers and stars Brian Emond and Zach Lamplugh have delivered a creative, original, and side-splittingly funny movie that should leave you with a smile on your face.
The first Shockdown Saturday may be over, but the fun will continue throughout February and March. If you'd like to be a part of the festival, all you have to do is become a member of the festival's Facebook page and click the links in the announcements section when the films are released on Saturday. All showings are based on local time in Soho, England—check with their website for times. Though the festival is free, Soho Horror Film Festival is operating solely on viewer support donations and entirely without sponsors. So, if you like what you see, I'd strongly encourage you to support them so we can all indulge in future events.