This is it. The final Soho Horror Film Fest Shockdown Saturday post. It's strange. I covered nearly every film at this festival, working myself to exhaustion at times, but now that it's over, I know I'm going to miss it. Films selected to close out a festival have to be chosen well. These are the last memories an audience is going to have before they go back to their daily routines, and you want them to look back fondly and leave them with nostalgic moments they can reminisce about until the festival returns. Soho Horror may have done things differently in spreading twenty-eight features out across 12 weeks, but the mentality is still the same and, spectacularly, the festival ended with one of the weirdest films I may have ever seen in Sister Tempest and followed it up with a riotous science-fiction-horror-comedy, Useless Humans. As always, there were shorts before each feature. 
Sister Tempest's introductory short Sonrisas (Smiles) attempted to show us how far a disingenuous 'grin and bear it' attitude can go when a happy couple decides to take the next step in their relationship. Borja (Luis Miguel Jara) agreeably says yes to meeting his girlfriend's (Loreto S. Santamaria) parents with the obvious expectation that it will be an awkward affair, but, when he arrives, it's worse than he could have ever imagined. Borja's girlfriend describes her family as authentic, but arriving at their house, Borja sees that her family is wearing ridiculous masks, and they haven't said a word to him. Javier Chavanel delivers to us a very difficult rites-of-passage scenario for couples everywhere in a profoundly absurd manner, right down to its beautiful makeup effects finale that reminds us it's what's on the inside that matters most.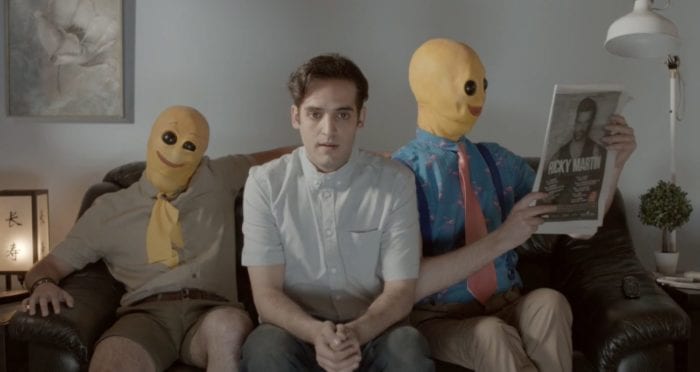 The second short had no name attached to it and wasn't officially listed on Soho Horror's website. A hilarious send-up of irreverent superheroes with one responding when someone rips a mousepad, I happened to find the short as a silly commercial for SteelSeries mousepads when googling Mousepad Man. There's not much meat to the short. I think it runs less than three minutes, but it's a ridiculously funny and creative take on a genre that's running out of heroes.  
The start of Sister Tempest is quite a lot. Two young sisters are vowing their loyalties to each other after the death of their parents, a whirlwind of images the viewer is hit with, and a giant in a spacesuit stomping houses over imagery of atomic blasts. In other words, the film warns you right away that things are going to get weird.  
Sister Tempest then dives into strange territory. It introduces us to Karen (Holly Bonney) and Chris (Taylor Guarisco) as the two celebrate Chris' retirement from dealing drugs by making out in Chris' car. Chris hands Karen an eyeball he says she'll need someday and immediately gets his head blown off. In terms of openings, Sister Tempest had my undivided attention. The film stops itself there and resets. A figure in a black room is writing the script, looks over his work, and throws away the page in an almost Terry Gilliam style. The audience is back to imagery for a moment before being asked almost directly if we're ready to enter the beyond.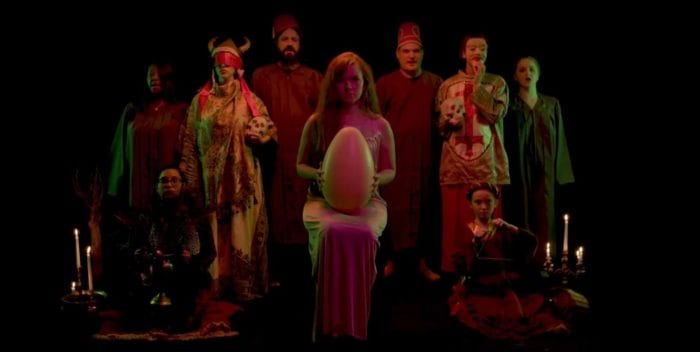 The film concerns two sisters, Anne (Kali Russell) and Karen. Anne is put on some kind of supernatural trial for her actions in the aftermath of Karen's disappearance. What transpires over the next two hours is a horror story with Anne in the center that goes back to the traumatizing death of her parents and a pact the girls made as children to never leave each other. When Karen decides to leave, she soon winds up missing, and her boyfriend windes up dead (aka the opening sequence). Suffering detachment issues, Anne ends up offering her struggling new art student, Ginger (Linnea Gregg), Karen's room as a place to stay. The situation is momentarily fixed through obvious transference but quickly goes south when Anne begins to suspect Ginger of being a vampire and possibly Karen's killer. 
That is the simplest description of events up to this point. What transpires over the course of two hours is a magnificent genre-spanning ride through science-fiction, horror, and psychological drama resulting in a one-of-a-kind arthouse experience. In fact, much of Sister Tempest reminds me of the strange opera that is Giulio Paradisi's The Visitor and the works of Alejandro Jodorowsky. The imagery is astounding, and though the story is a bit disjointed and off-center, you know by the end you'll have this complete piece of work that's not only fascinating but whose pieces fit together better with every watch. I may even put Joe Badon's Sister Tempest in league with Miguel Llansó's mind-warping head trip indie movie from last year, Jesus Shows You the Way to the Highway. 
I try not to give anything away in these reviews, especially being that many of the films haven't made their way into spaces where people have heard of them or had the opportunity to see them yet. Being that there's so much interconnectivity in Sister Tempest, it's hard for me to go any deeper into the film without really spoiling it. I found a lot of psychological brilliance in the way certain things were formed throughout the film, especially art design incorporation for the shifting mental status of Anne's psyche in the wake of her sister's disappearance, who happens to be an art teacher. There was a lot of thought and creativity behind the whole film, and it really pops with an ending that you may be able to guess about halfway through if you're paying attention. Yet, Sister Tempest remains extremely satisfying overall, and I do believe fans of the film (and this film will have its fans) will get more from it in subsequent viewings.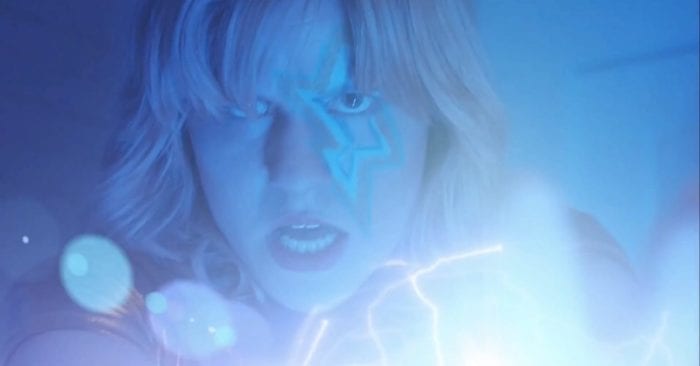 Before our final feature started, two final shorts introduced the film. The first, Thomas Lunde's They Came, was a cautionary tale for perverted, trophy hunting men everywhere. The Norwegian short features a repugnant mechanic (Bjørn Inge Jansson) working on a car after returning with a pair of panties to display with the rest of his trunk trophies. A radio transmission broadcasts news of a missing girl before everything goes dead and a lovely-looking Kristina Holt enters looking for only one thing. Unfortunately, size matters in They Came, and the lovely-looking woman isn't impressed. The effects that continue here are fantastic with mandibles that will make you wince.  
I don't know how I felt about the last short film of the festival. We Are Not Alone opens on Gina (Meganne Young) who has died of a drug overdose. While lying on the bathroom floor of her bathroom an entity assumes control of her body and in a very Terminator fashion, adapting to its new host to begin its mission to kill Adam (Matthew Berry). Adam, at the very same moment, has decided not to kill himself but on his way home, he runs into Gina. Literally, with his car. An ensuing teen romance is imminent following a case of amnesia, but the pair end up being hunted by an evil lifeform and there's only one way out. Writer/director Trevor Clarence mixes some metaphors here with his characters taking a leap of faith, the result isn't as beautiful as the short insists. With a title like We Are Not Alone and themes of suicide and overdoses prevalent, the ending to this one caught me off guard. I understand there is also some heaviness put upon the shoulders of these characters and they end up freeing themselves from those pressures, but it's an interesting risk that Clarence takes, I'm just not sure it will be for everyone. 
Rounding out the Soho Horror Film Festival, the completely irreverent and astonishingly silly Useless Humans. This was not the film I expected for Soho Horror to end on but it's so subtly appropriate. Stephen Ohl's Useless Humans is a brash, sophomoric alien horror-comedy that is a bit like if American Reunion was mashed-up with 2012's The Watch.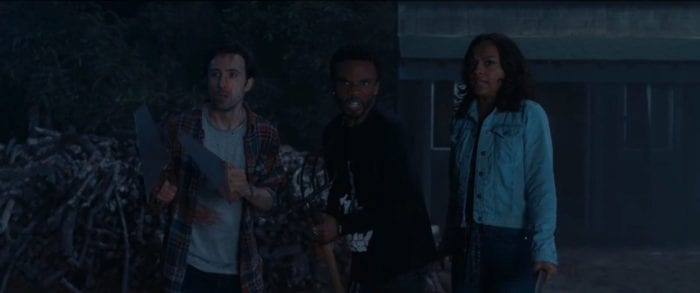 Brian (Josh Zuckerman) is a young man with aspirations of becoming the next great NASA engineer. The only issue is that he's unambitious, and he's just quit his job at the planetarium that holds the keys to him getting his foot in the door. That's okay though. Brian is turning thirty, and for the first time in nine years, his friends are all coming to celebrate with him out at his family's lake house. Everyone seems to have done really well for themselves; Louis (Rushi Kota) is a surgeon, Jess (Davida Williams) is saving the planet, and even loveable party boy Alex (Luke Youngblood) seems to have it more together. And if that wasn't enough to depress someone on their thirtieth birthday, Jess, who Brian has had a crush on since high school, has brought her excitable hipster boyfriend Zachary (Joey Kern) with her. 
It's a rather generic setup, but the cast is great together and really makes Useless Humans work. It singles out Joey Kern, who you're supposed to root against in the film, and Zachary is fantastic. Somehow, he's charismatically winsome in delivering the character's exhaustibility. I've liked Kern for a long time, seeing him in other sophomoric comedies like Grind and Bloodsucking Bastards and most recognizably in Eli Roth's Cabin Fever, but as Zachary, it feels like he's found that right balance striking something similar to Russell Brand's character in Forgetting Sarah Marshall, though maybe not completely as likable.  
As the evening progresses Zachary is ousted for his imprudent behavior after being caught sending scandalous pictures to other women. When he decides to leave, he has a close encounter that leaves him badly wounded. The group discovers that their various modes of transportation have all been destroyed and soon discover they are not alone, both at the lake house and in the universe.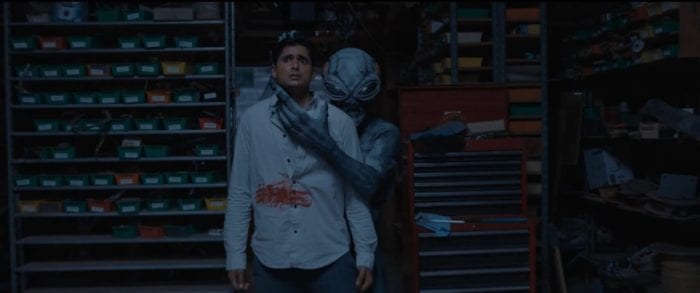 Useless Humans is silly, but it's meant to be. I actually delighted in the breezy attitude this movie had as if I were watching a grown-up version of Stranger Things, especially when they tried to flee from the alien on their bikes. There are a few gory surprises and a plotline about two hired agents (Edy Ganem and Maya Kazan) that provides a certifiably laughable twist, and, except for the film just sort of ending without any sort of epilogue, it's good fun.  
I mentioned at the beginning that you need to close a festival out on films the audience will remember. I'll remember belly laughing throughout various scenes of Useless Humans and being completely enthralled by the artsy rabbit hole that is Sister Tempest. These films speak to the feeling of the last twelve weeks with bold choices that defy genres and conventions. If you've been following along with the festival, or just Horror Obsessive articles covering some of these impressive and delightful independent films, then you know this was a very unique and unconventional film festival that was put on free of charge and without sponsorship to promote some amazing films that people may not have seen otherwise. For the past twelve weeks, festival-runner Mitch Harrod has worked tirelessly to entertain us, providing us with twenty-eight features, nearly double that in short films, a Zoom murder mystery party, panels, podcasts, and afterparties.  
It's a weird feeling for me. I feel like I'm putting something away that I genuinely cannot wait to see again, very much like wanting to revisit your favorite book or film. This festival was amazing, and I'm thankful I was able to be a part of it, meet such wonderful people during the Zoom afterparties, and talk about movies with them—sometimes until the sun came up in Soho. I encouraged anyone who read these articles over the last twelve weeks to join the Soho Horror Film Festival Facebook page, and I will do so again. You won't want to miss the next events this festival puts on; I have a feeling they're only going to get a lot better.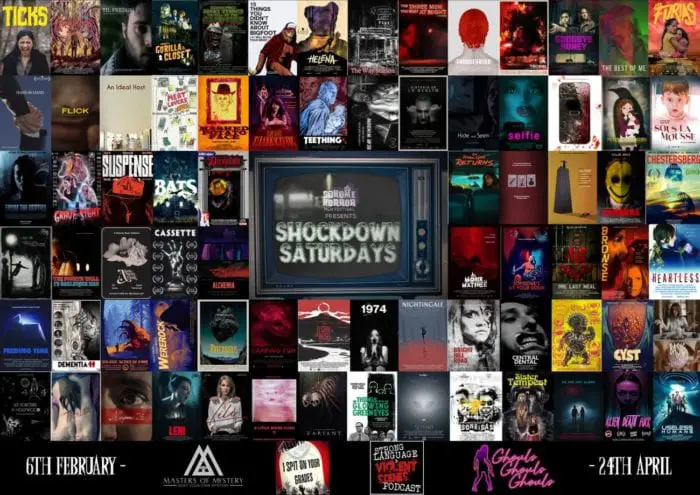 For more of our Soho Horror Film Festival coverage, check out:
Soho Horror Film Festival: Skyman, Variant, and The Things With the Glowing Green Eyes
Soho Horror Film Festival: A Little More Flesh II and Week Eleven Shorts
Soho Horror Film Festival: Cyst, Central Dental, and Hospital Dumpster Divers