This past weekend began the Soho Horror Film Festival's Shockdown Saturdays event, eight Saturdays through February and March of themed double features, littered with delightful tie-in shorts for a fun virtual drive-in like experience. This past weekend featured the wonderful theme of "if you go down to the woods today…" and presented two fantastically different films, To Freddy and 15 Things You Didn't Know About Bigfoot (#1 Will Blow Your Mind). The best part is that to see any of the films, all you have to do is become a member of the festival's Facebook page and, once allowed, click the links in the announcements section when the films are released on Saturday. Though the festival is free, Soho Horror Film Fest is operating solely on viewer support donations and entirely without sponsors, so if you like what you see, I'd strongly encourage you to support them so we can all indulge in future events. 
Kicking off the event was the super short film "Ticks," in which three hikers discover there's something far worse than contracting Lyme disease. Clocking in at about three minutes, this was the perfect way to start the inaugural weekend. Though it's short, it doesn't skimp on the skin-crawling, stomach-turning effects and gore. I was grinning from ear-to-ear as the credits rolled, even if I did put down my popcorn momentarily. Next, human sacrifice meets The Breakfast Club in Heathens. A group of high-schoolers chase down a classmate in the woods in an attempt to perform some kind of ritual until things go sideways. Though the plot leaves a few questions, the cinematography and direction of Carlos Garcia Jr's short certainly suggest a powerful eye for color, depth, and framing.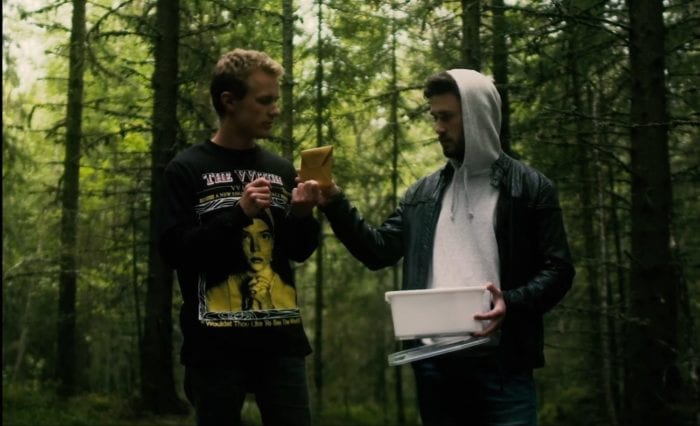 The first feature, To Freddy, sees a bunch of friends eager to go on a camping trip together. While hanging out in a park prior to their trip, Viljar (Viljar Bøe) and Freddy (Nicolai Narvesen Lied) discover a Tupperware container addressed to Freddy in the middle of the woods. Inside the box are various sympathy cards with dates and times on them. His first letter contains the warning that one of his friends is going to kill him on the camping trip, specifically at 22:33 on Saturday, and instructs him to open the rest of the letters on the date and time provided. To prove that the box is legitimate, it predicts dice rolls and card shuffles with such extreme accuracy that it claims would be completely improbable otherwise, and it answers all of the questions. It also says that avoiding the trip is "not an option." Though certainly an interesting occurrence, Viljar maintains his disbelief as he watches the targeted Freddy become increasingly paranoid by the letters. 
To Freddy provides an interesting twist on the magic letter trope we find in films like The Lake House, where under some magical pretense someone receives letters from the future that try to influence the outcome of their fate. 2017's meditative Black Hollow Cage uses a version of this, as well, when a girl stumbles upon a large black cube in the woods and finds scraps of paper with her handwriting on them. I was under the impression for much of the film that To Freddy was headed in the direction of wrapping up with either Freddy discovering how to send himself the letters and closing the future loop –like in Predestination or Timecrimes—or that it was all an explainable plot by one of his friends. The result is so much more menacing than I could have imagined, and well put together by writer, director, star Viljar Bøe.  
The thing that makes To Freddy so inescapably enthralling is Freddy's absolute submission to his belief in the letters inside the box. Beholden to disparaging a fate he doesn't want to be realized, Freddy follows every note regardless of the consequences. What would have happened if Freddy decided not to join the group in the woods? The film doesn't tell us, but that's not the point; Freddy trusts the cards are trying to save him, so he continues to allow them to guide him. The more they prove themselves true, the deeper his reliance on them becomes. To Freddy reminded me of the 2012 thriller Compliance, which recounts true-life events inside a Kentucky McDonald's in 2004, when a member of management was called by someone claiming to be a police officer and told the manager to perform a strip search on an employee. The same lack of skepticism or inquisitiveness by Freddy feels like a Milgrim experiment, perhaps more justified given the evidence the cards show him, but Freddy still places enough blind faith in these cards to think they are the authority on how he can cheat death. How far is too far when you think your own life is at stake?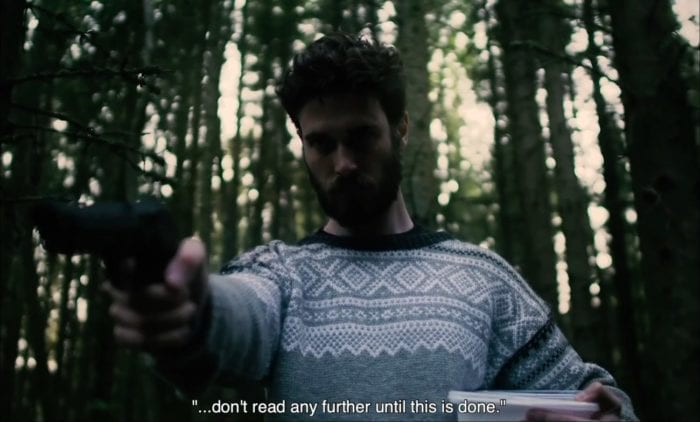 In Freddy's case, the need for his own self-preservation requires the abandonment of his friends because his ordeal is based on the idea that one of his friends is going to murder him. Instead of communicating and asking for help, he puts his full trust in the box of cards, further isolating him from his friends and turning him into his most defensive personality. The cards are in a way cultish for Freddy, and he follows every word in them as if it were gospel, not realizing that the more he feeds into them, the more suggestible he can become. When Freddy tries to refrain from the letters of his friends do intervene, the letters seemingly come back in another form and pull him back into the cult-like belief that he's going to be saved, making for a fantastic imagining of how the fear of death can turn people into monsters. 
I found To Freddy to be psychologically captivating, putting the viewer into Freddy's ardent and simultaneously caustic belief that he's no longer capable of making his own decisions. While Freddy desperately seeks to undermine fate, he never considers the alternatives and allows himself to fall down a rabbit hole of fear and madness. It's a tense, well-paced 72-minute jaunt through the woods that never feels bottled up by location or narrative restriction in the way some other "in the woods" features tend to feel.  
The Soho Horror Festival: Shockdown Saturday double features are running every Saturday in February and March. Check with their site for times.