As a self-professed body horror enthusiast, I felt it was my civic duty to review Body Shocks, a collection of stories from the greats including Adam Nevill, Nathan Ballingrud, Tananarive Due, Caitlín R. Kiernan…the list goes on and on. The degradation and transformation of the human form are explored in a grotesque and beautiful buffet within these pages collected by award-winning editor Ellen Datlow. For a full list of the authors and stories included, check out Tachyon Publications.
While I'm very familiar and comfortable reading material that goes to the extremes, I say this with utmost honesty: this book is intense. There are stories here that are genuinely revolting, with the greatest depths of human cruelty and depravity, pushing the limits of what our flesh and bones are capable of and tearing through to the other side covered in blood and guts. It wastes no part of the buffalo, and I began to imagine Datlow checking off body parts one by one as she collected these tales. Teeth? You got it with "Toother" by Terry Dowling. Sexual encounters with alien beings? See "Spar" by Kij Johnson.
In her introduction, Datlow says body horror "…might be the most disturbing type of horror because it deals with the intimacy of the body's integrity being breached." I have struggled to put into words over the last several months why I am drawn so strongly to tales like this—melting, deforming, evolving flesh. I think part of it has to do with my body dysphoria and dissociation, my attempts to feel connected with this vessel I inhabit; by adding piercings and tattoos, I'm taking power over my appearance and feeling better connected with myself. Every single one of us has a body and deals with the various systems and functions of it, whether we're conscious of it or not. (You are now aware of your posture. Take a moment and stretch!) The senses of taste, touch, temperature regulation…can be made to hurt, to terrify, to disgust. The only limitation is imagination—which, thankfully, these writers are chock-full of.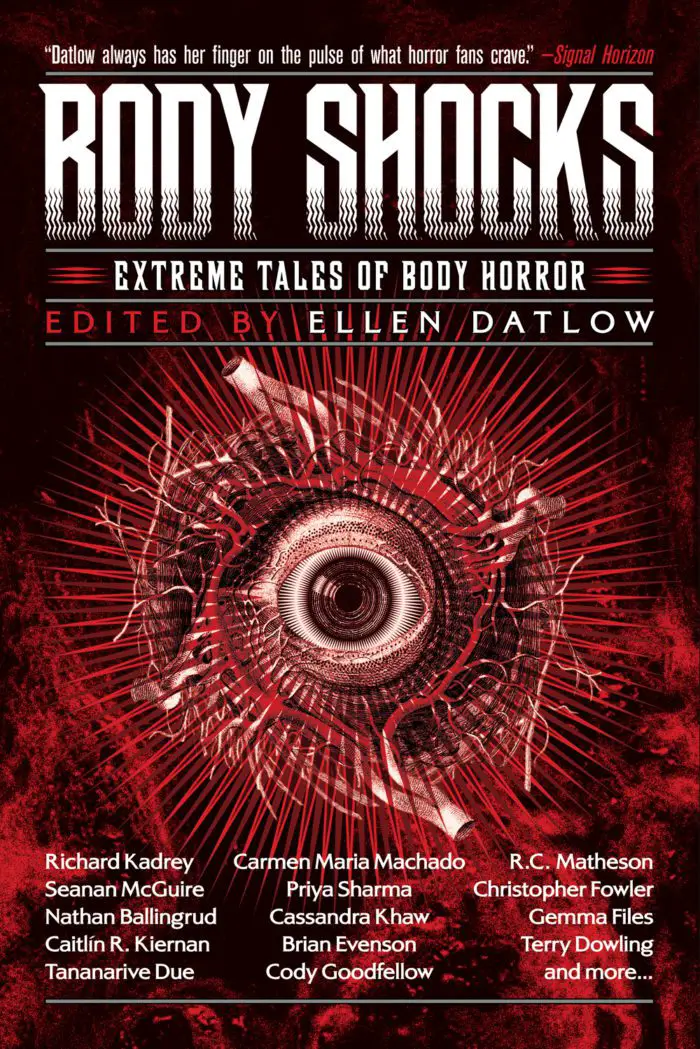 A fun aspect of the subgenre is how varied body horror can be. Even children know about zombies and monsters (I saw a young girl wearing a Venom hoodie the other day and was pleased), but diving into more bizarre and disturbing work feels purposeful, whether from morbid curiosity or adoration. It also plays quite well with others: sci-fi, eco-horror, etc. "Natural Skin" by Alyssa Wong mentions cybernetic implants, information transfer through needles to the brain, and the buying and selling of human flesh for the ultimate in cosmetic surgery. "What I Found In The Shed" by Tom Johnstone involves a 3D printer capable of creating more than just inanimate objects. 
Some, like "Cinereous" by Livia Llewellyn, use one of my favourite storytelling tropes: a rich world that is never explained in great detail, left mysterious and alluring. Why are these French scientists decapitating savage children? What are they testing for? I'll never know, but fleshing it out (sorry) in my head is fun. I've always been adamant that short stories are the most effective form of horror. You don't need to stretch it out, and often that ruins the tension anyway. Gordon B. White describes these as "blank areas…to keep some of the weirdness." Body horror and weird fiction have a lot of overlapping elements.
Another thing I appreciate as a reader is the sheer number of stories by women or having women as the main characters. While it's improved year by year, horror does occasionally feel dominated by masculine voices. Having a wide variety of writers from different genders, races, and backgrounds in an anthology is a fantastic way to get more eyes on writers. For instance, the final story is the late Michael Blumlein, M.D.'s "Tissue Ablation and Variant Regeneration: A Case Report." Using his extensive medical knowledge, Blumlein approached horror from what may be considered a detached perspective, with anatomy terms and lingo that, while the norm in a surgical suite, is quite foreign to the layman.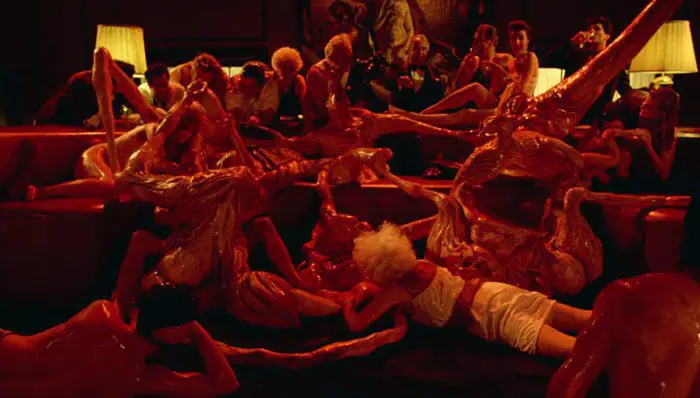 Story length ranges from only a couple pages—"A True Friend" by Brian Everson—to several dozen—"Painlessness" by Kirstyn McDermott—so no matter if you've only a few minutes to spare or a whole afternoon, there's something for you. At almost 400 pages, it will keep you going for quite a while!
As far as recommending it, if the content I've described doesn't turn your stomach too much, it's an incredible collection. Yes, it is a collection of reprints, if that's a detractor, but if you're a certified gorehound looking for the best of the best, Body Shocks is sure to satisfy. To have all of them together in a collection is wonderful. If you're looking to dip your toes into body horror, I'd suggest starting with The Mammoth Book of Body Horror—it features classics like Edgar Allan Poe, Mary Shelley, and H.P Lovecraft while also highlighting more recent authors such as Clive Barker, Stephen King, and Brian Lumley. 
While I received an ebook copy for review, I loved it so much that I preordered a copy. I need to have this, the definitive body horror tome in my household. Long live the new flesh.
An early review copy of Body Shocks: Extreme Tales of Body Horror was provided by Tachyon Publications for review. It will release on October 19th, 2021.
---
Looking for more horror book reviews from October 2021? We've got you:
"The Girls Are All So Nice Spotlights Female Frenemies"