Written and directed by Nora Unkel, A Nightmare Wakes is a fictionalized story of Mary Shelley's tragic life as she vents her emotional pain into writing her masterpiece, Frankenstein.
As the story begins, Mary Godwin (Alix Wilton Regan), Percy Shelley (Giullian Yao Gioiello), and Mary's stepsister Claire Clairmont (Claire Glassford) arrive at Lord Byron's (Philippe Bowgen) idyllic lakeside Genevan estate.
Right away, the characters are established with Mary and Percy as a young couple having an illicit love affair that would be considered scandalous even by today's standards. Mary is Percy's very pregnant mistress. Percy is married and already has a child with another woman. We find out later on that his wife was pregnant also. Their host, Lord Byron, has quite the reputation also and lives up to it with his wild devil-may-care demeanor. He's rude, arrogant, and obnoxious. Byron immediately gets cozy with Mary's innocent step-sister Claire.
In real life, one of Byron's many lovers described him as "mad, bad, and dangerous to know," which is how he's portrayed in the film—the wealthy playboy who says and does what he pleases. Byron left England because of a scandal and fled to Geneva when Percy Shelley, Mary Godwin, and Claire Clairmont came for their visit in 1816. The moral majority dubbed the group the "League of Incest."
In the film, we're introduced to a fifth guest, Dr. John Polidori (Lee Garrett). Byron comes up with the idea that each guest should write a ghost story to entertain themselves. In a later scene, Byron checks in with everyone about what they're writing. Polidori is writing a vampire story, which becomes a short story simply titled "The Vampyre," published in 1819. When Byron asks Mary what she's writing about, she says, "a creature who craves love but only knows pain." This line sums up Unkel's characterization of Mary Shelley.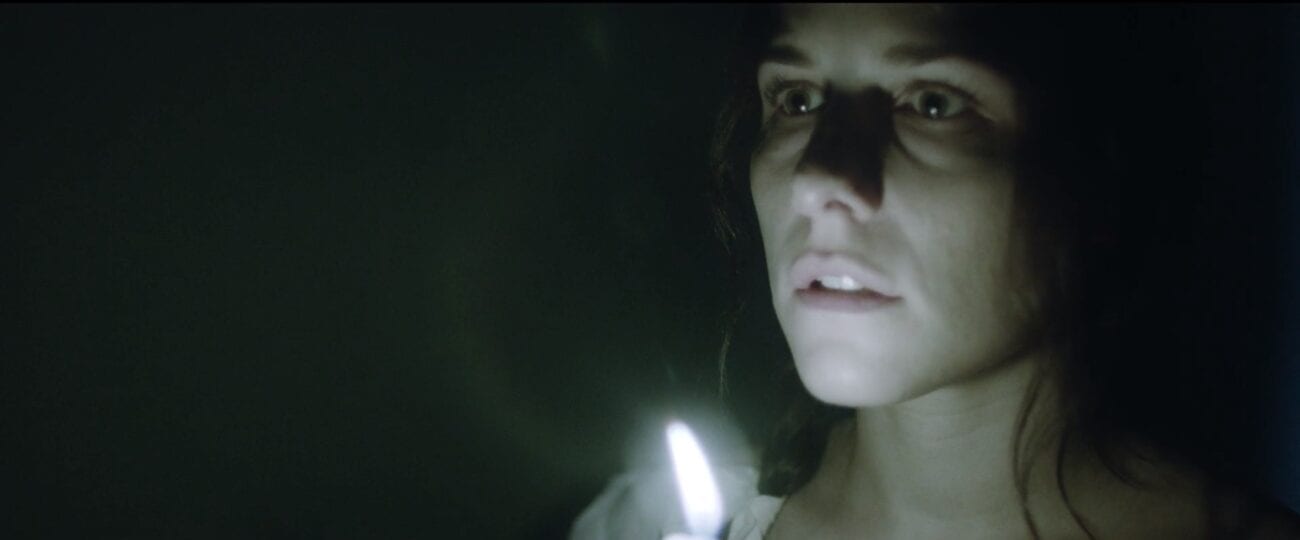 Shortly after arriving at Byron's house, Mary suffers a miscarriage. Afterward, she joins the group by the lake and Byron brings up the fact that Mary isn't "Mrs. Shelley" but that she is prettier than Percy's wife. Mary goes inside the house, begins to write, and has one of a series of nightmares throughout the movie. In her nightmares, Mary enters a room to hear a baby crying and eventually finds the baby dead. In real life, Mary Shelley wrote about the dreams that she had after having a baby that died. "Dream that my little baby came to life again; that it had only been cold, and that we rubbed it before the fire, and it lived."
Mary Shelley's real life was filled with grief and tragedy. She never knew her mother, writer, and feminist, Mary Wollstonecraft, who died only 11 days after she was born. Her father, writer, and political philosopher, William Godwin, remarried when Mary was only four years old to a woman she described as "insufferable."  She reportedly spent a lot of her time visiting her mother's grave, where she also read most of her mother's and father's work. Three out of the four children she had with Percy Shelley died before reaching adulthood. The last child she had, a boy she named Percy Florence Shelley, was the only one to survive to adulthood. She had also had a miscarriage that's described as so severe that she almost bled to death until her husband had her sit on ice.
While Unkel's film changes up the real-life timeline, the story does fit the basic details of Mary Shelley's life. She and her step-sister Claire did leave home with Percy Shelley. Mary was 17-years-old and already pregnant after a whirlwind courtship with the 21-year-old married father of two. Percy Shelley was no stranger to scandal and controversy. He was expelled from Oxford University for his atheism, and his father disowned him. Shelley looked to Mary's father, the writer and philosopher William Godwin, as a father figure and mentor. Mary Godwin met Percy Shelley when he and his wife, Harriet Westbrook, came to dinner in 1812. Godwin courted and ran away with Shelley when they met again two years later.
Throughout the film, there are continuous revolving images of Mary and Percy's tension-filled relationship. During their stay, Percy receives word that his pregnant wife, Harriet, committed suicide. Mary didn't know Harriet was pregnant and she remarks in a tense tone that Harriet's pregnancy must have happened when Percy went home at Christmas. Instead of focusing on the fact that Harriet died, Mary is more concerned with the fact that Percy had gotten Harriet pregnant again. When his father refuses to support Percy and Mary financially unless they marry, Percy refuses to marry her. Mary says that she'll be his mistress forever to toss aside when he gets tired of her. He says that she's his partner in life and that he never said that he would marry her.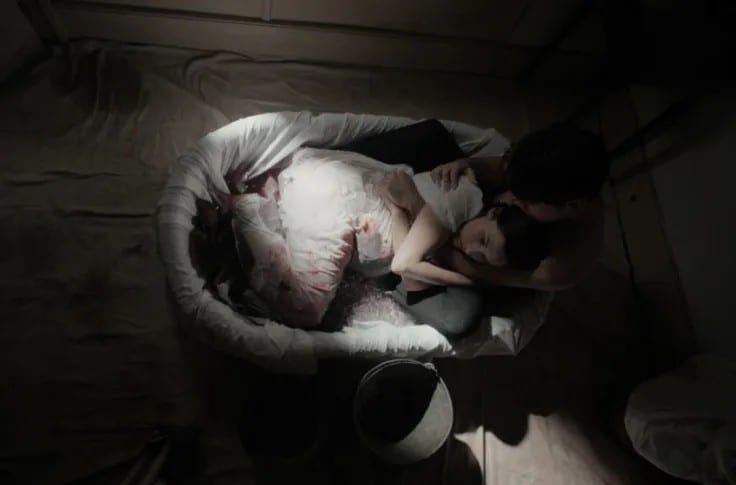 After Mary finds out that she's pregnant again, she opens up the subject of marriage again to Percy, adding that they have another mouth to feed now (and are in need of Percy's father's allowance). She even details how she left her family, was mocked by people for being his mistress, and even stood by while he was with other women. The scene then cuts to their wedding. Mary's suffered and feels that she's earned Percy's loyalty and earned the "right" to be his wife.
The film effectively portrays the conflict within Mary. The tension between Mary and Percy is palpable. She wants nothing but his love and approval, but he runs hot and cold—from hopping on top of her in bed to turning away from her to party with Byron as she gives birth to their son. Even as she gives birth, with Claire's assistance, Mary keeps asking her to find Percy. Percy isn't there, but in her fantasies, whenever rejected by Percy, Victor Frankenstein takes his place in her mind. Their relationship doesn't become more stable but rockier after marriage.
During Mary's second pregnancy, she's advised to stay in bed and not to write. Cut off from her pen, Mary's emotional state becomes unstable. She has temper tantrums and is found wandering around in her nightgown during a storm. Unable to write, she can't vent her frustrations and lack of fulfillment through her pen. She's trapped in a roller coaster of a marriage, and every child dies either before or shortly after birth. As a writer, her fictitious world is one she can control and the one thing that she knows she can do well as everything else in her life is out of control. Her problems with Percy are interspersed with nightmares as well as waking dreams where she sees her characters vividly.  As she craves Percy's affection and approval, she begins to write about the love Victor Frankenstein has for Elizabeth. Eventually, in her mind, Victor is there for her when Percy isn't. She can't make Percy into the husband she wants him to be, but as Victor's creator, she has full control over him.
The cast performs well together. Regan and Gioiello are a believable couple in a very complicated relationship. The movie's atmosphere is like a window into an early 19th century gothic novel with shadowy corridors, dark forests, and thunderstorms. Mary's real life, dreams, and fantasies fade into each other seamlessly, giving the feeling of looking at the world from the perspective of a woman conflicted, frustrated, and losing her grip on reality. Writing is her only outlet, taking her away from the real world and into one that she could control. In her novel, Victor Frankenstein creates his "monster" as he's grieving for the loss of his mother. He becomes obsessed with the preservation of life because of his grief and tries to control the nature of life with disastrous consequences. In the film, Mary loses child after child, and the husband she will do anything to please continues to toss her aside even after marriage. She seems to believe that she can still bring Percy back by having his children—most of them don't survive.
A Nightmare Wakes is a well-done, original work of historical fiction and psychological horror. The details of Mary Shelley's real life are seamlessly woven into the details of her literary creation. A Shudder Original (also available on Shudder Canada, Shudder UK, and Shudder ANZ), Nora Unkel's A Nightmare Wakes premieres on Shudder on February 4.