Are you craving some fresh new horror merchandise for your collection? Are you tired of your usual shopping locations? Well, this is the article for you!
I attended Carolina Fear Fest this Memorial Day weekend, and, as always, came across many talented artists and plentiful vendors. Sadly, I am not a millionaire and cannot buy everything from everyone. But what I can do is collect business cards, conduct a couple of interviews, and share them all with you, which I did, and will do now!
Paws N Claws Couture
Paws N Claws Couture is the perfect place if you're looking for apparel for your furry friends! When I initially arrived at the convention, I stopped by their booth to conduct a quick interview with them.
Emma Gilbert: How long have you guys been in operations?
Paws N Claws: Since 2016.
EG: What inspired you to start?
Paws N Claws: My doggies!
EG: What are your dogs' names?
Paws N Claws: Smokey, and his brother is Bandit, so, "Smokey and The Bandit".
EG: Are you guys big dog people (can you tell this was my first time doing an interview)? I mean…that's quite the question to ask [laughter].
Paws N Claws: [Laughter] We do cat stuff, too, but we love our puppies.
EG: Do you have a website?
Paws N Claws: [We] do, it's PawsNClawsCouture.com!
Killing Her Softly
Killing Her Softly makes adorably creepy horror, anime, and original artwork: stickers, pins, bags, prints, patches, you name it! I stopped by their booth to talk with the artist, Caitlyn.
Emma Gilbert: How long have you guys been in operation?
Caitlyn: We haven't even been a year yet; we started during the pandemic last summer, about September.
EG: Who is the designer here?
Caitlyn: I am.
EG: Very cool. Where do you find your inspiration?
Caitlyn: Well, I grew up in love with horror and anime, so I started drawing with that, and then I started by a first line [with] horror, and then I did a Ghibli theme. But from there, I was like, "I need to do some original art," so I did a mental [health] awareness line. I have, like, Shy Phillip with the frog, I have all of these shark pins, based off my dad, Angry Tony [laughter] […] My whole aesthetic is, like, cute and creepy.
EG: Me, too. I love, like, pink mixed with absolute crazy gory stuff.
Caitlyn: Right?
EG: Do you guys have a website?
Caitlyn: Yeah, I mean, we have a linktr.ee at Killing Her Softly, that has all the links to Etsy and my Facebook and Instagram, and then we're working on our website [on] Shopify, so we can put all [of] our fan-art on there.
EG: Alright, awesome! Are you guys planning on any more conventions this year?
Caitlyn: Uh, yeah! We're actually doing Anime Matsuri in Houston, Texas, we're doing PuchiCon in New Jersey. We signed up for Megacon in Orlando, [and are] still waiting on the approval for that. We're going to Empire City Convention. Yeah, we have a lot lined up, because [in] the summer I wanna be inside versus the outside markets I do at my place.
[My friend then asked if Killing Her Softly is local to North Carolina.]
Caitlyn: We're actually from Richmond, Virginia, so we're, like, two and a half hours away.
EG: Do you guys do a lot of traveling?
Caitlyn: Yeah, recently actually. We just did Atomicon in South Carolina, where my parents live, so we got to stay with them.
Spooky Twins
Spooky Twins are a pair of, yes, twins who make tons of beautifully spooky knickknacks. Sisters Tonia Brown and Toni Urban operate one of my favorite booths to see at conventions, so it was a delight to get to interview them! I definitely should've recorded with video, though, because I can't tell their voices apart!
Emma Gilbert: How long have y'all been in operations?
Spooky Twins: About five years.
EG: That's awesome! What inspired you to begin?
Spooky Twins: Oh, goodness, just a love of all things horror. We've always been crafty. We used to do a lot of pagan events, and we realized there was a lot of crossover for horror, so we just made the crossover as well.
EG: Lovely! So, you work with a lot of different mediums here. What was the first one that you gravitated towards?
Spooky Twins: Wood burning. [One of us] started doing wood burning, that's what we first started selling. Then [the other one of us] started doing paper folding and papercrafts, and then we rolled into some other stuff.
EG: What was the inspiration for Mr. Po-Murderhead [a horror-themed Mr. Potatohead parody made from a real spud]?
Spooky Twins: It was [one of our husbands'] idea. He was layin' on the couch one day and said, "I have an idea," and he explained it. We have Friday the 13th Killer, Nightmare on Yam Street, and Taterface, and we are working on Captain Spudling.
EG: Oh, I love that so much! That's so cool. Do you sell the potatoes online?
Spooky Twins: [Laughter] We talked about sending a potato. If you buy [a Mr. Po-Murderhead] from [our] Etsy, we'll send you a potato with it.
---
Now, I'm going to try to categorize everyone else I met by what their booths seemed to highlight. But trust me, everybody on this list has SO MANY cool things to offer, so check them all out!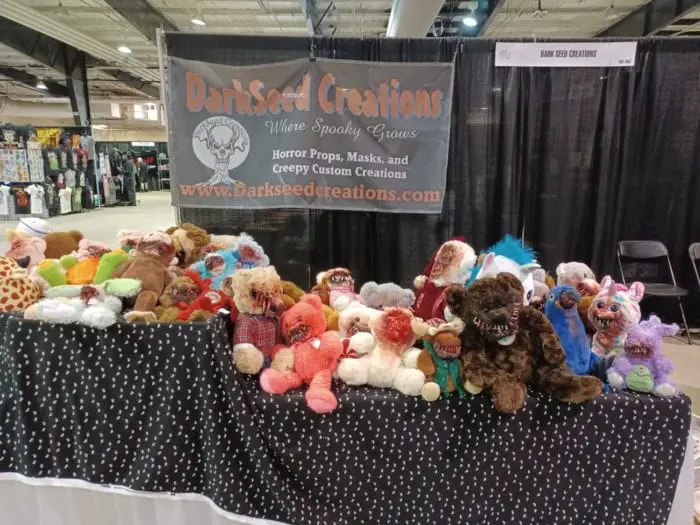 Art
Want some knickknacks and artwork to decorate your home with? These talented people are here to provide!
Wes Flanary: Stunning paintings, charcoal drawings, and other types of perfectly creepy art.
Jellykoe: Creepy-cute prints, plushies, pins, and more!
Flowering Bones Studio: Spooky succulents for your home.
Sarah A. Band: Delightfully macabre glass sculptures.
majaNATION: Cartoony pop culture art and adorable books!
Leviathan Artworks: Beautiful gothic designs available as prints, pins, stickers, and more!
The Pickety Witch: Many witchy designs as pins, necklaces, and other such lovelies.
Fun & Morbid: Blood-splattered pieces and other gory goodies.
Stacy Lee Gallery: Beautiful art involving insects!
Fractured Forest Woodworks: Beautiful art made from wood, among other items.
Darkseed Creations: Household items one might find in the Sawyer household, grisly teddy bears, and other such lovely things!
Chroma Coma: Many colorful pieces on black canvas!
Terence Muncy: Awesome artwork of horror and some other pop culture icons (he also makes movies!).
Jonathan Elliott: Incredible, vibrant artwork based on all your favorite frightful beasts!
Hershel A. Brewer: Breathtaking, haunting paintings.
Scrambled Pegs: Adorable little wooden friends to put in random places to spark joy.
Horror Show Jack: Twisted dollies, beautiful artwork, and custom fangs!
Double Deuce Tattoo: A tattoo artist from Cary, NC!
Cecelia Wilken: Beautifully painted works done on wood!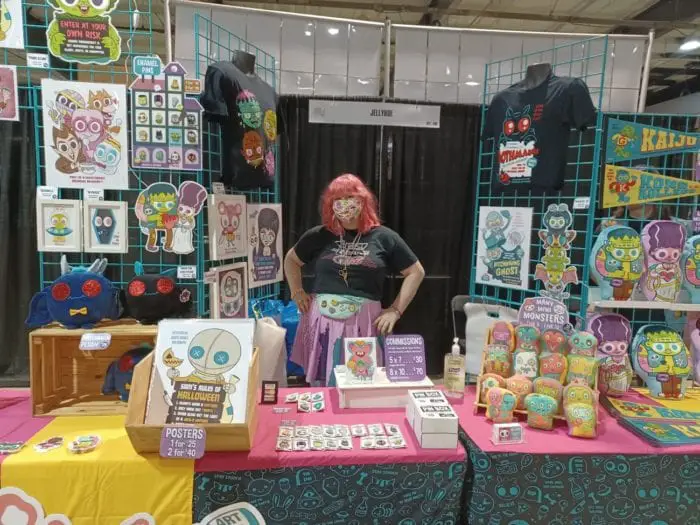 Apparel
Wanna wear your favorite horror names and/or some original spooky designs? These creators and sellers are your best bet!
Brutal Bohemian: Gorgeously grotesque t-shirt and print designs.
Poe's Prints: Many delightful designs printed on t-shirts, pillows, and other such cuddly things!
Sewciopathic (up-and-coming): Custom bags and fabric featuring gorgeous horror themes. Click here for their Instagram!
Beast Wreck: Toony designs featured on shirts among other things!
Night of the Legging Dead: Horror & pop culture designs on leggings, skirts, and masks, as well as other products.
Crazy Seams: Bags, headbands, hats, and other such things made from horror and pop culture designs!
Nineteen Sixty Three: Hoodies, t-shirts, underwear, and also buttons!
Dead Ed's: These guys are an "alternative clothing & accessories" brand based in Salisbury, NC!
Jewelry
Hell Kitten RVA (up-and-coming): Stunning jewelry made from gems and ethically obtained creature cadavers, other apparel, and beautiful artwork.
Mossyfox: Jewelry that looks like it came from a magic forest, as well as some funky fresh shirts!
Graveyard Offerings: Horror and true crime-themed jewelry, pins, and other cool stuff!
Caroline Scareline: Hauntingly beautiful jewelry and other cool things!
Cosplay
Looking for some costume pieces? Look no further!
Machete Man Customs: Custom hockey masks!
Drop Dead Bizarre: Hand-painted masks, props, creepy décor, and art!
Drop Dead Design Studios: Props, masks, and other cool stuff!
Karolina Kiwi Creation: Incredible masks and costume pieces!
Chainsaws Chicken N BBQ: Props and special effects, such as masks!
Movies, books, and music
Spots for physical media and new content for your consideration!
Little Shop of Horror: DVDs, books, and CDs (they also have a physical location in Durham, NC!)
E.L. Books: Original books by E.L. Jefferson!
Trajic Inheritance: A metal band from NC!
Other
Nothing of the above strike your fancy? Check out these other unique creators!
Bark At The Moon: Glimmering and delicious-smelling candles!
Albion Grove: Beautiful crafts made from all sorts of beautiful natural materials.
Whispering Hollow Emporium: Skincare and bath items!
The Crumbdungeon: Oddities, vintage and antique items, and some candles!
Raven Heights Photography: Beautiful photography in color and in black and white.
Zenjumps Chainmaille: Loads of cool, colorful stuff made from chainmail! Click here for their Instagram!
Comic Wreck: Comic books, manga, and posters.
Everything But the Kitchen Sink!
I couldn't figure out how to categorize these guys because they have SO MUCH!
Arca Noctis: Oddities, jewelry, books, shirts, tarot cards, and all sorts of spooky doodads!
Moonshine Creations: Cups, mugs, flasks, masks, bags, toys, and so much more.
Collectors Den: Masks, toys, and LOTS more (they have a physical location in Waldwick, NJ!)! Their site appears to be down, but their eMail is collectorsdennj@gmail.com!
Mischief Night Collectibles: Very neat news cutouts based on various horror films, as well as toys, replicas, novels, movies, and more!
TNT Watch Co: Funky watches, signed photos and prints, and other awesome dodads.
Frank's Cool Stuff: Comics, movies, and collectibles (there's also a physical location in Salem, VA!).
Big Time Toy Enterprises: Loads of collectibles, DVDs, masks, plushies, figures, you name it!
---
It's important to support the independent creators and sellers in our community, and hopefully, this list will help some of them out. It's always a beautiful day to give your hard-earned dollar to hardworking people, and all these guys are wonderful choices. I hope you'll consider giving them all a look, and thanks for reading!
Looking for more interviews with horror creators? We've got you:
"Hollywood Horror Show: Hurray for Hollywood…in North Carolina?"
"Slasher 15 Films and Kodi Films: Two Indie Horror Film Companies to Watch Out For"
"Haunted Broughton: Tales from the Graveyard Shift"
"V/H/S/94: An Interview With Writer-Directors Behind the New Shudder Anthology Film"