A little thing like a pandemic won't stop horror fans from celebrating their favorite genre. To that end, the organizers of Midwest Monster Fest will host a pop-up horror market on Saturday, May 22 from noon to 7 p.m. at the Rock Island County Fairgrounds in East Moline, Illinois.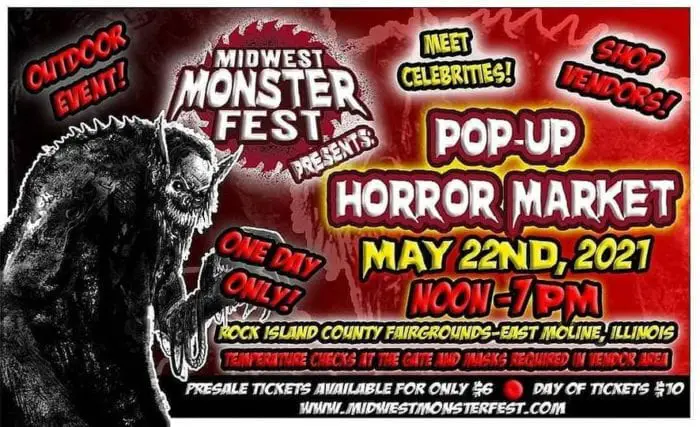 The pop-up market will feature a variety of vendors, authors, and guest celebrities including Walter Phelan (Dr. Satan, House of 1000 Corpses), Clair "Fluff" Llewellyn (The Exorcist TV Series), and Robert Mukes (Rufus, House of 1000 Corpses).
Vendors will be both outside and inside the grandstand alongside food trucks, sideshow performers, and creepy carnival games. Proceeds from the carnival games will be donated to a mental health awareness charity.
Midwest Monster Fest founder, Jeff O'Neil, told Quad Cities Uncut, "I wanted to have guests linked to the same movie so it was a coincidence that Robert Mukes, who played Rufus in House of 1000 Corpses, reached out to me and asked if I was looking for anyone for the show. I said, hey, I'd love to have you." O'Neil went on to say, "I'm also bringing in Walter Phelan who played Dr. Satan in House of 1000 Corpses as well."
This is a fun way to celebrate halfway to Halloween, May 15 is halfway to Halloween, so this is a cool way to come out and celebrate. –Jeff O'Neil
If you're worried about safety due to COVID, be aware that precautions will be in place, including temperature checks at the gates and masks required in vendor areas and where social distancing may be difficult to adhere.
Tickets are $6 in advance and can be purchased at MidwestMonsterFest.com.
Earlier in 2020, Midwest Monster Fest had to shut down its three-day weekend convention due to COVID-19. However, organizers have rescheduled the event for September 3 – 5, 2021 at The Rust Belt in East Moline, Illinois. Celebrity guests for this event include the iconic Clint Howard (Ice Cream Man, Halloween, Apollo 13), Thom Mathews (Return of the Living Dead Parts I and II, Friday the 13th Part VI), the Quad Cities' own, Linnea Quigley (Return of the Living Dead, Demons, Graduation Day, Silent Night, Deadly Night), Ramones' Drummer, Richie Ramone, C.J. Graham (Friday the 13th Part VI, Vengeance, Highway to Hell). Living Colour's lead singer, Corey Glover, Troma's Mark Torgle, and many more. Along with celebrity guests, authors, and vendors, there will be a film festival, pin-up contents with prizes, and a special effects makeup contest with prizes.
Tickets for the September event can be purchased for one, two, or all three days now at the website.