Midwest Monster Fest is holding an auction on its Facebook page this weekend, December 5 – 6th, to benefit horror scream queen Linnea Quigley's Los Angeles-based animal rescue, Moulin Rouge. A full 100 percent of the proceeds from this auction will go to the maintenance of the rescue and its animals.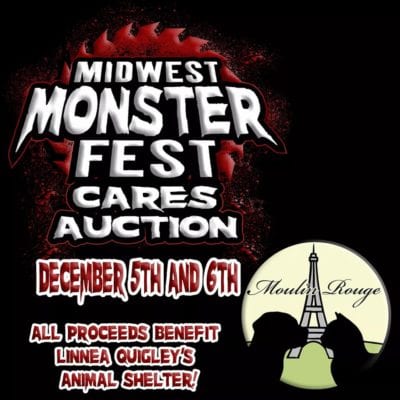 To keep Moulin Rouge running, Quigley spends approximately $800 to $1,200 per month on food, medicine, and other maintenance items. Running a rescue has been a lifelong dream for the actress who has said, "All my life I have rescued animals. If they needed a home or TLC until their home was found, I was there for them."
Auction items will be posted throughout the weekend and will be available for 24 hours. Some of the items include:
Greasy Strangler, Micheal St. Michaels, autographed, 8×10
"Hands of the Greasy Strangler" drawing autographed by Michael St. Michaels
Nine different autographed photos of Linnea Quigley donated by the actress herself
High on The Hog package—including two shirts, two hats, Blu-ray disc, pipe mug, enamel pins, and rolling papers. All donated from High on The Hog.
Set of drumsticks autographed by Breaking Benjamin drummer, Shaun Foist
Rouge One Darth Vader mask signed by Spencer Wilding
The Scorpion King 2 DVD signed by Randy Couture
Predator 2 Mini Mates toy signed by boar predator actor, Wyatt Weed
Earlier in 2020, the festival ran into problems of its own when COVID-19 shut down its weekend convention. However, festival organizers picked up the pieces and rescheduled the event for September 3 through 5, 2021, at The Rust Belt in East Moline, Illinois. Celebrity guests for the 2021 event include Clint Howard (Ice Cream Man, Halloween, Apollo 13), Thom Mathews (Return of the Living Dead, Return of the Living Dead Part II, Friday the 13th Part VI), Linnea Quigley (Return of the Living Dead, Demons, Graduation Day, Silent Night, Deadly Night), Ramone's drummer, Richie Ramon, C.J. Graham (Friday the 13th Part VI, Vengeance, Highway to Hell), and many others.
Tickets may be purchased at https://squareup.com/store/midwestmonsterfest/.