Coco Lloyd, a wonderful British/Australian talent, has previously enjoyed success across the pond as a member of a very popular British singing group. However, her desire to act and ultimately produce recently led her from London to Los Angeles, and now she's making her mark in both areas in the industry. After studying her craft in London and New York, Lloyd appeared in the films New You and Saurian Shudder. This fall, Lloyd stars in the horror-chiller Heks, written and directed by South African film and television actress Reine Swart (Z Nation, The Lullaby). Heks is the story of a grieving British girl (played by Lloyd) who discovers her murdered mother's secrets are connected to a South African witch doctor's curse. She wants to put an end to this haunting hex by traveling to South Africa, but instead, she is cast deeper into sinister depths. Lloyd spoke to us from her current home in Los Angeles.
---
Jason Sheppard: Thank you for speaking to us, Coco. I'm always fascinated by one's origin story and how they found their way to entertaining and telling stories in the entertainment industry. Can you tell us a little about the path you took, which led you here to be your own producer and actress?
Coco Lloyd: I thought about acting as soon as I left school; I went to stage school when I was younger. I did a few acting roles in my teenage years, and then I started focusing on music because I was given a few opportunities to go in that direction. I put acting on the back-burner for a while. I did a few music projects in England, which was an all-female girl group that did well. When that fell through, I went back to acting full time. I made the move to LA in 2017, I think, and I started in 2018. I'm just enjoying really being on the beginning journey of starting in film.
JS: Was it scary for you leaving London for Los Angeles?
Coco Lloyd: It was scary at first, for sure. I didn't know a single person. I had one contact phone number of a friend of a friend, and that was all I had. I just packed my suitcase, came over, found a hotel, tried to find a rental, it was really scary. And then just gradually bit by bit I then met other people. I grew a few friendships and took it from that. But it was really scary to start with.
JS: What attracted you to acting after the music?
Coco Lloyd: I was always passionate about acting since I was a kid. And really, if I hadn't gotten those first musical opportunities, I probably would have done acting full time in the beginning. But my life took a different direction. But I really love that aspect of creativity that acting brings. I really am interested in production as well and writing, and I feel acting gives me the chance to do all of those three things and explore the other side of film along with being in front of the camera, whereas I felt with music it was more one-sided for me.
JS: And your starring in a new movie now, Heks. What can you tell us about it?
Coco Lloyd:  We shot it in South Africa, and it's written by a very good friend of mine, Reine Swart, who is very talented, she also directed the film. It's based on true South African legends of witch doctors. It follows a girl, Dilanne, who's grieving the loss of her mother. When she goes back to South Africa to collect some other things and speak with her, she discovers a long trail of secrets that lead to very spooky events.
JS: Were you looking for something in particular with a female writer and director, or did it just work out that way?
Coco Lloyd: I'd actually done a project before with Reine, a short film, Trypophobia, that went through the festival venue last year. We're both very passionate about the horror genre in particular. So after doing that film, we had so much fun that we decided to do the feature. With her being South African, I just loved her concept for the film and what she had written. I'm very passionate about filmmakers in general, so it was great. So I wasn't looking for that particularly, but it was nice how it just worked out.
JS: The horror genre went through this period where it had a not great reputation, but now in the last few years, it has really come on strong. Movies like Get Out and just recently, The Invisible Man have critics and audiences loving them. Are these the kind of projects you'd like to be on the lookout for and see more of?
Coco Lloyd: Yeah, I love them. And I also love particularly how the horror genre is mixing now with other genres. Netflix has been making a lot of series like that. I love Ratched that just came out on Netflix. All of those things are horror based—they have the gore and the scares of a horror film, but they also have the aspect of a thriller and all these unique, crazy story concepts that they're coming out with. I really love all of them. I don't know what attracts me to horror films. I just like the thrill.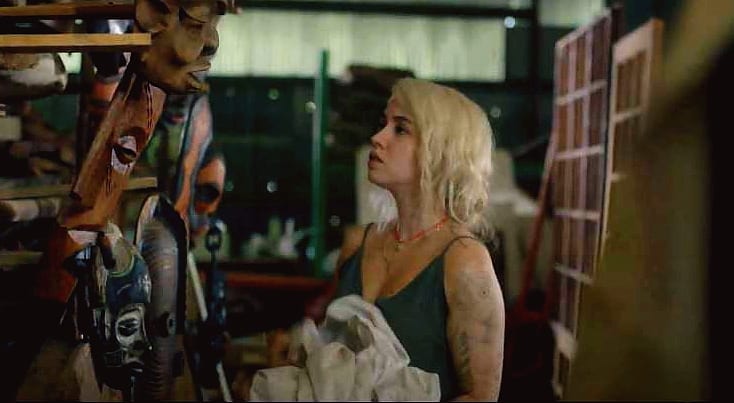 JS: And they're taking on societal topics like Get Out with racism and The Invisible Man with domestic violence, so while these are horror movies on the surface, they're actually deeper and topical.
Coco Lloyd: Yeah, I mean, we have things throughout our society today, including the pandemic in itself. There are so many things that you could think of that could be terrifying if you turn them into a horror film, but it's also raising awareness for sure.
JS: So you started your own production company in 2018. What kind of projects are you looking to personally develop?
Coco Lloyd: I'm absolutely obsessed with horror and thrillers. I love to stick within that genre, if possible, because I love it so much. I'm so passionate about it. But I'm also interested in getting into some themes that are more quirky as well. So it doesn't have to be straight horror, but something that's just a little bit outside of the usual boxes would be amazing to work on. I have been writing my own projects for next year to produce; however, I'm really open to working with other people as well.
JS: It seems like you got into the industry at just the right time In terms of horror content. You mentioned COVID-19 a few minutes ago, and you've been acting a few years now, and then this year, the pandemic hit. How has this been a challenge for you?
Coco Lloyd: It was difficult because I was away from my family. I actually took the last flight just before the travel ban in March, and I wanted to stay with my family; however, it didn't work out that way. England was on a very strict lock-down. It was really difficult to try and balance acting as well as everything else. The industry pretty much shut down for a long time. My main thought was just to be protective of my family's health. I just wanted to make sure that everyone was okay and that that was really the main priority for me. Everything else just took a back seat but now I feel like everything is starting to get back to the usual of auditions, resumes, and people are just having to take extra precautions to make sure that we're just doing things differently moving forward.
JS: Do you think actual pure movie-going can get back to normal in the future?
Coco Lloyd: I really hope so. I don't think there's anything like the feeling of stepping into a theater and watching a film on the big screen with other people. It's just such a rush. And it would be a real shame if we couldn't get back to that point. But again, right now, so many people are dying. I just think it will all depend on whether we can safely get back to that point.
JS: I do too. There's nothing like that feeling. I miss it so much, and every filmmaker I've interviewed feels the same way.
Coco Lloyd: I miss it so much. And one of the main things that I was so upset about with Heks is that we didn't get to do a festival run because of everything that was happening; everything was virtual again. So it's a real shame. But I hope next year or the year after we can get back to that point.
JS: Do you have a plan for how audiences can see Heks in the near future?
Coco Lloyd: Yes, it's actually getting released. I know it's getting released in the United States coming up to Christmas time. And then in South Africa, it's releasing for Halloween. I'm not sure yet about the other territories or what date it will be released, but very soon.
JS: I hope people do get to see it, as it has that '70s and '80s scary, creepy factor to it, which made audiences jump.
Coco Lloyd: Definitely, and I think the cultural aspect of it is important. The diverse cast is really interesting. And I hope that audiences enjoy learning about horror from a South African culture.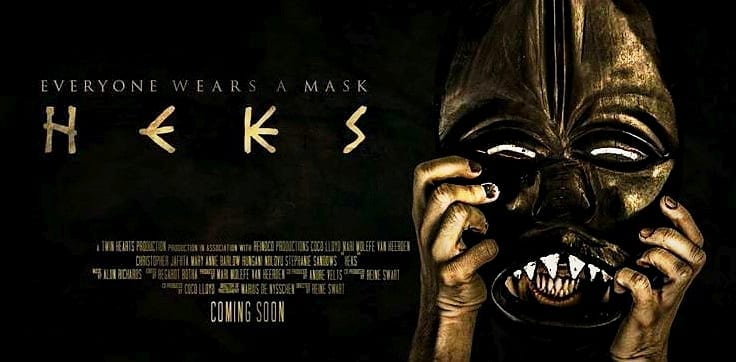 JS: Do you see yourself directing at some point in the future?
Coco Lloyd: I would love to at some point just to experience it, but I really love producing because I get to see all the different working parts of a film. I don't know how directing would be for me; I get very anxious under pressure.
JS: Can you tell us which projects you have coming up next or the in the works?
Coco Lloyd: I have one that I'm actually doing, which is a short called Rosa that I am hoping to get finished by Christmas so that I can put it into film festivals next year. Other than that, I am not doing anything because of COVID-19. Everything's really slowed down. But hopefully, if I can just get that one completed, it will be an achievement in itself.
JS: Absolutely. It was a pleasure speaking with you—best of luck with Heks.
Coco Lloyd: Thanks and bye-bye.
Follow Coco Lloyd @iamcocolloyd/