Many people were gobsmacked a few weeks ago to learn that there was a remake of Curtis Hanson's 1994 adventure film The River Wild. The film was a veritable sensation in 94, grossing almost double its budget worldwide after being delayed to September and mostly a tossup with critics. While perhaps not one of Streep's more revered roles, such as Kramer vs. Kramer or Sophie's Choice, both awarding her Oscars for her performances, The River Wild still earned Streep, and supporting actor Kevin Bacon, Golden Globe nominations. It stands to reason many people will question whether a reimaging of the film is necessary.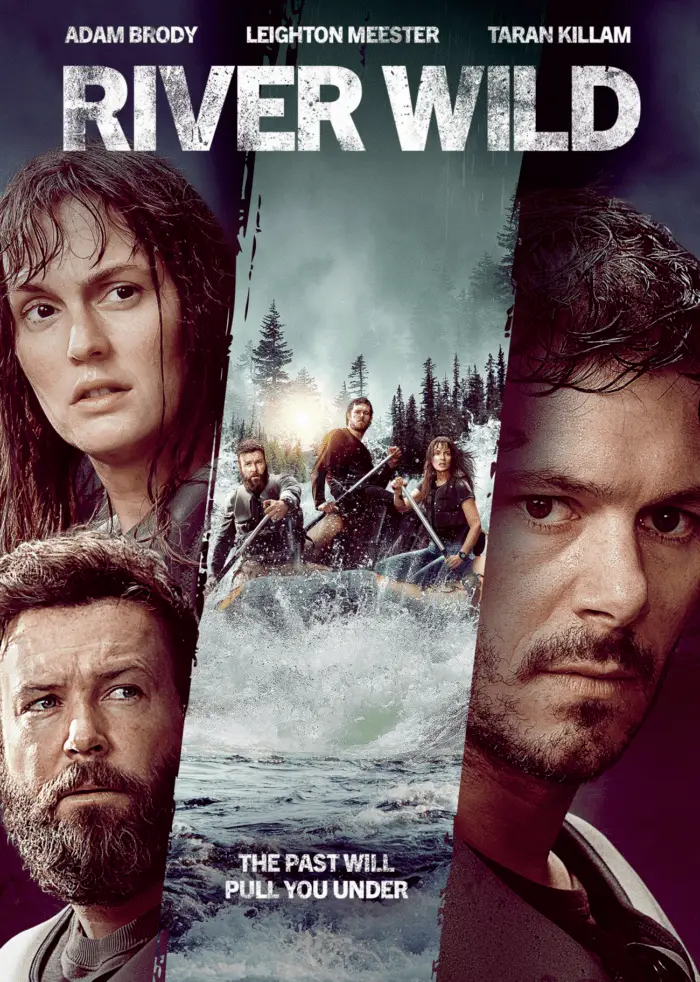 If you read my trailer piece for River Wild a few weeks back, then you know the film had a tumultuous uphill climb instore, holding a special place in my heart by resting among the memories of watching movies with my family on vacation at a young age. I approached the film from a very neutral place after reading the synopsis. The gist suggested a completely different and much darker storyline than the film that inspired it. Cementing this insinuation, River Wild opened with a self-referential Deliverance joke, foreshadowing the terrifying adventure to the river's end.
In the 1994 version, a family takes off from the banks of the Salmon River for a few days of nature and rafting fun as Streep and husband David Strathairn try to rekindle their flailing marital spark, meeting a pair of cattle auction robbers making their getaway by traveling in the opposite direction of the Canadian border. In 2023's River Wild, Leighton Meester and Taran Killam play an estranged pair of siblings attempting to reconnect on a white-water trip that Killam's character, Gray, manages. Brother and sister are not the only ones embarking on this journey, as two vacationing friends (Olivia Swann and Eve Connolly) are the paying catalysts for the trip down the river.  
The reunion is then marred by the presence of Trevor (Adam Brody), an ex-con on parole after a three-year drug sentence. The development comes as a shock to Joey (Meester), whose reunion with Trevor comes with an angsty bit of buried tension underneath. Like other recent remake/reboot/reimagined properties like 2021's Wrong Turn or 2013's Evil Dead, River Wild takes on a heavier dread level and boasts a darker tone. When Joey and Gray find one of the women they're rafting with screaming after taking a blow to the head, she tells Joey that Trevor did it, hurdling the characters into a life-or-death hostage situation. Trevor's fear of going back to prison only makes things worse for the rest of the adventures, and it isn't long before the buried secrets they've all harbored from their youth begin to surface.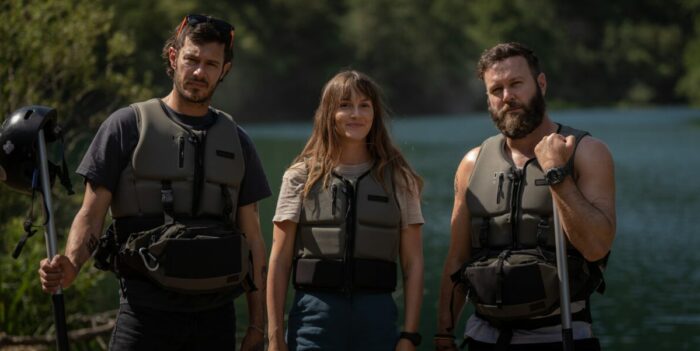 River Wild is a bit of a novelty for me. A huge part of me was hoping for the best here, and I honestly think fans of the original will be a bit impressed with the originality of this rendition. The film has its unique foreboding qualities, from a sky that seems to always be cloudy after the travelers embark to Tristan Clopet's synth-heavy score that sometimes feels like a water droplet creating resonating ripples. It creates a rich atmosphere that's easy to get wrapped up in. 
Adam Brody channels his repugnant Jennifer's Body character, proving he's as good in villainous roles as he is playing likable characters. Meester, who has always been a terrific lead actress, embodies the character-driven role of Joey, effortlessly absorbing the audience into rooting for the actress on her ride downstream. And Killam, who I will admit I'm unfamiliar with beyond SNL, really surprised me as the dramatic supporting character. The ensemble genuinely works, and it's easy to get caught up by River Wild's effectual characters. 
Directed & co-written by Ben Ketai with Mike Nguyen Le, genuine moments in The River Wild lean far more into the horror spectrum than the action-adventure stylings of the original. Ketai, whose writing credits include The Strangers: Prey at Night, The Forest, and 30 Days of Night: Dark Days, is no stranger to violent storytelling stylings. And as Trevor continues to unravel, the twisty surprises become intensely shocking.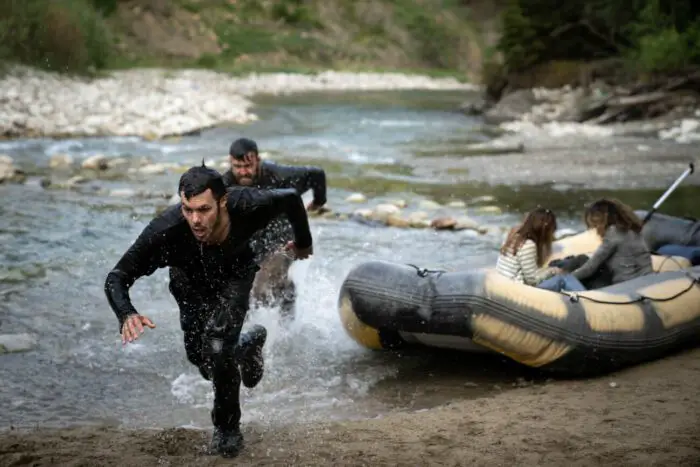 As shocking as some scenes can get (I did literally jump once or twice), the film does have a tendency to feel a little on the rails at points, giving the audience a sense of the direction the film is headed even when the film tries to deviate from the original's source material. There are etches of 1994's The River Wild baked into the 2023 iteration, from a recurring 1994 line about doing your best making a reprise to the film's third act through the unsafe rapids of what the new version calls "The Beast." Considering the plethora of recent legacy reboot films that remake a film while placing it into the same universe (Star Wars VII, Scream V), River Wild felt more like a fresh take on an old tale.
Any criticism I would offer of River Wild might start with one interesting dialogue choice, where a nervous Trevor mutters "holy sh*t" a handful of times after seeing Joey again for the first time, incurring a "get on with it" eye roll from the audience in the process. Beyond that, a bit of ex-con-sploitation does exist, but there's enough of a story to make the movie work on a satisfying level without exacerbating it. The film's thematic resonance relies simply on actions having consequences with a pinch of #MeToo vengeance against privileged a**holes, and it packs a punch.  
River Wild is a great surprise for action-thriller and horror fans looking for a movie with a summer blockbuster feel from the comfort of their homes. This sometimes-brutal white knuckler will have you digging your nails into your armrest, immersing you in the intensity of rafting through its sumptuous sound design and treacherous terrains as you await the fate of the characters held at gunpoint on this harrowing voyage. While I'm sure some will argue more for the thrill of the original, there's no doubt that this River Wild is worth paddling to see.  
River Wild is now available to rent or purchase on Blu-Ray as well as your favorite VOD retailers such as Vudu and AppleTV.