Today marks a pivotal point in the viability of bringing video game stories to both the big and small screens. The Last of Us has finally debuted on HBO, and this celebrated video game story is currently underway with a bang. After the last two Resident Evil outings have been poorly received by critics and fans alike, and with many other attempts to bring games to life to underwhelming audiences as well, fans of well-made games are really putting their hopes in HBO getting this right. Having just witnessed the pulse-pounding first episode, half the time with my jaw on the floor from the intoxicating visuals, incredible sound effects work, wholly atmospheric score, and non-stop action, I believe, as a fan of the game, we are well on our way to finally getting an adaptation unlike any other. That is largely due to the game's creator, Neil Druckmann, working with the Emmy award-winning writers of Chernobyl, specifically Craig Mazin, who directs this first episode, "When You're Lost in the Darkness."
Let's dive right into the pilot episode because there was a lot to see and a lot to like. SPOILERS FOLLOW.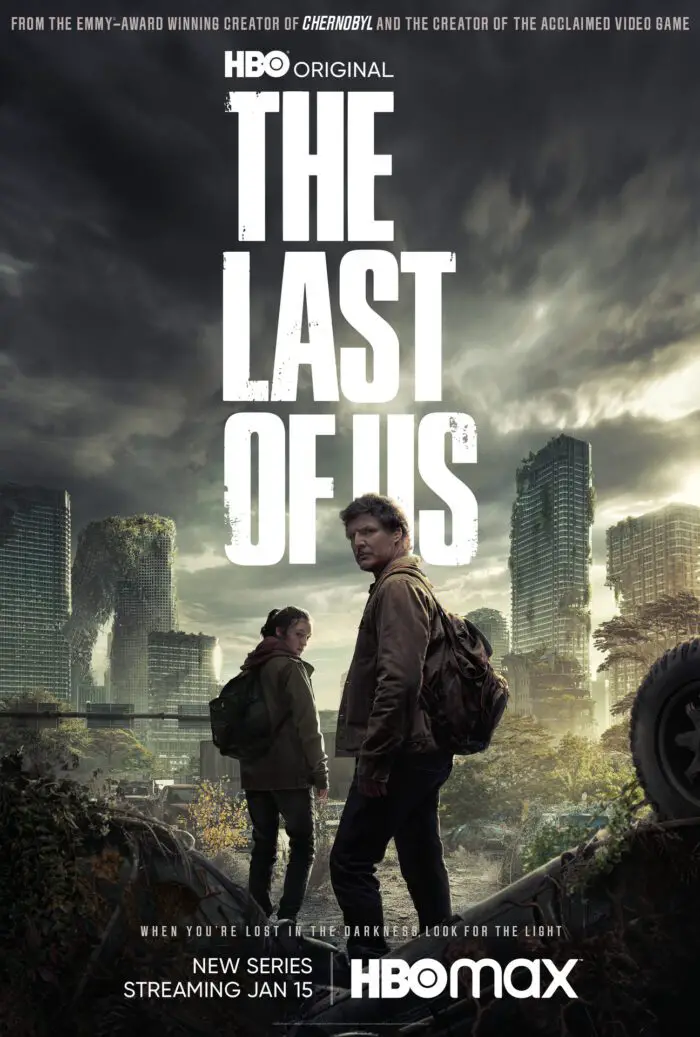 The first scene of "When You're Lost in the Darkness" was slightly surprising. I figured it was more likely the show would cold open the same way the game did. While that scene was quick to follow, The Last of Us started on the set of a '60s talk show, with a conversation about viral epidemics vs. fungal outbreaks. It's riveting, especially now with the past few years behind us and the stark outlook of climate change preying on Dr. Neuman's (The Mummy's John Hannah) nightmare. What Neuman supposes is the conjoining of these events, the spreading of fungus as a pandemic, and, while highly unlikely, so are pandemics such as Covid-19. You can surmise the ideas spouted by Dr. Neuman as make-believe, but nothing could be further from the truth. Forgive my love of science. The Cordyceps fungi that can take over ant's brains is real and is a wholly frightening idea when applied like this to humans considering what fungi already does to survive.  
Now there's no need to actually worry about this. It's a very hardcore "what if" Neuman supposes, but if that isn't enough of a clue about what to expect about the zombie-like creatures of HBO's The Last of Us, then I don't know if you'll be prepared to handle the types of things we may see at specific points in the series.  
As the atmosphere becomes stark and humorless, the opening credits begin playing. A folky guitar tune to an empiric map built by fungus in a way similar to how Game of Thrones creates the many realms. The transitions move into a map and then into a decaying corpse. It's more morose than The Walking Dead's intro, leaving the feeling of nyctophobia as it ends with the silhouettes of Joel and Ellie in the light surrounded by fungus before the title appears, offering the idea that any number of monsters may reside in the darkness during their journey. Fitting for an episode titled "When You're Lost in the Darkness."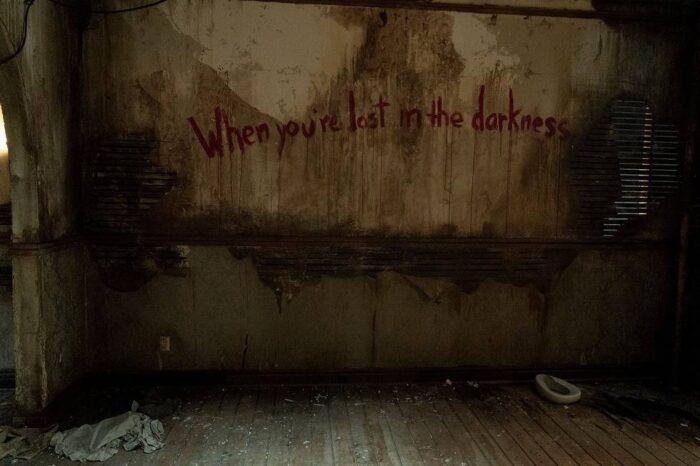 You may think the show will push you into the wasteland aspects next, but no. Any good horror story knows you need to build tension and not just manufacture it. The Last of Us moves into that video game opening, following Joel (Pedro Pascal), his daughter Sarah (Nico Parker), and Joel's brother Tommy (Gabriel Luna) in an expanded introduction that helps create depth in characterization, as well as a genuine feeling of unease. The diehard fans will understand the tics of a student's hand or the shakes from an elderly woman in the background. The jets overhead and the rush of police calls all point to a night of pain and heartbreak on the horizon for both the fans who are about to relive a tragedy and the family that will never be the same. 
These early scenes also do a lot of justice in getting us to love Joel's relationship with his daughter. Nico Parker's performance may be brief, but the chemistry she shares in those initial scenes with Pedro Pascal help pull at the heartstrings of the audience just enough to feel decimated by the gravity of her loss. The back and forth spent over breakfast and the time spent enjoying each other's company on the couch later as Sarah gives her father his birthday gifts offers a lot of character foundation that becomes essential in understanding Joel and why he clashes with Ellie after their initial meeting. 
Before arriving at Sarah's untimely death, however, a barrage of horror carnage infiltrates the small-town streets, and images of apocalypses past come rushing headfirst into the cinematic shots of the Craig Mazin directed episode. A burning house feels a lot like Andrei Tarkovsky's The Sacrifice, an omen perhaps, though the game also has a similar premise to Tarkovsky's Stalker. Next, there's the A Quiet Place: Part II main street sequence, complete with camerawork reminiscent of Children of Men's incredible single-shot sequence where a plane crashes in the distance, creating a fiery plume and flinging debris at high speed, causing their vehicle to flip. It's a deftly harrowing and utterly intense moment you will be unable to peel yourself away from.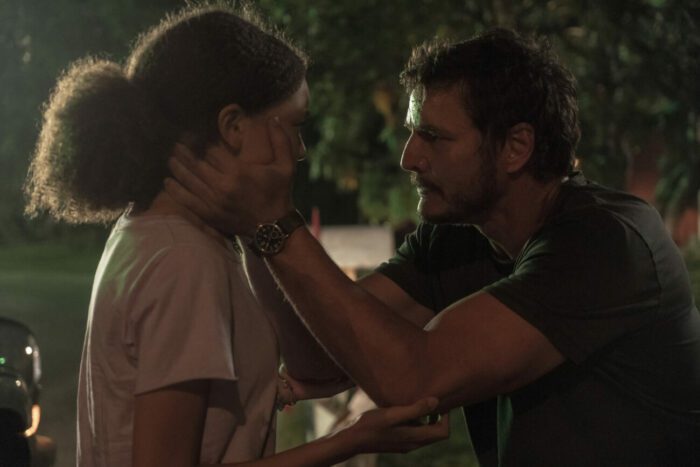 While The Last of Us utilizes a much shorter shot, there is an idea of inspiration in these images. Children of Men is similarly about a man accompanying a pregnant woman to safety to help prolong the human race. On The Last of Us, that journey will look a lot similar in the coming weeks. In contrast, John Krasinski's A Quiet Place likely used this moment from The Last of Us game for inspiration, and it seems just as possible that the escape from the car being plowed by another car and chase through the diner is just a subtle nod to Krasinski's sequel, and essentially game recognizing game.  
To me, Sarah's death was far more shocking in the game than in "When You're Lost in the Darkness," but then again, I also knew it was coming. I would love to learn how the game-removed show watchers feel. Regardless, Pascal's distraught emotional wreckage helps deliver deep empathy in the scene, and you may find yourself getting a little choked up as well.  
A new chapter is started 20 years removed in an alternate 2023, where Boston is covered in overgrown flora and decaying skyscrapers. Living in a militarized zone, Joel is now a runner specializing in procuring hard-to-get items like drugs and bullets while working a government-supplied job of burning infected bodies. Joel shares his smuggling business with Tess (Fringe's Anna Torv), who we meet fist-to-face deep in a double-cross over a car battery. A rebel occupancy known as the Fireflies (who I've always wondered whether or not was named as a nod to the Browncoats of the Joss Whedon series they share a name with) has started to make chaos against the established FEDRA (Federal Disaster Response Agency) military, who act as judge, jury, and executioner of the infected, dehumanizing their plights and inhumanely discarding them. Even momentarily leaving the safe zone could result in a public hanging. The Fireflies' tactics for freedom bring forth an increased presence to bare down on them. They aid in getting Tess out of a bind by blowing up a jeep but quickly place her in another one with FEDRA.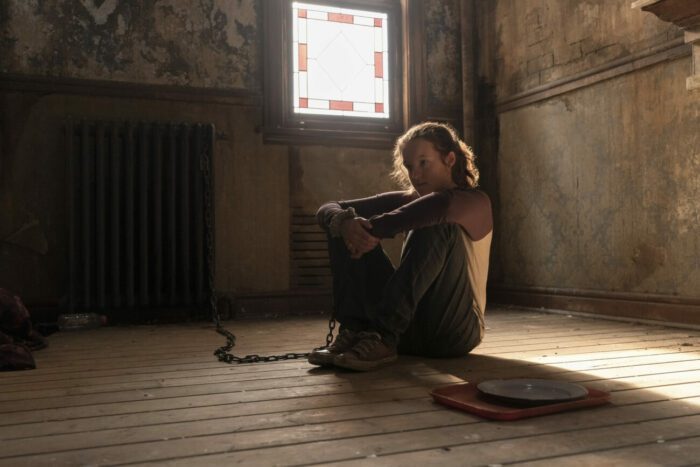 Meanwhile, we get our first look at Ellie (Bella Ramsey) chained to the radiator of a once-upscale Boston apartment. Newcomers to The Last of Us universe will not understand what's happening as the Fireflies administer their tests on Ellie, nor will they know why they've chained her to the radiator. The secretive notes passed between members don't help either. It's a bit silly, given we find out shortly enough that Ellie is technically infected, but the reveal is worth it.  
When Tess traces her battery to the firefly hideout, there's barely a trace of living people inside. Bodies full of bullet holes fetter the hallways until they find the hideout's leaders, Marlene (Merle Dandridge) and Kim (Natasha Mumba), wounded by another attempted double-cross on what ultimately ends up being a bad car battery anyway.  
Ellie nearly kills Joel, and vice-versa, in their first meeting, and though I am a few years removed from playing the game, I can honestly say I don't remember this moment. Then again, Joel, in this scene, looks a whole lot more like Naughty Dog and Neil Druckmann's temple-raiding adventurer Nathan Drake from Uncharted in this scene, than anyone else.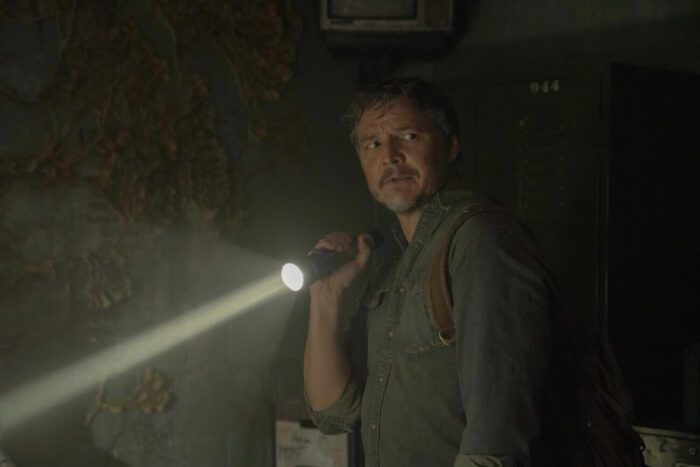 As I previously stated, it's easy to compare Tarkovsky's Stalker to "When You're Lost in the Darkness." As Marlene entrusts Joel to bring Ellie to the state house, that similarity starts. Their subsequent journey through the security surrounding the Boston safe zone and into an area of overgrown reforestation and decrepit buildings on a mission as unique to fantasticism as it is to faith is as close to Stalker as you can get. And as we watch Joel and Tess navigate the crushed cars, spotlights, and military personnel to sneak into the no man's land that lies beyond, it's relatively easy to see.   
The final encounter of "When You're Lost in the Darkness," which recalls an earlier moment in the episode where Joel sells a soldier some oxycontin, now uses that relationship to create tension based on familiarity. When the situation becomes untenable, thanks to Ellie's reactionary stabbing of the officer, Joel gets tossed between Ellie and the soldier, and a nuanced flashback to his daughter occurs. 
"Somebody else'll come along," Joel says to his daughter while they speed past a family stuck on the highway begging for help. And in the tense and emotional moments of Sarah's death, it feels palpably ironic. No one came to save her, and perhaps no one ever arrived to save that stranded family. After a day spent burying the dead, among them, a young girl who never even had a chance adds to the build-up of the moment, and Joel is finished turning a blind eye and doing nothing. Now, facing another situation where a gun is pointed at a girl similar to his daughter's age, Joel summons all of his rage and strikes the soldier with cathartic resonance, though without the benefit of ever recovering from the trauma in his past, and the cries that wake him from his sleep.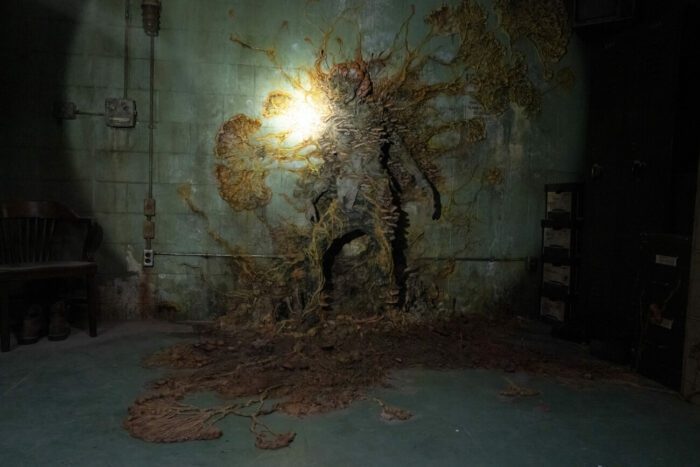 While the comparison Joel has in projecting Sarah onto Ellie is justified, the show does a brilliant job of helping us note the character differences. Watching Sarah take twenty dollars for a gift for her father, we also watch her pick up a knife and quickly put it back. The audience becomes aware of her apprehension for violence while holding it and later again while in the midst of Main Street's chaos. Ellie, on the other hand, is predisposed toward it. Quickly hurling herself toward Joel in a frenzied attack or later smiling as he beats the soldier to death, or close to it, while protecting her in those final moments of "When You're Lost in the Darkness."
Before Ellie, Tess, and Joel flee the situation, it's made known that Ellie is infected but that she possesses an immunity to the fungal spread. Unable to chat about the revelation, the three book it away from the guard's body as the collapsed Boston buildings scream with clickers, and "Never Let Me Down Again" by Depeche Mode, an '80s song for those paying attention, signals incoming trouble for our trio. 
Pilot episodes are often faced with the difficulty of trying to pack too much information into a short period of time, usually leaving the audience with uneven expectations for the rest of the season. Because of this, I often don't trust a pilot to deliver the feeling of the rest of the season. Luckily, "When You're Lost in the Darkness" is movie-length. It offers a very patient and methodical introduction to The Last of Us universe that is impressively similar to its source material. It's a truly awesome debut and, so far, the best video game adaptation I've ever seen.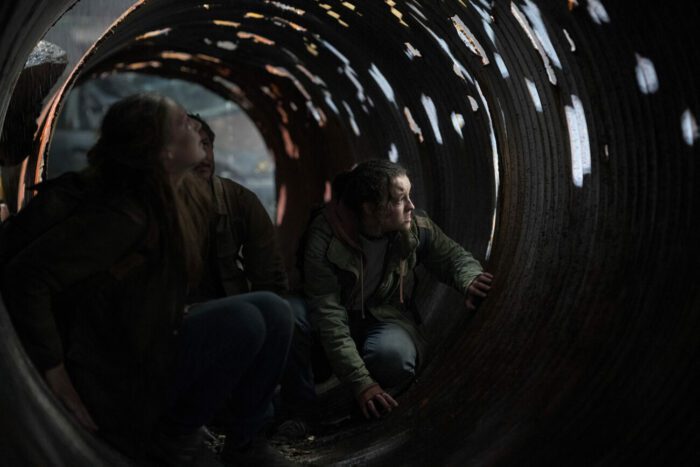 I think you'll find many comparisons to The Walking Dead in a few weeks, especially those early episodes of TWD when it weaved a better story from the dramatic aspects of group dynamics and the grotesque monsterdom of their fates should they choose not to work together. While The Last of Us will often have those reminders of our humanity, I believe the story is better than some of the avenues The Walking Dead went down. Still, it will be a good pivot for zombie lovers looking for a new show since TWD's finale and the upcoming finale of its sister show, Fear the Walking Dead, this summer.
Whatever happens from here on out, "When You're Lost in the Darkness" will hold up as a testament to what is possible for games beyond the controller. Two hours may not be enough to contain a twenty-to-forty-hour game, but a well-made series that delivers a fan-centric experience instead of circumventing them for a joyless cash grab (looking at you, Resident Evil) could be the way to continue forward. The Last of Us has everything going for it, providing exactly what fans want while being easy to follow for newcomers. The acting is excellent, the story is enthralling, the scope of the production is epic, and the direction is spot on. You can't help but look forward to a show that gets it so wholly accurate like this out of the gate. I will be hooked to my television for eight more weeks.  
Watch The Last of Us Sundays at 9 pm on HBO with streaming available on HBO Max.