There are many festivals that I look forward to around this time of year, but hands down, one of my all-time favorites has got to be the Brooklyn Horror Film Festival. Going into its seventh year, Brooklyn Horror Film Festival has been host to some absolutely incredible films, plus this year it is presented by Shudder! Last year the festival brought us films like After Blue (Dirty Paradise), When I Consume You, and Ego, to name a few, as well as a few blocks of incredible shorts. This year is poised to be bigger, badder, bloodier, and bolder. Needless to say, I cannot wait. What's playing, you ask? Well, sit back and relax while we give you the ultimate day-by-day guide for what is playing on specific screens.
Festival passes and a calendar with each screening can be found on the festival website. The festival runs from October 13 to October 20, 2022, at the absolutely beautiful Nighthawk Cinema in Brooklyn.
Jump to a section:
Thursday, October 13
(Ireland | 2022 | 97 Min. | Dir. Lorcan Finnegan) 7:30 PM
Successful fashion designer Christine (Eva Green, Penny Dreadful) is plagued by a baffling ailment that causes a myriad of issues including paralyzing muscle spasms, memory loss, and terrible hallucinations. Much to her surprise, a mysterious Filipino caretaker named Diana arrives on her doorstep claiming Christine hired her to help with the house. When Diana begins to use traditional folk remedies to heal Christine, she causes a rift between her and her husband Felix (Mark Strong, 1917, The Kingsman franchise) and slowly unravels the disturbing truth behind Christine's illness. Brooklyn Horror is proud to welcome back Lorcan Finnegan to the fest, director of eco-horror Without Name (BHFF 2016 Best Feature winner) and psychological thriller Vivarium. Based on the Nocebo Effect—the idea that negative thinking will lead to negative results—Nocebo is a mind-bending folk horror stunner with haunting real-world implications. (Joseph Hernandez)
Friday, October 14
(France | 2022 | 84 Min | Dir. Ludovic Boukherma, Zoran Boukherma) Screen #7 2:15 PM
Tough and humorless maritime cop Maja is finally ready for well-deserved retirement when bodies begin washing up on the shore. As she becomes hell-bent on proving it's all a bloodthirsty shark's doing, the community shrugs off her warnings. (Matt Barone)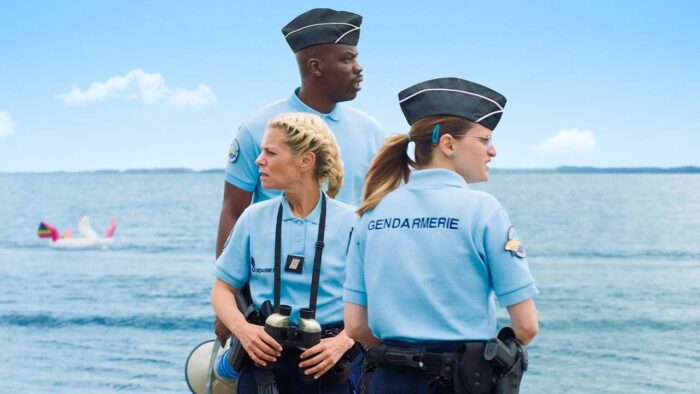 (Canada | 2022 | 86 Min. | Dir. Nyla Innuksuk) Screen #6 3:00 PM
It's another boring summer lamenting how lame their lives are for Maika and the girls of Pangnirtung, a tiny northern hamlet in the Arctic Ocean. When Pang is invaded by shape-shifting aliens, the teens are forced to become the hunters they were born to be and rediscover a love for their beautiful home. An RLJE/Shudder Release. (Joseph Hernandez)
(Mexico, Peru | 2022 | 93 Min. | Michelle Garza Cervera) Screen #7 4:15 PM
Being pregnant with her first child should be the most exciting time of Valeria's life—everyone else around her, namely her boyfriend, certainly thinks as much. But as nightmarish visions put her at the mercy of a restless demon, Valeria seeks solace from the woman she once loved and help from a coven of witches whose methods are, well, peculiar. A multi-award winner at this year's Tribeca Festival, BHFF alum Michelle Garza Cervera's stunning debut sets a new standard for motherhood-minded horror. An XYZ Films Release. (Matt Barone)
Our very own Sean Parker covered Huesera at Fantasia 2022 saying, "Cervera has made a terrifying film about unacceptance and personal choice that really gnaws in the pit of your stomach for more reasons than just the unsettling images of bone protrusions and cheap scares."
(USA | 2022 | 70 Min. | Dir. Pete Ohs) Screen #6 5:15 PM
An impromptu reunion between old high school friends Jessica and Elena (Callie Hernandez, Blair Witch) in New Mexico is rudely interrupted by the implausible arrival of Jessica's relentless stalker with a lisp, Kevin (Will Madden, The Wolf of Snow Hollow). Super funny yet highly respectful of its serious subject matter, this paranormal comedy/noir thriller-hybrid represents the combined creative efforts of the main cast who helped devise the script as they went along. An exciting example of indie filmmaking ingenuity. (Joseph Hernandez)
Screen #7 6:30 PM
Nocturnal encounters, bizarre run-ins with four-legged creatures, supernatural unease, and slasher riffs mark this year's batch of short-form, going-for-the-jugular terror.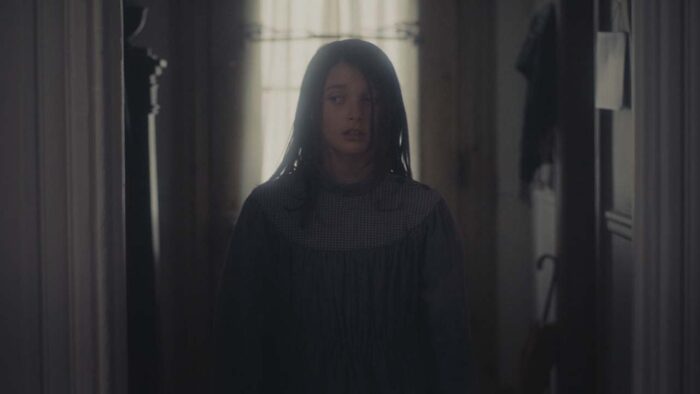 (USA | 2022 | 99 Min. | Dir. Maggie Levin, Johannes Roberts, Flying Lotus, Tyler MacIntyre, Vanessa & Joseph Winter) Screen #6 7:05 PM
Experience the pandemonium of Y2K all over again with the latest entry in the iconic V/H/S found-footage horror anthology franchise, featuring a collection of the series' most impressive segments to date. With directors Joseph and Vanessa Winter (Deadstream) hosting an insane New Year's Eve party, Flying Lotus' (Kuso) gross-out game show, Johannes Roberts' (47 Meters Down) sorority hazing ritual, Maggie Levin's (Into the Dark) punk rock terror, and Tyler MacIntyre (Tragedy Girls) voyeuristic freakout, V/H/S/99 is a nostalgic trip through the past laced with '90s rock, spiders, and lots of blood. A Shudder Release. (Justin Timms)
Screen #7 9:00 PM
What's more fun than being scared to death? Laughing hysterically the whole time, of course, which is exactly what this unruly and audacious crop of horror-comedy shorts is engineered to make you do.
(USA | 2022 | 80 Min | Dir. Zach Passero) Screen #6 9:30 PM
Three 12-year-old boys, including the precocious Dug, excitedly tag along with Dug's older brother and his new girlfriend for a night of fireside camping. Their good times are rudely interrupted, though, when a local monster legend known as the "Night Child" turns out to be all too real. Painstakingly hand-drawn over eight years, veteran editor Zach Passero's animated horror-comedy nails every fun-loving beat you could possibly want from a raucous yet heartfelt ode to '80s coming-of-age genre films. (Matt Barone)
(1980 | Dir. Lucio Fulci) 35mm Screening Screen #1 11:59 PM
The plot of the first in his "Gates of Hell" trilogy is vintage Fulci: A priest opens a portal to Hell that unleashes an endless horde of puss-covered, goo-oozing zombies onto the world, starting in New York City. With its NYC story ties, this H.P. Lovecraft-inspired and hyper-violent gem also exemplifies the filmmaker's ongoing fascination with New York as a hotbed for horror storytelling. (Matt Barone)