Syfy just dropped a trailer for its upcoming series, Reginald the Vampire, set premiering on October 5. 
The series trailer promises a fresh take on vampires. The titular character is the most unlikely vampire we can think of. Vampires are sophisticated and elegant. Their appearance conforms to whatever society's model of physical perfection happens to be. Reginald the Vampire takes the 'sexy and elegant' vampire trope and turns it on its head. I'm all for it. What We Do In the Shadows challenges the same notion and lampoons the elegant and otherworldly undead. However, Reginald the Vampire challenges our perception of vampires in a different way.
Reginald is very average on the outside—overweight with a nowhere job at Slushy Shack. The trailer shows Reginald looking up to the sky, talking to God, and wondering what the point of his existence is. We see Reginald trying to talk to a young woman named Sarah. His co-worker asks why she would bother with a loser like him. Then, we flash back to Reginald, who tells God that whatever down payment was made before he was born, he wants a refund. Then, we get thunder and a flash of lightning. We see Reginald become a vampire—and find himself an outcast among them. 
The show's official synopsis reads as follows: "Imagine a world populated by beautiful, fit and vain vampires. Reginald Andres tumbles headlong into it as an unlikely hero who will have to navigate every kind of obstacle—the girl he loves but can't be with, a bully manager at work, and the vampire chieftain who wants him dead. Fortunately, Reginald discovers he has a few unrecognized powers of his own. A new show with a lot of heart and just enough blood, Reginald the Vampire proves the undead life is just as complicated as life itself."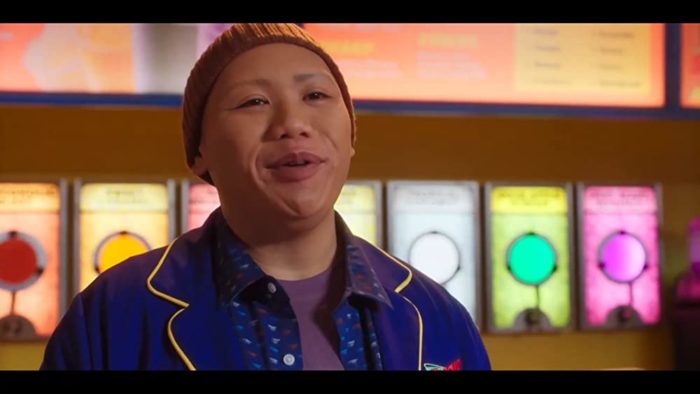 Reginald the Vampire is based on writer Johnny B. Truant's Fat Vampire book series. Truant explores what would happen if an average person became a vampire. Movie Web quotes Truant "It's about a guy who's very overweight and out of shape when he's turned into a vampire […] The idea came up on a podcast I co-host when we wondered why vampires are always 'perfect and beautiful.' Does vampirism really just make you thin? Or does it freeze you where you are? So this book starts with that premise—what if you were turned into a 'fat vampire,' and frozen that way for eternity?"
"Reginald is a guy who is quite down on himself at the start of the novel, but who grows as we learn more about him," Truant said. "He's a 350-pound guy working at a fitness supply company with a bunch of perfect-looking male model types." When he becomes a vampire, he again feels dogged by the 'perfect' vampires, but soon realizes he has abilities that they lack…and has those in spades."
Truant's Fat Vampire is a six-book series that debuted in 2012 and includes:  Fat Vampire, Tastes Like Chicken, All You Can Eat, Harder Better Fatter Stronger, Fatpocalypse, and Survival of the Fattest. There's also a spin-off series, The Vampire Maurice. Reginald the Vampire is the first live-action adaptation of Truant's books.
Jacob Batalon stars as Reginald Andres. Mandela Van Peebles as Maurice Miller, Em Haine as Sarah Kinney, Savannah Basley as Angela, Aren Buchholz as Todd, Marguerite Hanna as Ashley, and Thailey Roberge as Claire round out the cast.