Tormented by his past, Mike (Timmy Creed) lays awake in his bed at night, tripping through the events of a day that ended with the death of his sister Hannah (Fiona Hardy). As part of an outlying gang involved with a criminal organization, Mike is no stranger to doling out violence, but having it hit home carries an insurmountable weight of guilt and blame. Mike is trying to overcome his demons. Pensively staring off into the distance, he remembers finding Hannah in the bushes of a narrow corridor by their home. Re-examining the scene in his mind's eye, he desperately searches for any hint of a clue as to who did it and possibly hopes to somehow change the outcome. Sometimes the thing that haunts us the most lie in the regrets of our past, and that's the sentiment that Niall Owens brings to life in his first feature-length film, Gateway.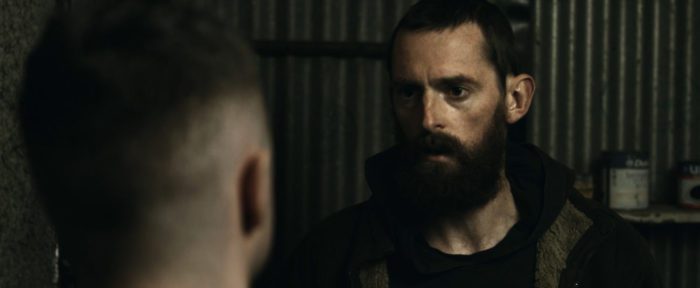 Coming back into play amongst his crew of deviants, Mike begins setting up a deal that could square them with a local gangster (Jimmy Smallhorne). The job is simple: grow some marijuana plants in the attic of an abandoned house. Quite clever once you consider it because there's no one around and very little liability if they're found. The film's first act plays like the lead-up to a heist, as we're introduced to Mike's crew, spend time with his right-hand man Joe's (Kevin Barry) wife and daughter, and enter the location to complete a task. Easy-peasy, right? Of course, not. The appearance of a shadowy figure (John Ryan Howard) suggests the crew has been sold out. When the group arrives at the abandoned property, Mike begins seeing things he could never make up, yet no one will ever believe.  
Gateway has a bit of a rough start, plunging the audience into the unfolding drama of Mike's life. It can be a little confusing to follow as it plows through the exposition of Mike's sister's murder, Joe and Ellen's (George Hanover) marital issues, and a crew who botched their last job looking to collect their debts. It all feeds into the bigger picture at the end of this supernatural slow-roll but can be overwhelming to decipher at the start.  
Timmy Creed is a very intense lead character. Having the look of Southcliffe's Sean Harris combined with the blank, expressionless stares of The Fall's Jamie Dornan. He absolutely depicts the face of a man possessed by the past, and the audience has empathy for him. I mention Harris specifically because some of Mike's memory sequences are reminiscent of the indie film Possum, featuring the actor portraying a character who, like Mike, is similarly haunted. Creed's character also embodies a bit of Ralph Fiennes' in David Cronenberg's Spider, all men trying to untangle the disturbing mysteries surrounding events they cannot forget. However, unlike those titles, Gateway is more actionable and less psychosis driven. '
As the men start setting up shop at the house, they find a massive wooden doorframe assembled in the middle of one of the upstairs bedrooms. The Gateway tempts each character with visions of people from their past and present. Every time a character is lured through, they learn certain truths hidden from them in reality. The almost dimensional transition recalls Don Coscarelli's Phantasm, but as the group encounters the Gateway for the first time, it has an almost Kairo (Pulse) like effect on its user, imbuing them with hopelessness and commanding them to turn on each other violently.  
I was very impressed with a lot of the acting in Gateway. Laurence Ubong Williams delivers a solid performance of anxiousness and expressive revelation, Kevin Barry is fantastically even as an erratic hothead, and the stoicism of our mystery man, John Ryan Howard, fascinates and enthralls, though he's only seen on screen for mere moments. With a mix of outstanding sound design, a score of foreboding tones, cinematically vibrant locations at the start, and a simple yet effective set design in the later acts, Gateway entrenches you with these characters and delivers atmospheric chills. 
Gateway won't satiate the gore hounds or those looking for a typical haunted house story. The film is much deeper than that, practical, nuanced, and wants you to feel its presence long after your watch is over. The film's ending is exemplary, leaving a somewhat ambiguous air for the viewer to impress their own meaning upon. Those are my favorite types of movies. When you ask, "what does that mean?" and begin discussions among groups of friends. However, in contrast to that, some questions about events within the film are never fully explained and remain slightly puzzling.
Overall, Gateway is a tense and compelling haunted house thriller that doesn't really do anything new but uses simple methods to tell a uniquely captivating, character-based story. The film evokes dread and melancholy through its terrific performances and creates a dark, otherworldly tone in its exceptional sound design. The experience is creepily ethereal, and the result is food for thought about the remorse we're burdened with holding onto and seeking to free ourselves from.
Gateway played as part of the Chattanooga Film Festival. Tickets to this film at the festival are now closed, but it was recently picked up by Dark Sky Films and will be available on VOD on July 15. Many great movies are still playing at the festival, now with a lower badge price for the remaining days. Chattanooga Film Festival runs through Tuesday, and buying a badge grants access to all the fantastic films still available to see, like The Leech, The Ones You Didn't Burn, Cryo, Honeycomb, and more.