Truly embodying every aspect of the modern-day Christmas spirit, The Leech follows a devout priest during the Christmas season as he attempts to assist a struggling couple through a rough period in their lives. Horror veteran Graham Skipper (Dementia Part II, The Mind's Eye, Beyond the Gates), known for how unhinged he can become, serves as the mild-mannered priest who gets pushed to the brink of insanity by Jeremy Gardner and Taylor Zaudtke in Pennycoff's latest dark comedy, both appearing in his previous effort, Sadistic Intentions, as well.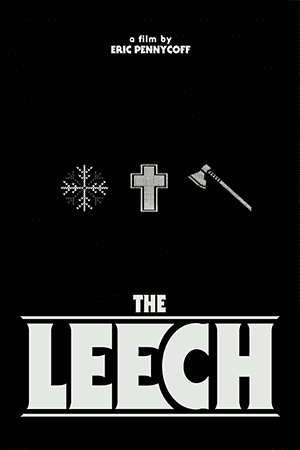 Father David (Skipper) is a pious man who has never missed a mass in his life or eaten meat on Fridays in Lent and always helps someone God puts in his way. When he meets Terry (Gardner) setting up shop in one of the church pews after mass, he feels obligated to take him in and help him get back on his feet. Terry is a bit of an acquired taste, staying up drinking, blasting heavy metal, and snorting cocaine. Though Father David is committed to saving this lost soul, his regimented lifestyle becomes upended when he hears a woman's confession that suggests she's pregnant with Terry's child. Before he knows it, David has Terry's girlfriend living at his house as well. Terry's parasitic exploitation tests the limits of Father David's kindness, and the situation takes a dark turn.
Eric Pennycoff's movie is rife with situational comedy, recalling the kind of unwelcomed house guest and buddy comedies we all grew up with: Planes, Trains & Automobiles, What About Bob?, and especially National Lampoon's Christmas Vacation. In the beginning, Terry's oblivious nature and Father David's inability to set strict boundaries parallel the same behavior in those untimely comedic films. However, their relationship would be closer to that of Clark Griswold and Cousin Eddie if, in the last act of Christmas Vacation, Clark became a lunatic and went toe-to-toe with Eddie.
I give Graham Skipper a lot of credit in The Leech. I usually see films where Skipper carries an ax through a house or intimidates a parolee. In The Leech, he flexes a lot of range. Beginning the film as a meek individual who looks and sounds a bit like a reserved Zach Galifianakis, David later restrains himself in an annoyed state before finally transforming into that more aggressive character. Skipper's performance is remarkable, almost like watching a man slowly turn into a werewolf. The performances from Gardner and Zaudtke are fantastic as well. Frankly, the whole cast has terrific chemistry together, and that's what makes The Leech work.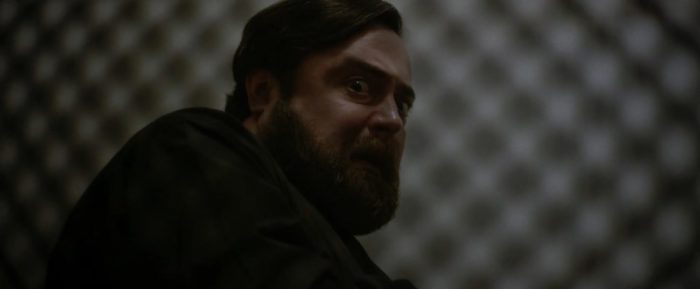 The breakout surprise of this ensemble was Rigo Garay, playing a version of himself. Rigo serves as the moral compass of the film and the shining example of Father David's pilgrimage to reform Terry. Rigo isn't in the movie that often, but his scenes are immensely affecting. His character, which Father David had previously guided, watches as his friend falls down a rabbit hole of dangerous determination. He helps the audience see that David's pilgrimage with Terry becomes less altruistic over time and more like an addiction to the acclaim for his good deeds, seen through the approval he obtains in Rigo's Facebook likes. So, when David begins hearing the almighty in his ear, he begins to listen as if it was clandestinely ordained. However, as temptation clashes with Father David's conviction, pulling him into Terry's carefree lifestyle, is the voice an affirmation of God or something sinister in David's ear? 
There's a lot to enjoy about the happenstance and irony of the film. Christmas is an exceptionally stressful time of the year, and it makes for a fantastic setting to pronounce Father David's commitment to compassionate acts. I found the film equally charming and vicious, laughing out loud at many of the jokes and cringeworthy situations. Religious people will likely have a hard time with a lot of the material, but I have a hard time believing some of the more grounded ideas to be all that far-fetched. To err is human, after all. Even the kindest priests go to confession, and no one is beyond a mental breakdown—particularly at Christmas. As The Leech grows more outlandish, horror audiences and fans of dark humor are going to revel in it. 
The Leech is a wild ride that goes off the rails and straight into the darkest places. Fans of Black Christmas, God Told Me To, and Apprentice to Murder will find some nuanced references and resemblances. Pennycoff said in the chat after the movie he drew a lot of inspiration from many '90s domestic thrillers such as No Way Home, Pacific Heights, and Unlawful Entry.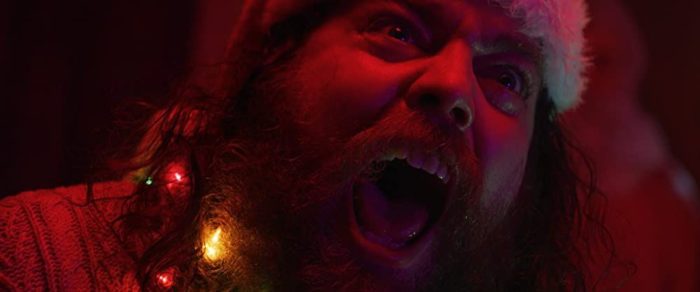 News dropped late on Wednesday, before the festival had even begun, that Arrow Films picked up Pennycoff's film. Arrow has obtained the rights to The Leech in the US, UK, Ireland, and Canada and plans to release the film after its festival run in December. The Leech played as part of the Chattanooga Film Festival, and those who want to see the movie this weekend have until Tuesday to purchase a ticket to the film. The Leech cast will be returning on Monday for a live commentary event which will be a feature on Arrow's Blu-Ray release at the end of the year. To join that event, you'll need to buy a badge. Many fantastic films are playing, such as the World Premiere of The Ones You Didn't Burn, A Pure Place, and Honeycomb.