I'm a massive fan of Christmas horror films. To me, there's nothing more enjoyable than offsetting holiday anxiety with the fear of a pile of bodies thrown under the tree, which is why I was fervently excited for VFW and Bliss director Joe Begos' Terminator Santa film, Christmas Bloody Christmas. The concept seemed anything but nuanced, providing more old-school slasher fun by merrily dashing through blood-soaked snow, grinning with glee at the yuletide slay ride. In many ways, this is the perfect way to say goodbye to the year, most especially through the sheer enjoyment of being relaxingly irreverent. This is reasonably similar to why Violent Night has had box-office success. Like most of Begos' films, Christmas Bloody Christmas knows it's a B-movie and appropriately plays like one.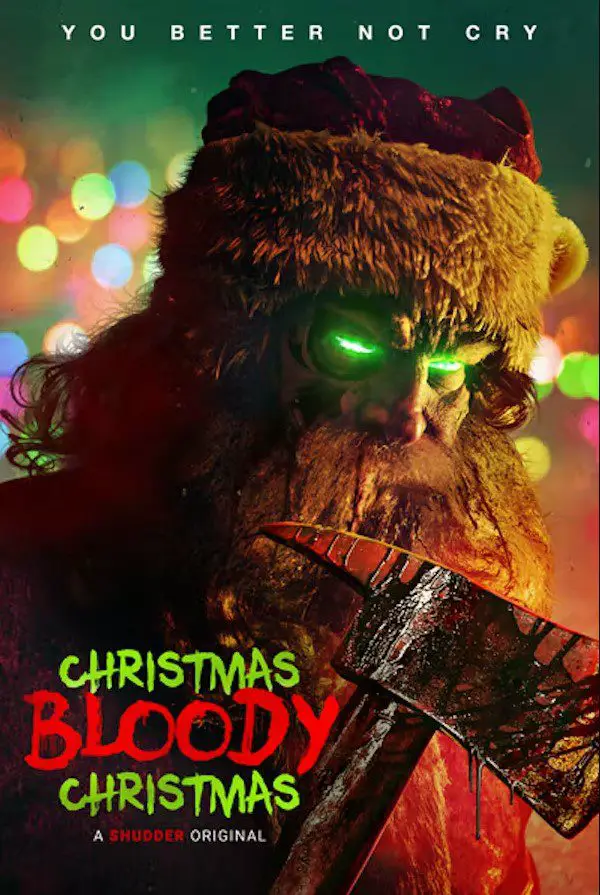 While elevated horror titles have been an awards-worthy pull for drama fans looking for the thrill of a horror title, Christmas Bloody Christmas is a red and green-saturated throwback to a lengthy list of films that inspired it—beginning with an offering of television commercials that recalls Halloween III and Larry Cohen's The Stuff before the audience is thrown into a world of indie music on Christmas Eve. Tori Tooms (Multiple feel-good Christmas film star Riley Dandy) and Robbie Reynolds (Spiderhead's Sam Delich) are working in a blacklight-drenched underground record store as Jay (Mystery Science Theater 3000's Jonah Ray) shows up to buy a record for his wife Lahna (Bliss' Dora Madison).  
The introduction of characters in the film's opening is compounded with exceptionally paced dialogue about music and film by Tori and Robbie, sometimes feeling like Aaron Sorkin was adapting Nick Hornby's High Fidelity and capped with a little Linklater Before Trilogy walking and talking through the sexual tension that exists between the characters. However, during these early scenes of character development, I started to wonder why I was so bored. I love Linklater, Sorkin, and Hornby, but I don't think anyone watched a movie called Christmas Bloody Christmas and expects the film to contain those elements. Tori and Robbie's contrarian arguments over movies and music are conversations I am typically all about. Still, there's an added, almost improvisational dynamic in these debates that steal the charm away from the characters by making the script seem achingly reliant on making the actors do the scene's heaviest lifting.
During this early exposition, we finally get the plot of the movie: a toy company's robotic Santas, programmed with defunct military computer chips, are reverting to their old firmware and terrorizing communities all over the globe. Again, we see a bit of Halloween III in this, as a Silver Shamrock-styled toymaker has unleashed something evil on Christmas Eve, and there's also this strange reminiscence to Joe Dante's Small Soldiers, a movie about toys that go to war with each other with the very same plotline.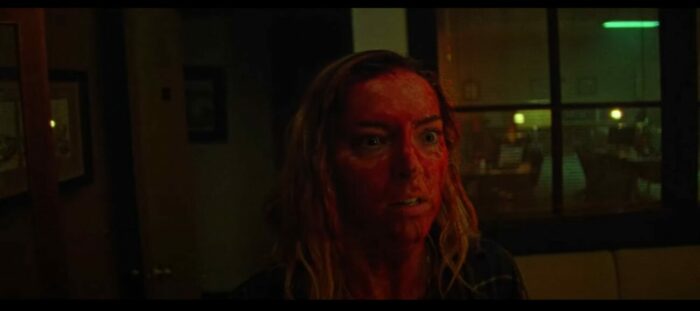 You'd be unfathomably wrong if you think the hip language and conversational tones will elevate the film into anything other than a slasher-splatter piece. This is Joe Begos, after all. I expected nothing less than the skull-splitting, face-crushing Santa I got on screen. Still, the story could have used a little work. After nearly twenty minutes of mostly dialogue, which drags the film into feeling longer, the stalking begins through the first-person perspective of the animatronic killer. The audience sees a back-and-forth between Tori and Robbie's walking and talking and the robot as it hunts Jay and Lahna. What becomes unnecessary is intercutting this scene with Toni and Robbie at the bar and eventually walking and talking in the street. While the perspective inside the store appears hauntingly similar to the stalker in Black Christmas or Michael Myers' initial kill in Halloween, intertwining the scene doesn't build the kind of tension that Begos wants it to, while Robbie and Tori become the focus of the robot's killing spree.  
Christmas Bloody Christmas takes a while to find its footing. In the scenes following, Begos again cuts together a comparison to sex and violence as if he's trying to argue for horror movies from the '70s and '80s as comparisons in the film will likely be made to Silent Night, Deadly Night, yet with the edge of being 40 years removed brutality replaces the creatively twisted types of kills we saw in that era. Begos' films often cater to fans of immense blood and gore, while the direction usually contains muted notes. The Mind's Eye, in particular, felt vivid as if Brian DePalma directed David Cronenberg's Scanners. I don't necessarily see the same with Christmas Bloody Christmas, and it feels that it's because Begos is imitating another person he may admire as the film radiates the loose feel of Roger Corman-produced knockoffs. The extensive exposition, the exploitative sex scene, and the grain, color saturation, and flare of the lens invite the idea we've walked into a movie amalgamation from a laundry list of well-liked films which have been mentioned throughout this article, the way Corman would when he produced over three-hundred films in the span of ten-year. Tommy Wirkola's Violent Night operates similarly off of a Die Hard template with a host of holiday movie references tied in too, and while the two ideas feel like they're cut from the same cloth, Christmas Bloody Christmas rarely satisfies in the same way.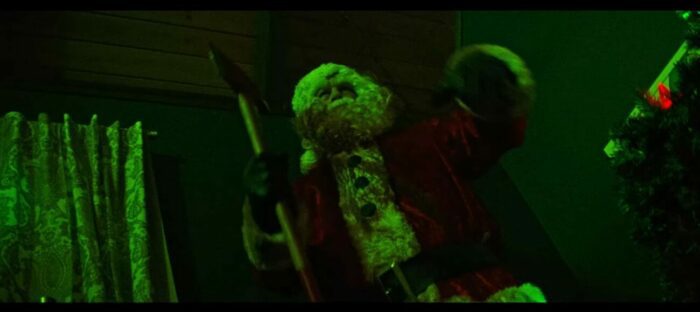 In this vein, I think Begos' succeeds in what he's attempting to do with Christmas Bloody Christmas. It does feel like a throwback to the exploitative era of rip-offs, the way Silent Night, Deadly Night was too, a film Begos borrows heavily from as well. To say Christmas Bloody Christmas is a good film may be going too far. By the time the credits roll, there will have been enough twistedly violent and gory kills to satiate the horror-obsessed fan. However, after the long introduction and the eye-rollingly elongated finale that makes the 87-minute feature feel overlong, it's likely not going to be enough for fans to make it a part of their permanent holiday horror roster. Though, if Jonah Ray finds the film amongst a future season of MST3K spoofed films, I wouldn't be surprised either.  
Ultimately, Christmas Bloody Christmas isn't great. It isn't devoid of fun, and the second half is much more entertaining than the first, but it isn't the Christmas gift horror fans will want it to be, either. One of the highlights was seeing Begos staples: Jeremy Gardner and Graham Skipper. The two have been in most of Begos' films, and it was fun to see them in cameos here, along with The Third Saturday in October Part V star Kansas Bowling. If you're considering a watch of Christmas Bloody Christmas, you may also want to consider making it a Skipper/Garner holiday double feature and give Eric Pennycoff's shocking dark comedy The Leech a try as well.  
Christmas Bloody Christmas is now playing in theaters, available on VOD, and streaming on Shudder.