I watch a lot of horror movies. Pretty obvious, right? I love stories from new talent with big ideas. About a year and a half ago at Salem Horror Fest 2020, I reviewed Black Lake by first-time indie-horror director K/XI. Last week, I wrote about the trailer for an upcoming feature by young director Avalon Fast. At twenty-one years of age, Honeycomb is Fast's first feature film, and while it's a very different film from Black Lake, the excitement of telling you about a new director with massive talent is of that same caliber. 
Honeycomb is rough around the edges, far away from the Hollywood productions that most audiences can easily digest. However, not everyone can have that kind of budget, especially their first time out. Fast uses a crew of friends to make her debut film, reminding me of someone else in the genre whose earlier work had been dismissed for a long time. That work currently resides among some of the greatest films made in The Criterion Collection. John Waters is probably best known for his off-kilter suburban horror-comedy Serial Mom or his take on '50s delinquency films with Cry-Baby. Still, it's his do-it-yourself pictures, Multiple Maniacs and Female Trouble, that show the genius of how low-budget filmmaking can leave lasting impressions on cinema. Avalon Fast is making her first impressions now, and we should take notice.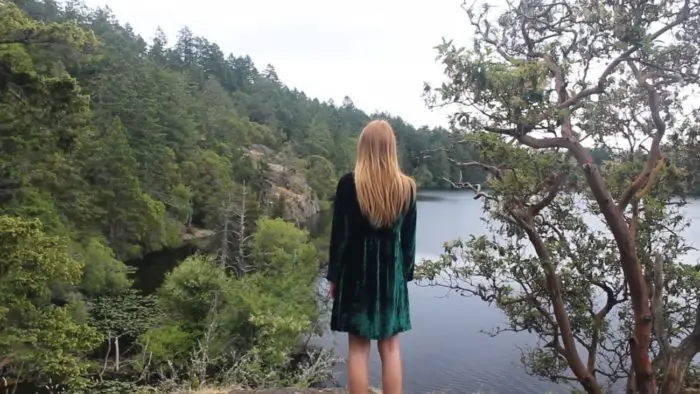 I did some homework on Fast before I sat down to watch Honeycomb. I watched the early shorts Night Trouble and Violets Bloom in April and saw much of the potential multiple festival curators were saying about Fast's work. Both shorts deal with growing up and the changes that come with that. A poster of Greta Gerwig's Ladybird tacked up on a bedroom wall in Violets Bloom in April reflects Fast's inspiration for her coming-of-age themes but never defines her work.
It isn't difficult to see how incredibly talented Fast is behind the camera, specifically at capturing an actor's essence when they may not know or have forgotten that the camera is rolling. Honeycomb has many instances of that, and since youth and summer are a large part of the young director's focus, these frames aid in recognizing time as a gift and a curse. The characters are on the cusp of adulthood, and change is imminent, though none are quite sure what that means.  
Under these circumstances, four girls (Jillian Frank, Destini Stewart, Mari Geraghty, and Rowan Wales) join their friend Willow (Sophie Bawks-Smith) in living in an abandoned cabin out in the woods for what they fear could be their last summer together. The girls believe they're settling into a utopia, not seeing their lives beyond the scope of this point in their lives. They quit their jobs and drink the Kool-Aid, opting for minimalism over consumerism and lifting what they can when they run low on supplies and have to go into town. Ralph Waldo Emerson would be proud. They form a sisterhood in the one-room cabin, praying to a portrait of someone they consider their queen with strawberry blonde hair and drones buzzing about her. The girls are enchanted by their new abode, dancing and twirling like bees in a hive. The psychedelic effect of a lengthy dance scene is hypnotizing with the same mesmerizing pull of a trip to the Bang Bang Bar in Twin Peaks.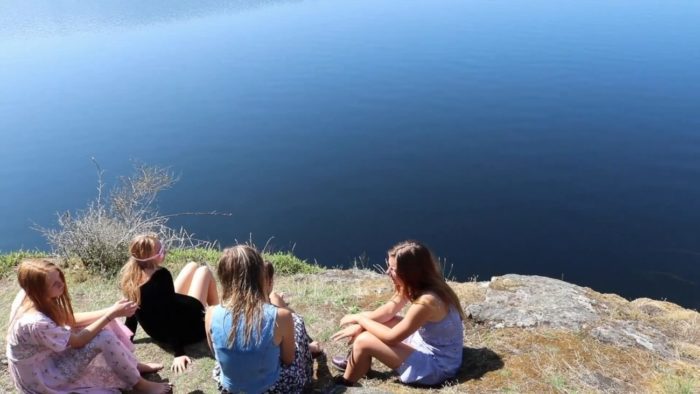 Like Fight Club, the only initial rule is not to tell anyone about the cabin in the woods. Nothing good ever came from that way of thinking in a horror film. The group will invite a group of boys to party on occasion, blindfolding them before hiking toward their paradise. The boys' reaction is distrust and incomprehension, baffled and intimidated by the girls' irregular perspective, something neither group has fully considered or understands. I had a story in mind when the boys were introduced in Honeycomb that a patriarchal seizing of power may occur by the story's end. I was happy to be wrong. The most ambitious part of the story's metaphor, whether intended or unintended, is how original it is while using Lord of the Flies as a roadmap and tricking the audience into believing this will end on survival horror notes. What transpires instead is surprisingly more ominous and supernatural. 
Conformity to the cause comes early, as they sit in a half-circle on a grassy hillside, all wearing the same shade of red. This created collective strives to grow stronger and independence starts to fade. The rules of civilized society melt away and vicious new rules have to be made for the betterment of the group. This happens in the wake of Millie (Wales) inviting her sister June (Jaris Wales) into the fold. The girls invent a system of punishment that becomes anything but equal justice.
Similarities to Lord of the Flies, Showtime's Yellowjackets, and cult adherences start coming into view as brutal acts like the burn of accidentally spilled coffee being met with "suitable revenge," a justification for violent retaliation. These disciplinary measures grow and intensify over the course of the summer. Unlike Lord of the Flies, there is no moral compass for the violence that comes to pass. The closest we get is from PJ (Henri Gillespi), who has an outburst after hearing about the girl's punishment techniques. His outrage is justified and leaves the girls to the sweet sting of their new rules that eventually leads to the inevitable.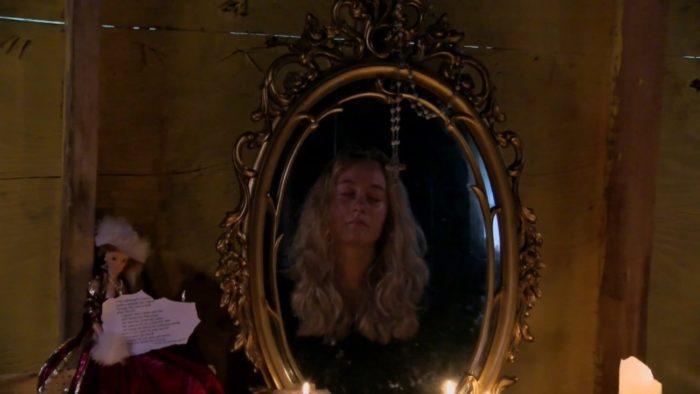 Following the story closely results in a brilliant treat at the end. Clues exist in the narrative from the start, but you're so engaged with the girls' behavior you don't recognize what has happened until Willow does in the film's final seconds. It's a cool twist I didn't see coming from a solidly thought-out story. I also found a lot of wonderfully written dialogue in the script by Fast and cowriter Emmett Roiko, though it may not always be delivered to its best potential. Lines are often read instead of felt, which may be the film's most daunting obstacle. I'd encourage viewers to remember Honeycomb was put together on a shoestring budget, and the actors and actresses are still learning. 
Fast also gives the viewer a lot to consume visually, which—along with a good story—helps move the film along. There are animations, beautifully captured moments of cinematography, and those lingering shots on a character who isn't the source of action in a scene but provides necessary story elements in the film. The work is focused and uncompromising as we watch these girls turn their backs on the path society has chosen for them in an attempt to give their life purpose, finding it may not be in the hills either.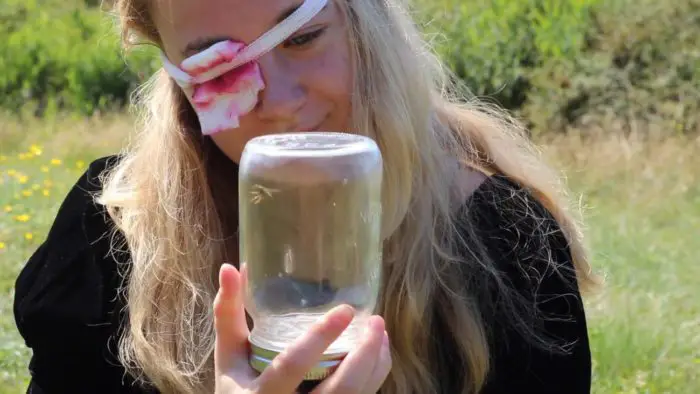 There are a plethora of nods to cinema and its pioneers throughout Honeycomb. Jump cuts reminiscent of Godard are used in an early scene to show the tedious doldrums of a small-town girl working at an ice-cream stand. Simultaneously, the Gerwig-like dialogue about milk-artistry in a coffee shop helps aid Willow's manipulative coercion to see her life as rudimentary and join her on the hillside. Other references to Picnic at Hanging Rock, Daisies, and Midsommar are also felt through its beautifully beguiling environment and situations. 
Honeycomb is by no means perfect. There are noticeable continuity errors, occasional audio distortions, and a strange transition to a partial documentary format that doesn't exist from the start. Nitpicks, for the most part. Regardless, there's a lot to like about this diamond in the rough. This is a proper do-it-yourself indie film debut, and these hindrances do not outweigh the good points of Honeycomb. I will certainly be keeping an eye on what is likely to be an incredible career for the young filmmaker.
Honeycomb is playing as part of the Slamdance Film Festival beginning today and will be available through February 6. Tickets for the festival, including access to over one hundred films (features and shorts), are only ten dollars.