Cue the morbid cackle of the Creepshow Creep. Yesterday, a new Creepshow comic based on Shudder's hit tv show was announced to be in production, and as huge Creepshow fans, we just can't wait for the five-issue series to drop on September 21st. Like the series, the comic will be helmed by a host of different creative teams from illustrious media backgrounds, including the worlds of comics, tv, movies, and more.  
Creepshow's roots begin in 1982 when George Romero and Stephen King teamed up on an anthology film of twisted tales, serving as an homage to the horror in EC comics. Each story was like a chapter from a comic book series, with campy and morbid undertones guiding the stories and practical special and makeup effects that made you want to squirm.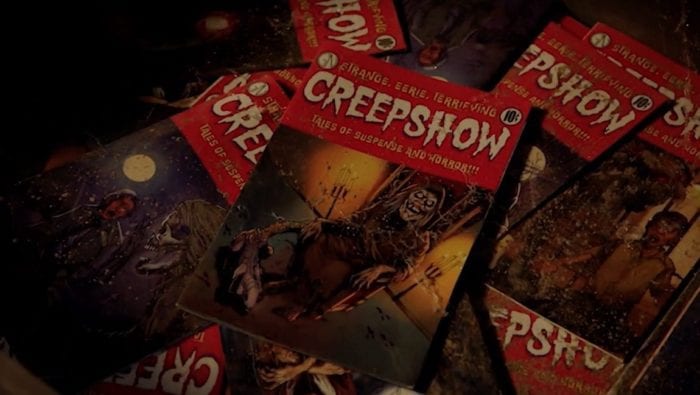 Horror icon Greg Nicotero, noted special effects expert and showrunner of the current Creepshow series, would begin working with Romero a few years later, appearing in Day of the Dead and serving as an assistant to Tom Savini in the makeup department. He would later work on Creepshow 2 in the special effects department. Romero was not directly involved in the sequel, having only a screenplay credit, but he and Nicotero would team up again on Monkey Shines, Tales from the Darkside: The Movie, and Land of the Dead. 
In 2019, Nicotero told Patrick Cavanaugh of Comicbook.com, "A lot of the covers [in the Creepshow series] are tributes to old EC Comics covers. There's the cover of "The Companion" that was drawn by Mike Broom, which was a tribute to a Jack Davis cover. There was another cover that we did that was a riff on the cover from the movie poster that Neal Adams did for Grizzly, we did a take on that, but it was the Creep behind a bunch of little kids sitting around the campfire reading a comic book. There were a lot of instances where a lot of the comic book art was designed to pay tribute to artists who had actually contributed to those comic books in the '50s, and you can see it all over the place. There's so many comics that have that style." 
The list of spectacular talent behind the new comic includes Kelley Jones (Creepshow 2, The Sandman), Paul Dini (Batman: The Animated Series), John McCrea (Hitman), Chris Burnham (Officer Downe), Steve Foxe (X-Men' 92), and Steve Langford and Josh Malerman of the Creepshow television series. Skybound, the comic book home of Amazon's Invincible, will be distributing the five-issue limited series. Skybound editor Jon Moisan told Entertainment Weekly,  
"Creepshow has consistently been one of the best things in horror for the last 40 years, and for Skybound to be able to carry on such a rich horror tradition is an absolute thrill. We knew a franchise this prolific would require the best talent in the industry, so we assembled a collection of creators that will do the Creepshow name proud. The stories they have planned are going to scare the absolute hell out of people" 
Until now, the only actual comic books Creepshow ever published before were tie-ins for each of the films and a single edition San Diego Comic-Con exclusive in 2019 based on episodes from the television show. In a statement about the forthcoming comic series, Nicotero said, "Growing up a fan of horror comics and Famous Monsters, I will never forget the thrill of seeing a new issue hit the stands…thumbing through the pages with the anticipation of diving into a dark twisted and outrageous world filled with ghouls, zombies, and the classic comeuppance. I'm very proud to see Creepshow find its rightful place on comic book shelves everywhere!" 
There is no word yet if the books will tie into Season 4 of Shudder's Creepshow series, which doesn't have a date yet. Hopefully, we'll know more soon. Four months ago, Shudder announced the series would return in 2022, and, as Nicotero has said before, "Halloween wouldn't be complete without Creepshow."