If there was ever a movie that scared the absolute ever-loving sh*t out of me as a small child, it was Arachnophobia. I think I was about eight years old when my father brought the purple VHS box into our household. However, it was about ten years after that I finally saw it in its entirety without having to stop it after a spider crawled into a kid's football helmet, the furthest I'd ever made it after several attempts through Frank Marshall's movie. After finally seeing it, I absolutely loved it.
The news was announced today that Christopher Landon, the writer and director behind Happy Death Day and Freaky, would be resurrecting Amblin Entertainment's 1990 cult classic creature feature with the help of Atomic Monster Productions' James Wan and Michael Clear. Landon will direct a new Arachnophobia movie, the details of which are still to come.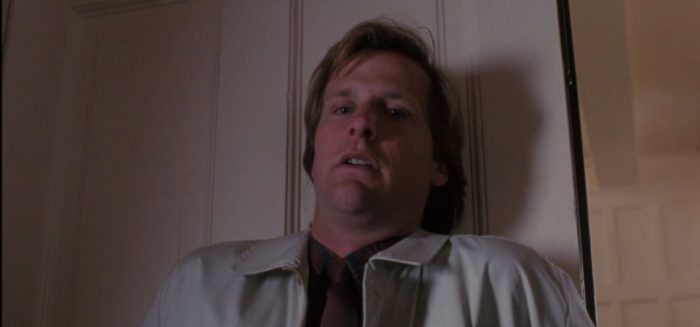 In the original Arachnophobia, a South American spider hitches a ride in the casket of its victim and wreaks havoc on a family who moves to a small town. The father of the family, played by Jeff Daniels, is a young doctor paralyzed with fear at the sight of an eight-legged creature. As people in the town begin to die under unusual circumstances, the doctor and a scientist team up to investigate. Along with the help of an exterminator with a screw loose (John Goodman), they attempt to find the nest of the killer arachnids.
The original film is very much a modern throwback to '50s and '60s nuclear panic films like Tarantula! or Them! and even contains a lot of old genre tropes, such as a skeptical old doctor who refutes any evidence, a policeman with a grudge against outsiders, animals who can see the spiders before the humans, a stand-by-your-man wife, and the spunky old lady who sticks up for the doc whose calls for an investigation are disregarded.
If ever there was a person that could balance the creepy-crawly squirms of tension Marshall pulled off in the original film and inject it with an equal dose of hilarity, Landon feels like the right choice. The director's aforementioned efforts have an abundance of laughs and thrills in equal measure, as does his work on Scouts Guide to the Zombie Apocalypse. Landon also knows how to give serious chills, writing Disturbia and several Paranormal Activity films, directing The Marked Ones.
Creepy Duck Design, the artist behind some of Scream's (2022) incredible posters, is already entranced with the idea of a new Arachnophobia movie and has submitted some fantastic concept art after hearing the news. The posters have me itching and swatting at my skin and checking my ears.
Excited to share my officially commissioned concept posters for @creetureshow and his upcoming reboot of #arachnophobia with the great @amblin. Sleep tight! 🕷️ #HorrorMovies #digitalartwork pic.twitter.com/CGLsH98rkB

— Creepy Duck Design (@creepyduckart) June 2, 2022