What if Candyman lived on R. L. Stine's Fear Street? 
White Smoke is a study in new-to-the-neighborhood horror that blends elements of haunted houses, spooky siblings, urban legends, and parents that just don't understand. Marigold's mom has received a writing fellowship that includes staying in a newly renovated house in what used to be a thriving neighborhood that now stands mostly empty. When they move to Maple Street, a not-so-subtle reference to the 1960s Twilight Zone episode "The Monsters Are Due on Maple Street," they find that they are the only liveable house on a street that has been devastated by fire and foreclosures.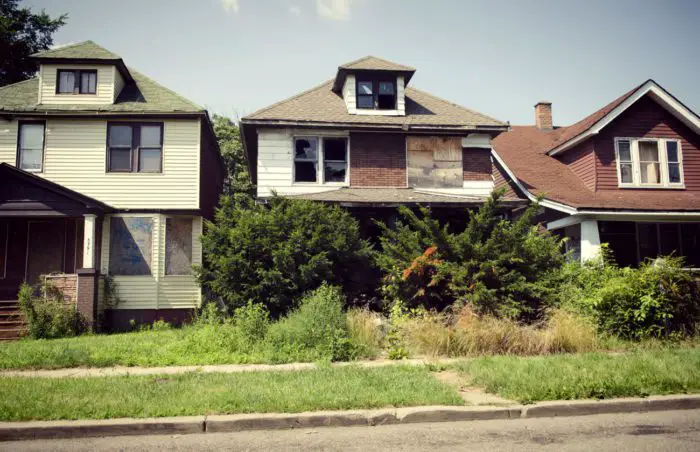 Marigold isn't looking to put down roots. Battling addiction, a fear of bedbugs, and her new blended family in a move to Cedarville, a town in the throes of gentrification, Marigold just wants to survive the school year, but that proves to not be easy.
Immediately, the house starts to do haunted house things. Objects disappear, doors open and close, there is a strange smell coming from the basement, Marigold's step-sister Piper starts talking to an imaginary friend that isn't very friendly. While Mari tries to shake her addiction as she adjusts to life in a whack new town by making friends and trying to fit in, she can't shake the feeling that something in the house wants her gone. And that's only the house because Cedarville proves to have secrets that go deeper than the city planning board wants to admit. 
The town itself is weird and reads like a thinly veiled version of Detroit. This comparison becomes more obvious as the climax of the novel happens during "Devil's Night" an event that was also mentioned in the 1994 film, The Crow. Historically, Devil's Night began in the 1940s and revolved around teens playing fairly innocent pranks involving toilet paper or eggs the night before Halloween, but in the 1970s the holiday escalated to arson and vandalism in the vein of a Purge-style free-for-all. 
The Wikipedia page claims that things peaked in 1984 when 800 fires were set in one night, but this didn't stop people from continuing the practice, as in following years, fires ranged in the 100s. The decline in fires didn't happen until 1995 when the mayor of Detroit created the "Angel Night" task force of 50,000 volunteers that patrolled the city reporting on suspicious activity. Angel's Night was discontinued in 2018 as cities tried a different approach to funding Halloween parties in the area. That year, there were only five fires reported and 2011 saw the lowest year ever with only three fires. It's amazing what community support and funding can do to turn a hellish situation around.
It's often hard to capture a moment while it's happening, but Jackson does just that. White Smoke adds paranormal elements to an already dreadful existential uncertainty that many communities are feeling as they transition from the old ways into the new, willingly or more often otherwise. The thing I most appreciate about Jackson's writing is her authenticity. For her debut novel, Allegedly, which centers around a girl living in a group home who had previously been convicted at age nine of killing a newborn baby and spent the last seven years in jail. Jackson interviewed a slew of professionals from social workers to lawyers so that she could get things right. That dedication to details rings true as Jackson perfectly balances setting, plot, history, and characterization. As someone who has an interest in city planning, nothing rang false in the narrative and that type of balance is one of the reasons why I feel YA, especially in the hands of Jackson, could appeal to all types of readers, from the plot focused to the character-driven. 
The current trend to lump every horror thing produced by a person of color into the Get Out category doesn't serve White Smoke. While Jordan Peele absolutely deserves credit for bringing much-needed interest and attention to Black voices and voices of color, Jackson's inspirations are classic genre horror. The paranoia that permeates every page of this youth-filled The Twilight Zone solidifies its place in the haunted house genre with smart twists and turns that balance the real-world worries of many kids today. Sure there are monsters, but how can they be worse than the hormonal monster inside your own house, or the inevitability of a family member ending up in jail for a petty crime, or having to leave the home you love because the rent is just too damn high? The elements of uncertainty in the real world are all too real for many teens, making living in a haunted house not so bad by comparison, because sure there are weird things that happen at night, but at least it's a house. 
While this is technically author Tiffany D. Jackson's horror debut, she is no pedestrian horror fan. Jackson cites Unsolved Mysteries and real-life Japanese hauntings as inspiration and has dedicated this book to R. L. Stine, who contributes a blurb on the front. Jackson gained acclaim writing socially conscious YA books about teens trying to survive group homes, false accusations, and disappearances. Battling poverty and communities that lack resources are common themes in her work, so adding in a few ghosts doesn't feel like that much of a stretch.
The only complaint I can fathom someone having with this novel is that there is so much to like here that the ending feels a bit abrupt. It made me wonder if this would be the first in a series as the story wraps up when I could have easily consumed another 100 pages. This short ending will frustrate some, but it's also a perfect reminder that in real life, you don't always get everything you want.
Thankfully, this will not be Jackson's last foray into the horror genre, as on Halloween she announced her next release, The Weight of Blood is planned for Fall 2022. While details are subject to change, the story will take place in Springville where the seniors make their annual procession to prom that begins with a parade down the Main Street of town. Unbeknownst to the attendees and viewers alike, prom may be the last party of their lives. 
White Smoke is available now and will make an excellent gateway gift for the teen in your life who thinks you just don't understand and would pair well with a viewing of Poltergeist or Ju-on: The Grudge. 
---
Looking for more horror book reviews from November 2021? We've got you:
"Field Notes from a Nightmare Hits Close to Home with Eco-Horror"
"OH PAIN Is an Emotional Powerhouse of Short Stories"