Don Mancini, the man that made you afraid to open your toy box is back, with your 'friend to the end,' Charles Lee Ray. The new series, simply titled Chucky, is a continuation of the stories in The Curse of Chucky and Cult of Chucky. Another back-to-basics approach that keeps everything that made Chucky terrifying and forgets a lot of the sillier aspects of the franchise. Unlike other horror spinoff shows, like Friday the 13th, it follows the continued storyline of the characters that made us fans to begin with including Andy and Kyle. The best thing about the return of the characters is the return of original actors, reprising their roles.
A big part of the feel of the series, and its representation of the Good Guy himself, is Child's Play 2, which Mancini says is the fan-favorite of the franchise. The look of Chucky in this new series is a great call back to the more frightening components of Mancini's creation from way back in 1988. Mancini and Tom Holland (no not Spider-Man) made toys scary. Any kid that went to sleep with a My Buddy doll—like my cousin did—buried it in their closet—like my cousin did— after seeing Chucky in action. Every kid thought they were Andy, and until Toy Story nearly a decade later, Andy's toys coming to life wasn't on anyone's wish list.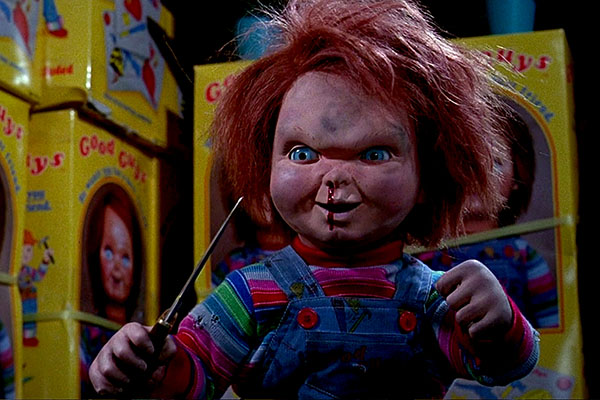 After the Legacy of Chucky featurette from this year's Comic-Con@Home, we know a lot more about what to expect from the series. It follows the exploits of everyone's favorite knife-wielding redhead after he is bought at a garage sale. His new owner is a young teen named Jake, who buys the doll because it's retro. Along with the return of fan-favorite actors Jennifer Tilly, Fiona Dourif, Alex Vincent, and Christine Elise, the series stars Zackary Arthur, Tyler Barish, Samantha Brown, and Bjorgvin Arnarson. As well as the return of Brad Dourif as the voice of Chucky.
With his new exploits, we also get to delve back into Charles Lee Ray's childhood and see where he began and what turned him into The Lakeshore Strangler. With all of this, there's going to be a lot of character development on Chucky's end too. The full trailer was released at the end of the featurette and it did what a trailer is supposed to do. It gave enough information to be interesting but it's doubtful they have released any big reveals as of yet. We'll know more when the show premiers on SYFY and USA on October 12th.