It's no secret that dolls are creepy. From Annabelle to M3gan, that trike-riding marionette in Saw or Trilogy of Terror's Mr. Zuni, dolls have unsettled moviegoers for decades. Chucky, however, might be the most iconic. Since 1988's Child's Play, uttering the name Chucky has brought with it the image of the terrifyingly sinister smile of a knife-wielding, red-headed rubber doll. While Chucky has terrified film fans over the years, Kyra Elise Gardner thinks of him as a little brother. That's what the trailer for her new documentary Living with Chucky says, anyway.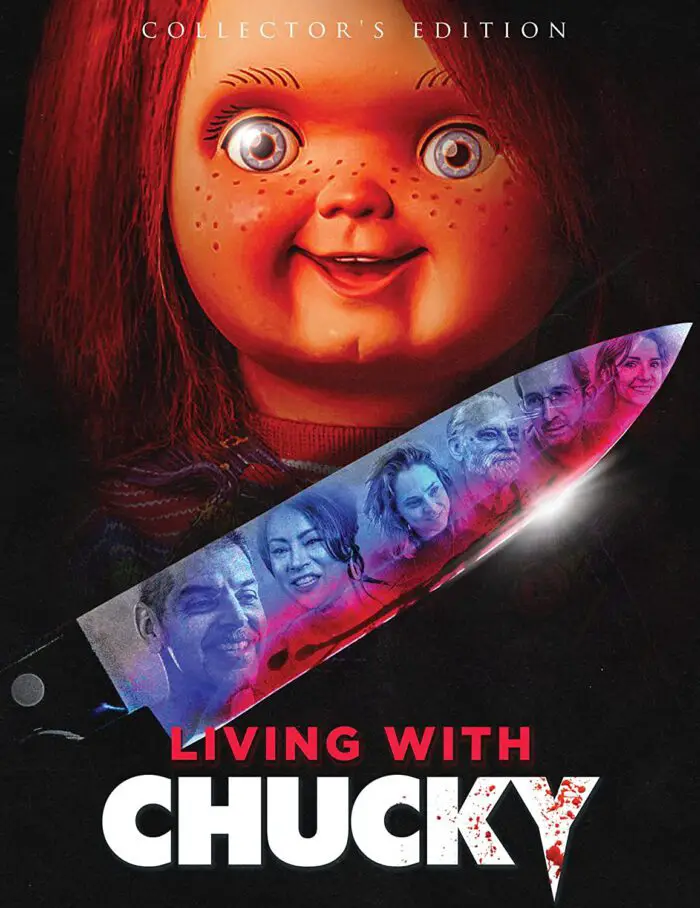 For much of Kyra's life, her father worked on monster movies with an array of highly prolific horror directors. Kyra is the daughter of makeup and special effects wizard Tony Gardner, whose name is attached to a body of work that almost guarantees you've seen something he's done, like Michael Jackson's Thriller, Hocus Pocus, Army of Darkness, and even segments on MTV's Jackass. Beginning with Seed of Chucky in 2004, where he filled roles in the special effects and makeup departments, as well as being the assistant director on the film, Tony has been involved with creator Don Mancini's supernatural slasher film series.
For the last twenty years, Chucky has been as much a part of Kyra's life as he is of Tony's. Growing up seeing the dolls in her home and hearing about her father's movie family, who he made an additional two films with and now serves as a producer on the current Syfy series, Chucky. This gave Kyra the idea for a documentary short she shot while at FSU that she called The Dollhouse, which found its way to a slew of festivals back in 2017 after premiering at FrightFest that year before the opening night film, Cult of Chucky. The Dollhouse almost acts as a seven-minute trailer for Living with Chucky now, as Kyra used her short's excess cast and crew interview footage to expand her short into a full-length feature documentary.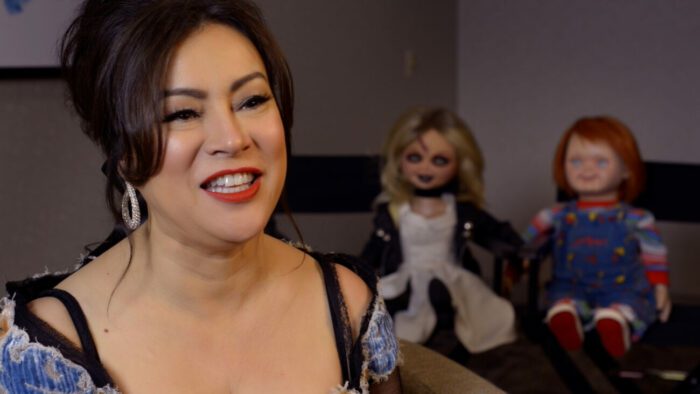 However, the documentary is cut into two definitive parts. The first is more or less a retrospective, where celebrity fans like Lin Shaye, Marlon Wayans, and Abigail Breslin give their takes on each movie while the cast and crew offer a behind-the-scenes perspective ramping towards the connections they formed beginning from the first Child's Play movie. Gardner talks with many of the beloved film series stars like Alex Vincent, Brad Dourif, Christine Elise, Jennifer Tilly, John Waters, and Brandon Boyd. For the first half of the film, Living with Chucky is standard film documentary fare, with movie-specific stories and discussions allocated to the appropriate movie being examined. But, as she shifts her doc into focusing on her father, Tony, and the relationships he's made with the people he's worked with for the last two decades that she barely knows or has never met, the film becomes a lot more personal, and that depth grants the film a whole new perspective. 
While many of the stories told by Kyra's father are fun and quirky, hearing from Don Mancini and Jennifer Tilly are the film's most entertaining highlights. Tilly provides extraordinarily entertaining commentary on her role as Tiffany and her experiences on set, from her nuanced voice acting playing three separate versions of herself to joking about wanting a redo kissing scene with Fiona Dourif. Meanwhile, Don dives into his writing frame of mind, providing an outpouring of fatherly pride for the character he created. From Mancini to Tony Gardner and producer David Kirschner, the love for Chucky and his on-screen and off-screen evolution is unmistakable.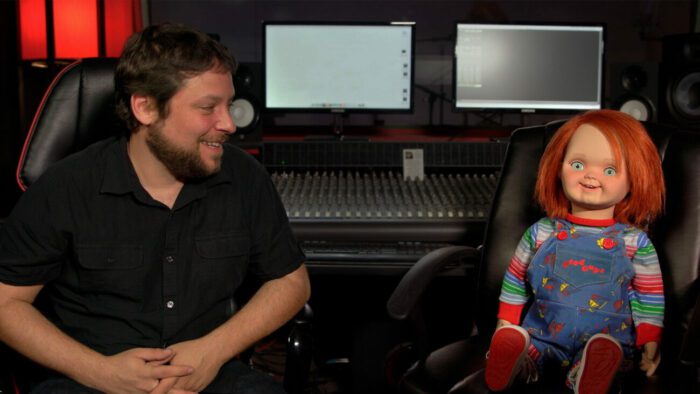 Throughout Living with Chucky's first half, I kept trying to figure out why Abigail Breslin, Elle Lorraine, and Marlon Wayans were chosen for the documentary. Their commentaries are unsurprisingly fantastic, but there is a sense that they're a little out of place at first in a film about Chucky. However, as the film converges on how these like-minded colleagues became so close-knit, it begins to make sense. Tony worked on Lorraine's Bad Hair and Wayans' The Curse of Bridge Hollow, while he and Kyra both worked on Breslin's Zombieland: Double Tap together. Through these connections, Living with Chucky incorporates the idea of a growing horror movie family through Tony and Kyra's constantly developing careers. 
Kyra also finds an associative bond with the familial connection between Brad Dourif and his daughter Fiona, who plays Nica in the series' last two films, Curse of Chucky and Cult of Chucky. Kyra bridges the two halves of her film through Fiona by relating her experience growing up with her father involved in these films with the daughter of Chucky himself. Curse and Cult also serve as reunion fare for Don Mancini, who includes various performers who appear throughout the series, some recurring, and some in brand new roles, simply because of the closeness established on sets together.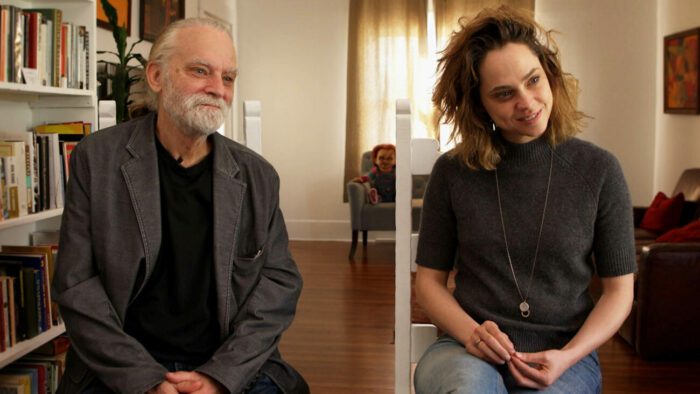 Fans of Chucky are going to really love this documentary, and those who have never watched a film in the Chuckiverse film are likely to want to seek them out. Living with Chucky is a funny and touching film, and Gardner has a lot of talent in stitching this film together. While I wish the film expanded more on Kyra's initial premise and showed more of it from her angle, which only rounds out the last half hour, the retrospective angle still works to complete the experience.  
Living with Chucky is now streaming exclusively on Screambox.