1992 was a year that changed me fundamentally as a person. I turned 14, started to wonder about girls, and music became a big thing with the discovery of Nirvana and R.E.M. It was also the year I fell head over heels in love with film beyond just going to see whatever PG-rated film was showing at the local fleapit each weekend. Around the summertime, my parents started to not really care what I was watching anymore. In quick succession I saw titles such as Brian Yuzna's Society (1989), David Lynch's Wild at Heart (1990), John Carpenter's The Thing (1982), Larry Cohen's Q the Winged Serpent (1982), Alex Cox's Repo Man (1984), and Clive Barker's Hellraiser (1987). During cinema trips in 1992 I got to see Batman Returns, White Men Can't Jump, Unforgiven and erm…Encino Man.
It was a great time to be alive with a sense of discovery filling all of my senses and compelling me onward. It was around the fall of '92 when my attention wandered to the supposed nastiest of all video nasties in the store…The Evil Dead (1980). I wondered if I could handle it. If I handled what I had done already over the summer surely this wouldn't present that much of a challenge. So, my dad rented The Evil Dead and I hid upstairs in the attic one cold October afternoon and watched the carnage unfold.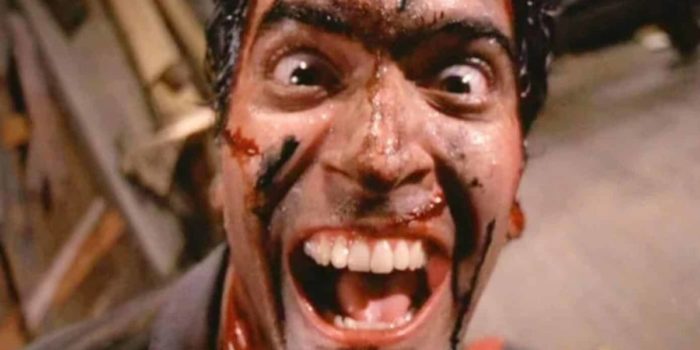 My memories of that initial viewing revolve around how dark and nihilistic the film felt, and my admiration for its primitive stop-motion animation and gore effects which somehow added to the nasty feel of the film. I would later read the excellent book The Evil Dead Companion (2000) and really come to admire the film for what Sam Raimi, Bruce Campbell and Robert Tapert had to go through just to get the damn thing finished. There is a wonderful sense of invention about that first film and a real love poured into every frame, with genuine talent proving what they could do. Although I liked it, I wouldn't say I ever fell head over heels in love with that first Evil Dead movie. However, a couple of weeks later, something would happen: an epiphany in the mind of a youngster which finally cemented his own desire to create and write, and somehow maybe one day make that his life.
The first viewing of Evil Dead 2: Dead by Dawn (1987) was a strange night. A friend who I would later learn wasn't really into horror movies was staying over and wandered off five minutes in when he decided he couldn't deal with it. I stayed there glued to the film: the eyeball pop sequence, Raimi's ram-o-cam going ballistic, the way that later Lynch collaborator Peter Deming (Lost Highway) shot the whole thing. It still had the lower end of the scale effects work but there was something altogether more confident about Evil Dead 2. It was a genuine tour de force of gore, humour and a remarkable performance from Bruce Campbell.
It also had an air of tragedy about it in the first half, with Ash (Bruce Campbell) having to chop up his girlfriend Linda (Denise Bixler) when she becomes possessed by the evil, and actually mourning her in a few scenes. By the time it gets to the tooling up scene, and the uttering of the word "Groovy," I was head over heels. This was the greatest film I had ever seen!
Back then there was no internet. I would get my film news from flicking through issues of Starlog or Fangoria in the comic shop that was right between my two local cinemas. I knew of Army of Darkness (1993) before I saw Evil Dead 2. I knew it was coming from the advertising of a comic book adaptation in the pages of my beloved Dark Horse comics I was obsessed with that summer. The comic adaptation was released and I waited for the three issues to emerge very slowly and with a lot of patience. I was already in love with Army of Darkness from that comic book.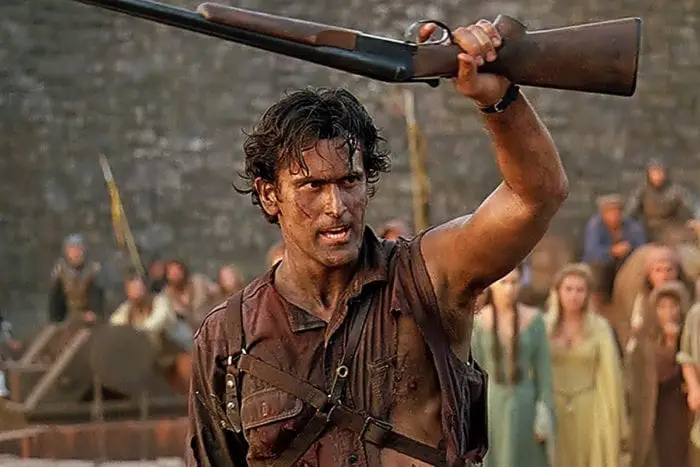 The artwork by John Bolton and the deep colouring suggested that Army of Darkness was a more epic film than Evil Dead 2. It would cost a lot more and yet kept the same level of madcap invention. Most importantly, it looked as good as Evil Dead 2 and had that same level of darkness in the cinematography. It would be truly something to behold on the big screen. I waited for the release of the film…and waited…and waited. Six months after the comic, Army of Darkness opened and to my surprise showed at my local cinema. On a Saturday afternoon in the summer of 1993, my best pal and I went and saw the film.
My initial reaction to Army of Darkness was positive. It was an incredibly fun time at the flicks and the film had humour, fun effects work, and Bruce Campbell doing his thing. Despite some scathing reviews at the time, I still enjoyed the film for what it was. Later I would use the VHS version to introduce the film to a whole bunch of people and follow it up with Evil Dead 2 as the greatest achievement of the franchise.
There was always something off about the film though, and I could never quite place what it was. It occurred early on that this did not look like Evil Dead 2. Peter Deming had moved on and been replaced by future Matrix DP Bill Pope. Army of Darkness didn't look like the film promised by the Dark Horse comic, but there was something else;  something that wouldn't become apparent until many years later.
The sinking feeling started with the release of Army of Darkness on VHS with an alternate ending. Ash sleeps too long to get back to his own time and wakes up when an apocalypse has already happened. This ending was not the cheesy S-Mart ending we saw in the cinema, and was more in line with keeping with the spirit of Evil Dead 2's ending and promised further sequels. When I saw the 'S-Mart' ending again when the film was broadcast on cable, something then finally started to annoy me.
We would later get an alternate cut of Army of Darkness on DVD. The additional footage in the windmill conjured some more of the spirit of Evil Dead 2, but was still relatively bloodless and played more for laughs than terror. Eventually, there would be the release of video games and further comics based in this universe. Bruce Campbell's stature as a cranky raconteur at fan conventions would grow as would his popularity thanks to Army of Darkness and its cult fan-base that had grown with the film's airings on TV.
People would constantly talk about an Evil Dead 4, a cinematic continuation of the franchise with Bruce Campbell once again on the big screen. The release of Sam Raimi's underrated Drag me to Hell (2009) would only increase the anticipation of this. I watched and waited, but something occurred to me fairly early on in this talk of a new Evil Dead film…I didn't want an Evil Dead 4. I still felt burned by the Star Wars prequels, but that wasn't the reason.
Eventually after talk of a further movie was silenced, an Evil Dead remake was released in 2013. Directed by Fede Alvarez (Don't Breathe), Evil Dead (2013) is the most savage horror experience released by a major studio this decade. The film is brutal. It sets out to make you wince, feel pain, and thrill you. It is that very rare of things these days; an experience. It is truly the nasty film that caused all of the furore in the UK in the early '80s.
Evil Dead gave me hope. It was relatively free of humour, looked great, and was a film that went back to the franchise's roots. It also made money: about $98 million worldwide, unheard of for this franchise. The lack of a cinematic sequel is puzzling, as it was definitely something I wanted to see again. After the credits of Evil Dead, Bruce Campbell appears in close up cameo and utters the immortal word "Groovy" and remember this…because it becomes important later.
We got a TV version in Ash vs Evil Dead (2015), broadcast on Starz and later cancelled after three seasons. I won't deny it is a fun show. Apart from Bruce Campbell, everyone is really well cast and it gives you an indication of where Evil Dead 4 may have actually gone. It's full of strong gore, humour and provides a good half hours' entertainment each episode and is easy to binge.
It is ultimately though, the show that finally brought everything that had been troubling me about the franchise in its further comics and video games into sharp focus with its first episode. Ashley J. Williams, a man not previously named beyond "Ash" in the first two movies, unleashes the evil again. He is constantly stoned, womanising, and wise-cracking his way through the gore. He is a buffoon…and he is not the character we saw in Evil Dead 2.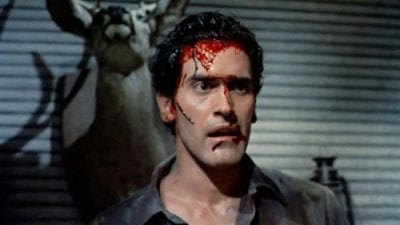 You have to go back to Evil Dead 2: Dead by Dawn and its tagline of "Kiss your nerves goodbye" to realise where this all went wrong. Evil Dead 2, once you get through the humour and roller-coaster nature of the film, is a dark movie. Ash is clearly really into his girlfriend, Linda. He buys her a weird necklace and plays the piano as she dances. Ash offers her champagne while impersonating the buffoon he would later become. He is distracted by the tape recorder in that cabin and Linda is taken by the evil. Ash shows genuine concern and terror. He is forced to lop Linda's head off and bury her with a shovel.
What follows then for a while is watching a man have a nervous breakdown. Campbell, in these scenes, is absolutely brilliant. He cries when the piano spookily starts to play the same tune he used to impress Linda. He shakes when he has to cleave Linda's head in two when she comes back to get him and stumbles around shell-shocked. When everything in the cabin starts to laugh at him after he saws off his own hand, he starts to laugh too, and eventually scream in madness at the whole thing.
There are moments of tension where Ash is losing it and there is only the sound of the wind howling through the cabin. You could make a pretty good argument that the whole film is an unwell person losing his mind. There is no evil, and yet we know through sequels this was not the case. But they went back to it as a concept in one of the best episodes of Ash vs Evil Dead.
This, to me, is Evil Dead: terror and madness so intense that you absolutely lose your sanity while trying to fight against an evil beyond comprehension. When Annie (Sarah Berry), Ed (Richard Domeier), Jake (Dan Hicks) and Bobby Jo (Kassie DePaiva) turn up at the cabin, they find mutilated Ash caked in blood and half crazy. He is the only one who has lived with this evil and fought it, yet is called a coward a couple of times even though he is clearly mentally damaged by everything that has happened to him.
Ash gets possessed by the evil a couple of times in the movie and somehow recovers. When he tools up with chainsaw and shotgun, it is more because he has no choice and has to rather than through any bravery. When he fights Henrietta and is confronted by the evil in the flesh he still reacts with absolute terror and stumbles clumsily in the cellar and in the fight scenes. He is transported back through time and revealed to be the 'hero from the sky' prophesied in the Book of the Dead. Ash's key reaction to this event after he has blown the head off a winged deadite is to cry "no" as he is hailed as a hero. It's hard to imagine that a film like Evil Dead 2 would have been market tested, but it seems that what people responded to most was Ash tooling up and the word groovy because this then dictated where the franchise would go.
Aside from a couple of moments, the Ash we see in Army of Darkness is rarely scared. He is confident and uses phrases like 'She-Bitch' and 'Fancy Pants,' wise-cracking his way through medieval England and insulting all those he comes into close contact with. He is a man who takes charge once he is set free, not the quaking borderline lunatic from the previous film.
The humour is there but there is a blood fountain near the start and then lots of madcap hijinks over dismemberment. It's no wonder the studio tried to cut the film to bring it the widest possible audience and yet even in the longer versions there wasn't much to cut that offended. Army of Darkness is the tamest possible version of the Evil Dead on the big screen.
By the time you get to the S-Mart ending, the transformation of Ash from the Rambo of the horror genre to wisecracking asshole is complete. Hail to the king indeed. The franchise would go slowly downhill from here through comics and video games where Ash is a complete idiot, not a man with PTSD facing evil because he has no choice.
Looking back now at where Sam Raimi's career would take him, big screen Spider-Man flicks and a Kevin Costner baseball movie, it's entirely possible that Army of Darkness was intended as a calling card for Raimi to plant both feet firmly in the mainstream. It's also possible now that Evil Dead had gone big budget and had the backing of Dino De Laurentiis, there was a raft of studio interference and expectation that Raimi wasn't ready for. The intended epic tale with gore and pathos was written off long before cameras rolled to get the thing made.
It feels like we missed out on a different film, a larger scale horror film more in keeping with the tone and spirit of Evil Dead 2.  Army of Darkness could have been something truly incredible if this was made now with the creative clout that Raimi has. Still, somehow everybody who saw the film on video or cable as a kid seems to view Army of Darkness as the peak of this franchise, forgetting or ignoring the delirious madness of Evil Dead 2, a film that works on multiple levels. They instead love Ash for the wise-cracking Lothario he became later on.
Part of the charm of the Evil Dead franchise is its schizophrenic nature. The opening of the second movie remakes the first due to rights issues, and the start of Army of Darkness similarly ignores Evil Dead 2. You can't help but think though that had the franchise remained independent, we could have gotten something truly special with Army of Darkness and maybe further instalments would have reflected the 2013 remake in tone. Evil Dead 2 is still the pinnacle of this franchise and horror in general. It is a remarkable achievement in every way and deserves its place as a horror classic.