We're only a couple of days away from Shudder's live stream of the 2021 Fangoria Chainsaw Awards, so I watched all 26 "Best" pictures so you don't have to, though you really should (or at least 24 of them.) 
As opposed to that other film awards ceremony that will remain nameless, the Chainsaw Awards feature no true "Best Picture" category and instead breaks them down into five separate categories: Best Wide Release, Best Limited Release, Best First Feature, Best Foreign Picture, and Best Streaming Premiere. I've arranged each sub-category from least recommended to most recommended along with a spoiler-free review. Also be sure to check out each film's unique Horror Obsessive (Hobs) Award!
So with no further ado… 
---
BEST FIRST FEATURE
HOBS AWARD: Best Cronenbergian Hole
This low-budget sci-fi horror takes place almost entirely in one apartment and has a cast of just four. The DIY feel of it will have you rooting for the film despite its limitations, though I think it would probably be better as a short film.
HOBS AWARD: Best Sea Monster
Outside of one memorable scene (if you've seen it, you know what I'm talking about), Sea Fever is a competent sea monster flick but not much more. However, the film has taken on a new meaning during the pandemic. 
Though the nautical nasty made its debut at the Toronto International Film Festival on September 5, 2019, it contains a set-piece that involves the crew of the Irish fishing vessel being put in quarantine. The theme of commerce vs humanity also plays a large part in the narrative, and much like George Romero's decision to cast Duane Jones in Night of the Living Dead, it's possible that this happy accident gives this horror an unintended meaning that results in Dead Sea becoming a regular inclusion into the film history books when we talk about "pandemic horror."  
HOBS AWARD: Best Comedy of the Year   
This horror-comedy is more comedy than horror, and strong comedic performances from Maeve Higgins (Moone Boy), Will Forte (SNL), and Claudia O'Doherty (LOVE) make it a very successful one. A spiritual successor to What We Do in the Shadows and Shaun of the Dead, Extra Ordinary brilliantly spoofs ghost films while also adding worthy contributions to the genre. Definitely worth the four dollars to rent it on YouTube and have a laugh.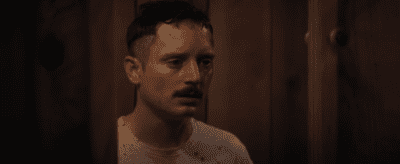 HOBS AWARD: Most Tarantino-esque (sorry, Blood Quantum)
This movie is bonkers! Elijah Wood (Maniac, some movie about a ring) stars in this dark comedy that sees a young, sheltered DJ journey to a secluded beach house to spend time with his father who abandoned him when he was young. This movie is also a sleek thriller that will keep you guessing. What will a love-starved millennial do to earn the love of his estranged and possibly dangerous father? Turns out, basically anything.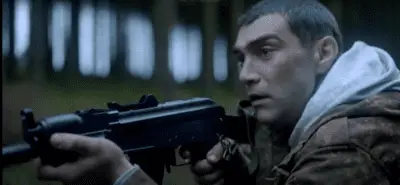 HOBS AWARD: Best First Feature
A marvelous directorial debut from actor Romola Garai, Amulet is the most nightmarish film on this list. And out of all the slow-burns, this one has the best payoff. Amulet is a little more eerie than scary, preferring to build momentum throughout as opposed to wasting it on a jump scare, but the sense of impending doom proves more effective by the time we get to our strange yet satisfying conclusion. 
---
BEST STREAMING PREMIERE MOVIE
HOBS AWARD: Most Satisfying End Credits  
I'll be blunt: this was my least favorite of the lot. It's like Scary Stories to Tell in the Dark, but for frat bros. When an anthology horror is well-crafted, each individual tale adds to the terror of the overall story. These just make you eager for the next one to start so it can be closer to wrapping up.  
The only noteworthy part of it is the performance from Clancy Brown (Highlander, The Shawshank Redemption, Starship Troopers) who plays his creepy coroner character so skillfully that it's a shame that it was wasted in this film.
HOBS AWARD: Most Deserving of a Soap Opera Organ 
While on paper this film seems little more than a Lifetime movie, Sarah Paulson and Kiera Allen put in quality performances that elevate this schlocky thriller. Paulson once again masterfully walks that fine line between hammy and authentic while Allen—who in real life uses a wheelchair for mobility—provides yet another example of how powerful it can be to have appropriate representation. As our protagonist attempts to escape the clutches of her mother, she must also battle a world stacked against people with mobility issues.      
HOBS AWARD: Best Slow-burn
If Color Out of Space is a bit Cagey-er than you typically like your Lovecraftian horror, then check out this slow-drip from director Jeff Brown. The Beach House gets the most out of its modest budget, and the film favors building towards disturbing imagery that will stick with and to you. Like seafoam breaking down a sandcastle, the ocean engulfs and dissolves our four main characters as the tide begins to turn into something sinister. 
HOBS AWARD: Best Haunted House Horror      
Surprisingly the only horror on the list available on Netflix, His House is a social horror that blends the fear of a haunted house with the real-world struggles of the refugee. The terrors tied to war and the immigration story are amplified for Bol (Sope Dirisu) and Rial (Wunmi Mosaku) when painful memories begin to materialize and haunt their new state-mandated home in the UK. The film is powerful metaphor that balances paranormal horrors with all-too-real atrocities.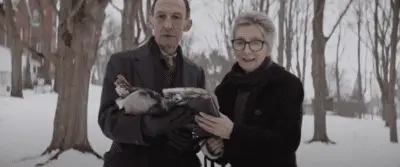 HOBS AWARD: Best Death Scene
This was the most shocking film of all 26 films covered in this piece. The less you know going into it, the better, but know that it's a wonderful addition to the occult genre. And if that's not enough praise to get you to sit down and watch it, know that it's the only one that made me gasp so hard that I startled my partner in the other room.

HOBS AWARD: Best Jump Scares & Best Streaming Premiere Movie
2020 is an anomaly for cinema that is exemplified by the fact that the category "Best Streaming Premiere Movie" has gained significant prestige considering the circumstances. Out of the handful of films that have entered and exited production during quarantine, Rob Savage's film Host is the one best suited to take on the challenge of filming in the COVID era. 
Shot entirely over zoom, the film follows a group of young adults as they perform a seance online. But what starts out as a way to kill boredom in quarantine results in an accidental invitation sent to an unknown evil. Clocking in at 56 minutes, this is a fun and easy watch to add to your Shudder list. 
---
BEST LIMITED RELEASE MOVIE
HOBS AWARD: Most Purple
One of three Lovecraftian horrors to make the list and by far the most purple of the bunch. Set on an idyllic farm in New England, this is a must-watch for gorehounds and fans of body horror. Nicolas Cage and Tommy Chong fuel the craziness of the story, though the film ultimately fails to shape their performances into anything more than over-the-top caricatures. 
HOBS AWARD: Best Twist
A brother (Michael Abbott Jr.) and a sister (Marin Ireland) reunite on their family farm to take care of their ailing parents. Surrounded by a barren landscape in the day and endless darkness at night, the two begin to sense that an unknown evil has taken control of their mother and father. The guilt of abandoning their parents is in constant conflict with their fear of joining them, and both fates are inevitable. 
HOBS AWARD: Worst Trip to Grandma's House Ever
Out of all the scary things that could happen to someone, getting old is the scariest thing of all because it's inevitable. Therefore, Relic is without a doubt the scariest film on this list because it successfully conveys the fear of having to watch a loved one age and shrink before your eyes. Younger audiences are likely to shrug off the hellish representation of Alzheimer's disease in Relic, but the older you get, the more horrifying this film is likely to be.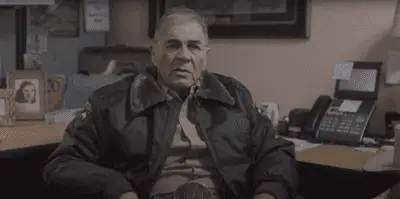 HOBS AWARD: Best Reveal & Post-Mortem Chainsaw Award for Forster 
Just like in his debut feature Thunder Road, director/actor/writer Jim Cummings once again plays a police officer in the middle of a downward spiral as he struggles to cope with his duties as a cop, the mortality of his parents, and the maturation of his daughter…only this time he also has to worry about a possible werewolf who is murdering local women.
Cummings delivers a powerful performance as a frantic and unlikeable protagonist and Robert Forster is great as Sheriff Hadley, a worthy farewell for the actor that so often played a wise and just authority figure.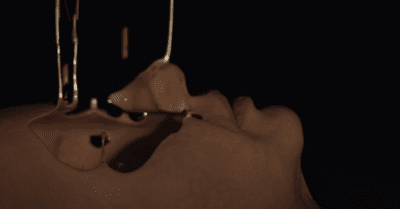 HOBS AWARD: Best Practical Effects & Best Limited Release   
Though it's unfair to Brandon Cronenberg to continuously compare his work to that of his father's (David Cronenberg), it's hard not to when so many of his fathers' themes and genre conventions are present in both his debut feature (Antiviral) and Possessor. They're both set in the near future, and they're chock-full of body horror and sexuality, yet Brandon's work manages to avoid feeling like the product of nepotism and instead reaches the level of artistry made possible by a craftsman born into the trade. 
Furthermore, this David Cronenberg fan dares to say that Brandon's work has picked up the torch left by films like Rabid (1977) and Scanners and has taken off with a renewed sense of passion for the genre. Possessor feels like David Cronenberg's early career met his later career and on the way picked up some tricks from Christopher Nolan.      
---
BEST FOREIGN MOVIE
HOBS AWARD: Best Opening Scene   
Just pretend there's an "of the Dead" following the title because Blood Quantum is a blood-drenched love letter to Romero. During a zombie apocalypse, it becomes clear that Native American tribes are the only peoples immune to the infection. Unfortunately, the premise is never fully dissected, and the script uses the word "f*ck" in a sometimes painful attempt to mirror Tarantino's style, but it's hard not to root for this low-budget zombie flick. It's a welcome addition to a genre starved for fresh, brainy ideas. 
HOBS AWARD: Best Creature Design  
If you're looking for a sci-fi horror to take you away for a couple of hours, Egor Abramenko's Sputnik is a fine option. The film artfully borrows from others—Alien, E.T., Shivers, Upgrade—but also adds enough to the tropes to stand on its own. Like a spaceship parachuting back to earth, the last part of the journey loses a little momentum but in the end, you'll likely be glad you made the trip.
HOBS AWARD: Best Best Friends   
Joko Anwar adds another effective horror to his filmography. This Indonesian folk horror doesn't hold back on the gore and builds like a well-told campfire story. Like any good folk horror, the traditions and peculiarities of the village take center stage, and their slowly revealed history draws the viewer in like a moth to a flame. And if this one catches your interest be sure to check out some other Indonesian horrors like Satan's Slaves and The Queen of Black Magic, both available on Shudder.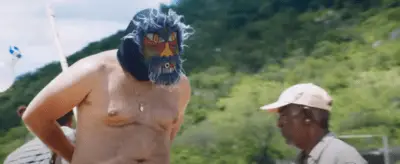 HOBS AWARD: Best Ensemble Cast
This is a thought-provoking and powerful film from Brazil, but it's a bit of a disservice to call it a horror. Just like it would be only partially correct to call it a science fiction film, a folk film, a western, or an action movie, though all these genres are skillfully called upon to make Bacurau.
Countless films have utilized fictitious villages for little more than target practice for antagonists (or even sometimes protagonists), but in Bacurau, the villagers are far too lively and full of character to be shoved to the corners of the screen, which makes their fight for existence heartbreaking to watch but hard to turn away from.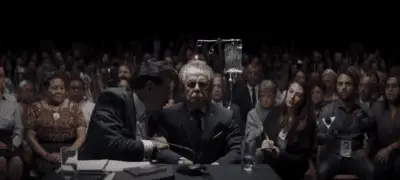 HOBS AWARD: Most Haunting Imagery   
Let's set things straight from the start: this is not the 2019 film entitled The Curse of La Llorona. That film is directed by Michael Chaves, is a Warner Bros. production and is overall a forgettable jump-scare fest that has a 28 percent rating on Rotten Tomatoes. 
La Llorona, directed by Jayro Bustamante, is a thoughtful and empathetic ghost story set in the aftermath of the Guatemalan Civil War and is Guatemala's "Best Picture" nominee for that other awards ceremony which will, once again, remain nameless. 
Anyone looking for a classical-style ghost story will be spooked and delighted with this engaging tale, which follows a disgraced general who is haunted by the crimes he committed against the Indigenous peoples. Absolutely one of the best films on this list. 
---
BEST WIDE RELEASE MOVIE
HOBS AWARD: Best Surprise Cameo  
An underwater research station starts to be torn apart from the outside, forcing the crew to find a way back to the surface before they're hunted down by other-worldly deep-sea creatures. The most thrilling part of the film takes place on the ocean floor in a setting that resembles the lifeless darkness of space. Kristen Stewart (Twilight) is well cast as the Ripley-esque Norah Price, but I imagine the producers of the film regret the casting of TJ Miller (Cloverfield) as the generic wise-cracking scientist that studios somehow deem mandatory in this type of film.
HOBS AWARD: Most Badass Protagonist
Heavy is the hand that wrote the script for The Hunt. This Blumhouse feature was first scheduled to come out on September 27, 2019, but the shootings in Dayton and El Paso pushed back the premiere to March 13, 2020. 
Now that this controversial film is widely available, the finished product—which the producer noted is "exactly the same movie" it was before the controversy—is actually rather tame compared to its reputation. Don't get me wrong, the death scenes alone in this Most Dangerous Game-style horror make this movie worth watching, but the comically overt political satire in The Hunt is there to lightly prod "both sides" evenly, which ends up dulling the film's bite.   
That being said, Betty Gilpin gives a fantastic performance that combines the ferocity of "The Bride" in Kill Bill with the brutish charm of Indiana Jones. Worth the rental price.
HOBS AWARDS: Best Kiss
Freaky Friday meets Friday the 13th. If this premise has you smacking your forehead at its beautiful simplicity, then Christopher Landon's Freaky should be put at the top of your queue. 
Vince Vaughn plays a mysterious man known as "The Blissfield Killer," a Jason-esque murderer who switches bodies (don't ask how, it's not important) with Millie, a dorky teen he was about to murder. Seeing Vaughn play a teenage girl trapped in the body of a killer is entertaining, but Kathryn Newton's portrayal of a serial killer in the body of a teenage girl is the true charm of the film. 
Freaky checks all the boxes that you want it to and is even more satisfying to watch than Happy Death Day. It may be the perfect low-stakes movie to brighten your mood in quarantine.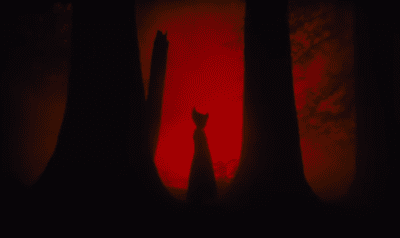 HOBS AWARD: Best Unironic Use of "My Pretties" since The Wizard of Oz
Sophia Lillis (It) leads the charge in this beautifully Grimm reimagining of the classic fairytale. This movie remains faithful to the widely-known tale and also adds a bit of its own lore, which could have been disastrous if not for the impressive world-building of the opening act. In fact, by the time we get to the witch's house, most viewers would probably rather take another lap in the woods. 
It manages to build up an impressive amount of dread considering its PG-13 rating and Lillis is phenomenal as the head-strong Gretel, who finally earns top billing. Come for the stunning cinematography, stay for the delicious pastries.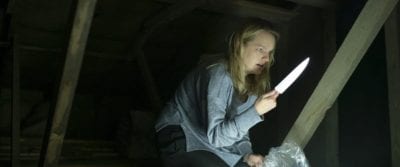 HOBS AWARD: Best Wide Release & Best Kill
Starring Elisabeth Moss (Us, Handmaid's Tale) and directed by Leigh Whannell (Saw, Upgrade), this film feels like the one that needs no introduction. Rarely do we get a horror film that utilizes a known IP, as well as The Invisible Man, does, and despite a handful of shocking kills this movie still maintains a level of popcorn pleasure that's made it a pre-quarantine hit. Whannell made the genius decision to give the film plenty of long takes and open space, which manipulates the mind into thinking the killer can be anywhere at any time. 
It's been reported that Whanell is in the works to work with Blumhouse again to make a wolfman movie as well, potentially starring Ryan Gosling. So this could be just the first chapter of a rebooted dark universe. Fingers crossed they can preserve this level of quality throughout.   
---
Looking for more on the Fangoria 2021 Chainsaw Awards? We've got you:
"Fangoria 2021 Chainsaw Awards a Streaming and Screaming Success"