If you've listened to the Horror Obsessive podcast, you know I am a massive fan of Vinegar Syndrome. There are many releases of niche and forgotten genre films, which I've become quite addicted to over the last year. I gifted myself a subscription last Christmas and have since spent far too much money on their steeply discounted sales for members. You can even catch me sporting a few T-shirts by them as well. So, when I heard they had started producing new feature films, of course, I couldn't wait to see what Vinegar Syndrome Pictures deemed fitting enough to leap into this uncharted territory. That's where director Austin Jennings' film Eight Eyes comes in.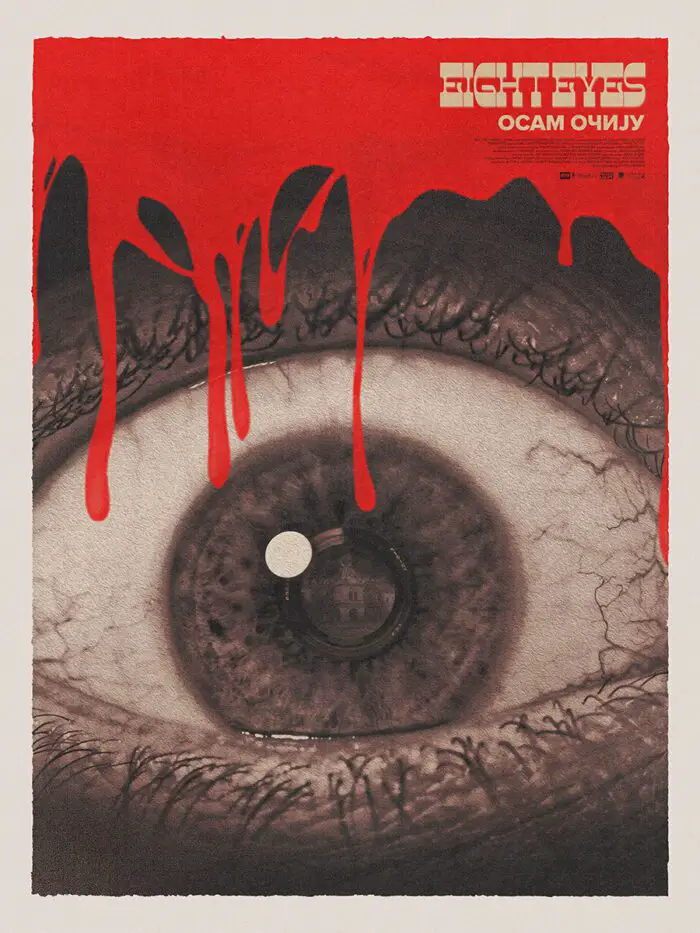 Jennings' film concerns an American couple traveling across Europe who meets an eccentric man with one dead eye who goes by the name Saint Peter (Bruno Veljanovski). What at first seems like an innocuous encounter, followed by a serendipitous chance meeting, becomes a concerning second as Gav (Bradford Thomas) and Cass (V/H/S/99's Emily Sweet) jump on a train, with Peter inserting himself in the two's travel plans by suggesting they all tour the ruins of his father's old factory in his hometown along the way.  
Peter's diversion creates Hostel ruminations in the minds of horror fans as he subjects his newfound friends to a precarious environment. However, the unsettling interactions he has with others along the way build tension and become unsettling. With Gav and Cass not knowing the language, the subtitles treat the audience to Peter's detestable behavior, even if they're not fully aware of what it means until the climax.  
I have even found that Eight Eyes is a difficult film to review since most of the film's discussion points rest within the film's last half hour. Please excuse me if it seems I'm tiptoeing through my discussion points. I'm trying my hardest not to reveal anything detrimental.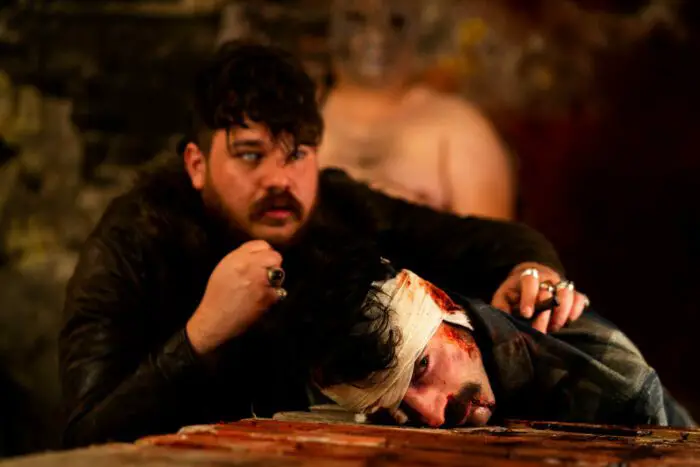 The '70s styling of the film provides more depth than many films that are artistically shot similarly. Filmed and shot like it would be through an eight-millimeter film camera, something like the one Gav finds himself glued to throughout the couple's trip, Eight Eyes' haunting grain helps weave the film into an ethereal state. If it weren't for scenes that featured modern technology, it would maintain an atmospheric timelessness about it, the way European psychological horror films Enys Men and 2020's Dawn Breaks Behind the Eyes have similar qualities in the camera and coloring.  
Seeping into supernatural territory, Cass begins to hear things while traveling, and when Peter sees her react, it's as if something he's been looking for clicks. The final act of the film involves something a trip to Serbia in a horror film wouldn't be complete without: the couple's inevitable kidnapping, including an intense scene involving hot wax that is guaranteed to make you squirm in your seat. 
Emily Sweet is a marvelous performer. Her role as Cass is powerfully charged, similar to Maika Monroe's in Watcher. The surrealness of her situation in an unfamiliar place builds Sweet's character into a strong female lead, whose insistence of unease around Peter prior to Gav's disappearance only provides a deeper conviction once he goes missing.  
The audience is aloof to much of the goings on in Peter's head, but Veljanovski carries his arc very well. On the surface, he's a cartoonish villain, with his dead eye marking him as a stereotype of wickedness exacerbated at the end when he's rocking a fur coat and toting a crystal ball clairvoyance, only making him more ostentatious. If the biblical Saint Peter guards the kingdom of heaven, it's entirely possible that this Saint Peter is gatekeeping some line between two worlds as well. Veljanovski grounds the character with realistic menace, and he's a pleasure to watch, making us uncomfortable when he pivots from meek to sinister. In the final act, the audience is never entirely sure whether he's in it for something more rapturous than profiteering off his victims' possessions.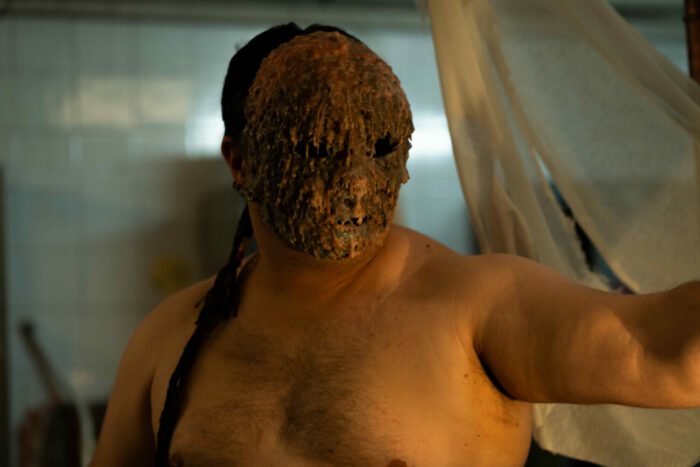 Jennings, best known as the near-exclusive director of The Last Drive-In with Joe Bob Briggs, proves that he can make a film look as classic as the exploitative films Briggs presents audiences with on a weekly basis. Eight Eyes is a mesmerizing trip through a hellish nightmare that feasts on a host of fears concerning tragedies the Western world is ultimately ignorant to while subjecting them to the basic travel paranoia of foreign kidnappings that are covered more frequently in the media when it concerns an American citizen. Veljanovski's domineering beliefs also assert a notion into the underlying theme of the film that you can see as either nationalistic or religion-oriented, identifying an issue when both intertwine.   
While an ultimately enjoyable horror film, Eight Eyes has its moments with symbolism and nuanced connections that, by the end, left me a little confused as to what the story was alluding to. Subjectively, you needn't understand everything to enjoy Eight Eyes, and despite a few logical resource questions, it remains a satisfying watch. It is filled with body mutilation and tourist anxiety, which are the keys to its nerve-racking story. However, I do think I may need another go-round to fully attain the scope of what the movie is going for.  
Eight Eyes held its international premiere at FrightFest on August 25. It is currently touring the festival circuit. It is likely to be released through Vinegar Syndrome in the coming months.