As February turned to March, you may have noticed a strange humming in the air. A low, continuous humming that could perhaps be better described as "buzzing". As the days pass, the buzzing has only got louder and more urgent. But what is it? Static electricity? Faulty wiring? Insects gathering as spring draws near?
A swarm of Yellowjackets, even?
Nope! If you listen closely, you can hear the true source of the noise: the excited, impatient murmuring of thousands of queers, horror fanatics, and straights with taste desperate for the March 26th premiere of Season 2 of Showtime's Yellowjackets.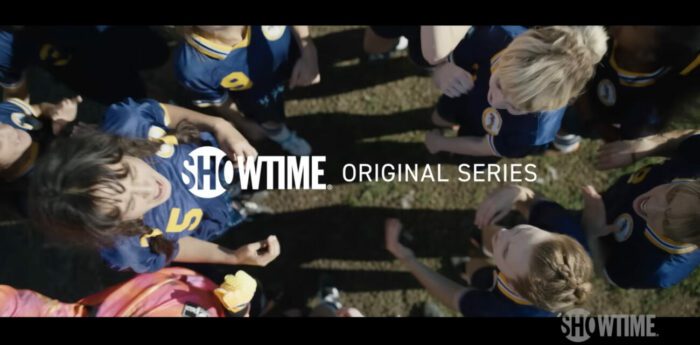 While Horror Obsessive didn't cover Yellowjackets' first season, I'll be hitting the ground running with episode-by-episode coverage as soon as Season 2 airs. In the meantime, here's a quick Season 1 overview and Season 2 preview while we wait.
What is Yellowjackets?
Yellowjackets is an hour-long Showtime original series created by Ashley Lyle and Bart Nickerson. The older members of the ensemble cast include indie darlings like Melanie Lynskey, Tawny Cypress, Juliette Lewis, and Christina Ricci, while their younger counterparts are played by up-and-comers such as Jasmin Savoy Brown, Sammi Hanratty, Sophie Thatcher, Sophie Nélisse, Liv Hewson, Courtney Eaton, and Ella Purnell. Modern horror icon Karyn Kusama serves as an Executive Producer and occasional episode director.
The series follows two intertwining storylines, one set in the past and one set in the present. In the past, a girls' soccer team is traveling to Seattle for a tournament when the private plane they're flying in crashes, stranding them in the woods with little hope of rescue. In the present, the surviving members of the crash reckon with haunting, sinister memories of their time in the wilderness while seemingly being stalked by someone who has access to secrets they don't want discovered.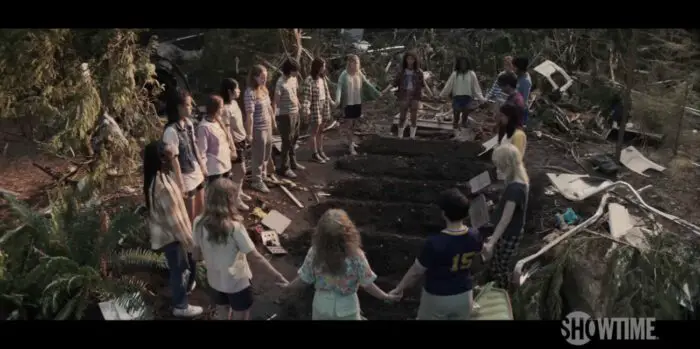 If that brief synopsis sounds exciting and/or convoluted, you should know that it's only the tip of the Yellowjackets iceberg. Throw into the mix some intense-to-the-point-of-homicide teenaged friendships, sociopathic citizen detectives, wild animal attacks, political intrigue, a stunningly varied amount of queer romance, teen pregnancy, mysterious cults, blackmail plots, complex parent-child relationships, a parrot named Caligula, terrifying supernatural visions, hidden personas, and, well, cannibalism, and you've gotten a little bit closer to what the show has to offer.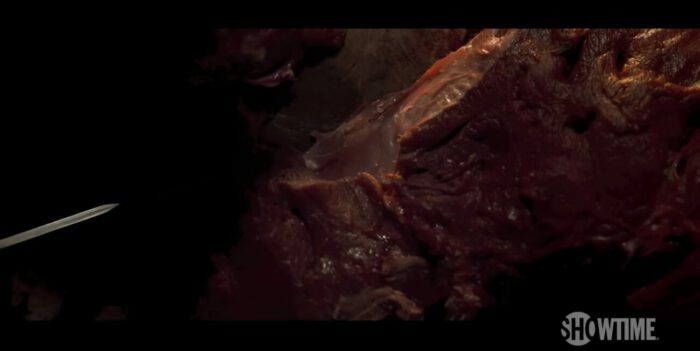 Should I Watch It?
What a great question! Let's take a little quiz:
Are you gay?
Do you support gay wrongs?
Would your friends describe you as having a "strong stomach"?
Is Butcher's Block your favorite Channel Zero installment?
Do you, or have you ever had a complicated relationship to team sports?
Do you, or have you ever had a complicated relationship to true crime?
Do you, or have you ever had a complicated relationship to the great unknowns of the wilderness?
Did you enjoy the movie Ravenous?
Do you have "mommy" "issues"?
Did you enjoy the movie Raw?
Are you a fan of Megan Abbot's brand of teen girl noir?
While watching tv, do you often think to yourself, "I would eat my own arm for a new show with sharp writing"?
While watching tv, do you often think to yourself, "I would eat someone else's arm for a new show with skilled actors making interesting choices"?
Have you ever annoyed your friends by ranting about how your cool-girl actress crush from the 90s/00s should have a bigger career?
Do you regularly rewatch the plane crash scene from Final Destination?
Did you meticulously follow the Armie Hammer cannibalism story?
Do you watch the show Alone?
Is The Girl Who Loved Tom Gordon among your favorite Stephen King books?
Do you have a little bit of a mean streak that can be fun to indulge every once in a while?
Are you interested in watching Christina Ricci in what is possibly the best role of her entire career?
If you answered "yes" to 5 or more of the questions above, then you should absolutely watch Yellowjackets. If you didn't, you should probably watch it anyways.
How Can I Get Caught Up Before Season 2?
While the best way to get caught up is to drop everything you're doing right! now! and watch Season 1, you can also check out Caemeron Crain's fantastic recaps over at TV Obsessive.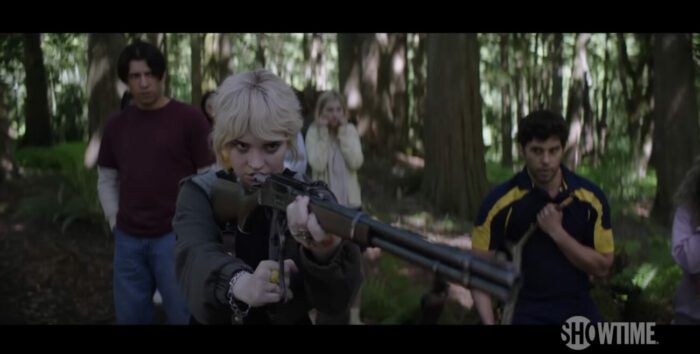 What Do We Know About Season 2?
*spoilers to follow*
According to an exclusive from Entertainment Weekly, the 90s storyline of Season 2 picks up two months after the shocking Season 1 finale death of Ella Parnell's Jackie. The stranded girls are facing a harsh winter as their food stock, i.e. the bear they killed in Season 1, dwindles. Lottie (Courtney Eaton), who has been revealed as the Antler Queen, struggles to find her voice as the leader of the group while butting heads with authority-wary Natalie (Sophie Thatcher). Meanwhile, a very pregnant Shauna (Sophie Nélisse) reckons with her grief and guilt over Jackie's death.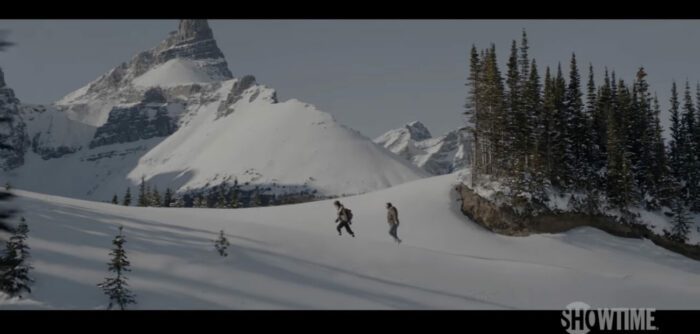 Slightly less is known about the present-day storyline, though there are hints in the Season 2 trailer, including lots of screaming, Shauna with a gun, creepy chanting, and peeks at adult Lottie (played by Simone Kessell and not, to my disappointment, Shannyn Sossamon) and adult Van (Lauren Ambrose—perfect casting, no notes.) Also joining the cast is underrated horror prince, Elijah Wood, as a mysterious new associate of Misty's, and Supergirl's Nicole Maines as a friend/follower of adult Lottie.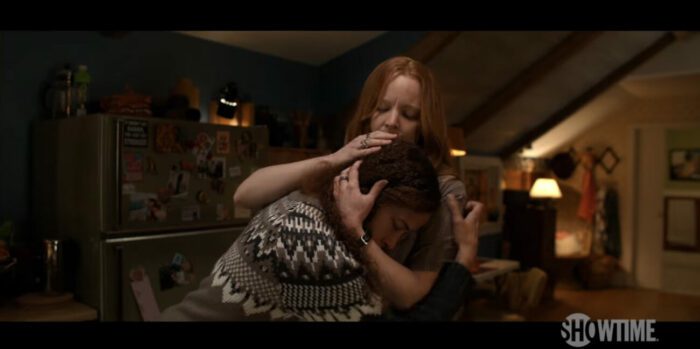 Tune in on March 26th to check out the premiere to find out…
…how the girls cope with Jackie's death.
…what happens to Natalie after she's kidnapped by Lottie's cult.
…if Simone Kessell makes me forget all about how much I love Shannyn Sossoman.
…how Taissa's wife will react to finding Taissa's weird dead-dog shrine in the basement.
…if the cops will find out about Shauna's lil homicidal mishap.
…who "The Bad One" really is.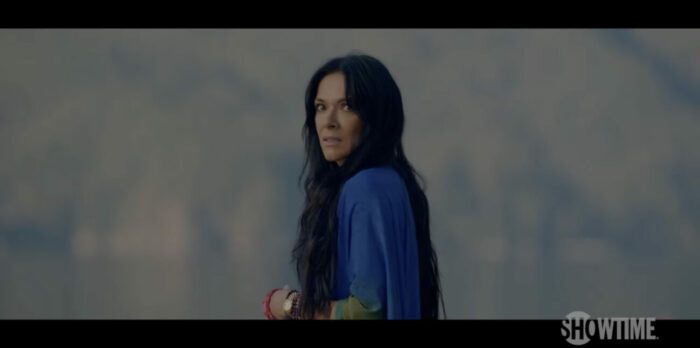 Then, head over to Horror Obsessive to check out my episode recaps and tell me all about your theories in the comments. Buzz buzz, babies!