Summer is one of the best times to whittle down our collective to-be-read lists. While you leaf through the books you've been dying to read all year, don't forget to add the latest and greatest to your pile. This month, Lor Gislason has compiled a list of July 2022 horror books, including new titles from leading horror authors like Silvia Moreno-Garcia and Paul Tremblay. For more summer reads, be sure also to check out our June horror books list.
July 1st–5th
The Cotton Candy Massacre by Christopher Robertson. Occult/Comedy Horror. "The book you are about to read is an account of the tragedy that occurred at the reopening of Bonkin's Bonanza one day in the summer of 1989. Some came looking for fun, like Candy Barton and her best friend, Leigh. Others, like Rocky Rhodes and Sully Sullivan, came looking for a second chance. Instead, they would find a twisted, funfetti nightmare. For many of the thrill-seekers and families visiting Bonkin's Bonanza, that day would be their last. And the events that unfolded would go on to become infamously known as The Cotton Candy Massacre." (TerrorScope Productions)
Florida Woman by Deb Rogers. LGBTQ+ Comedy Horror. "A gleefully dark and entertaining debut for fans of Kevin Wilson and Karen Russell about one young woman's sensational, sinister summer at a Floridian wildlife center for exotic monkeys, where all is not what it seems." (Hanover Square Press)
The Pallbearers' Club by Paul Tremblay. Supernatural. "A cleverly voiced psychological thriller about an unforgettable—and unsettling—friendship, with blood-chilling twists, crackling wit, and a thrumming pulse in its veins—from the nationally bestselling author of The Cabin at the End of the World and Survivor Song." (William Morrow, imprint of HarperCollins Publisher)
The Ruins by Phoebe Wynne. Thriller. "A suspenseful, feminist Gothic coming-of-age tale with shades of Patricia Highsmith, Rebecca, and Atonement, pitched against the sun-soaked backdrop of a summer holiday on the French Riviera." (St. Martin's Press)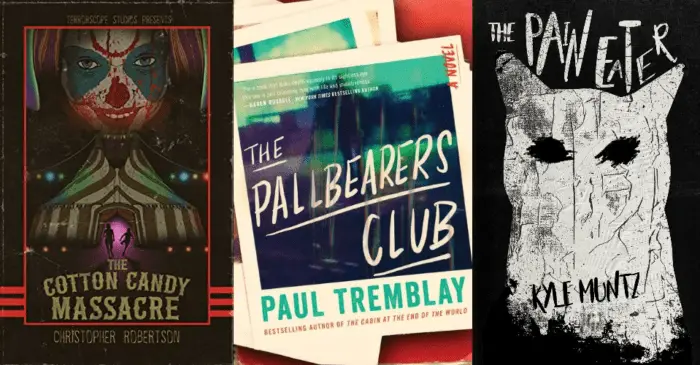 The Pain Eater by Kyle Muntz. Horror Manga. "Two brothers from Michigan are reunited after the death of their father. They've never been close, but now they have to live together—and it gets more difficult when one discovers a strange creature, vomited from the body of a dead cat. A creature that eats human pain. It feels good: too good. Soon he wants to hurt himself more, just so the pain can be taken away. But the more the creature becomes a part of his life, the more he damages everything around him." (CLASH Books)
Frightmares by Eva V. Gibson. YA Suspense. "In a Florida tourist trap, a summer acting job turns into a real-life horror show when a cast member turns up dead—then disappears. This nail-biting story is perfect for fans of Fear Street!" (Underlined)
It Calls From The Veil: Anthology of Paranormal Horror. Anthology/Supernatural. "Delve into the darkness and discover the world of your nightmares. Eighteen terrifying tales of what lurks behind the veil. A make-believe monster becomes all too real, a mother's hate doesn't stop at death, a late-night work call becomes a fight between life and death, and an urban legend becomes all too real. Filled with supernatural and paranormal thrills and chills, these are not your mother's bedtime stories. You have been warned." (Eerie River Publishing)
Ghostflowers, Rus Wornom. Supernatural Romance. "A Southern Gothic about a young waitress in 1970s Virginia who meets her immortal true love, a vampire." (JournalStone)
July 12th–15th
Our Wives Under the Sea by Julia Armfield. LGBTQ+ SciFi. "By turns elegiac and furious, wry and heartbreaking, Julia Armfield's Our Wives Under the Sea is a genre-bending exploration of the depths of love and grief at the heart of a marriage." (Flatiron Books)
They Drown Our Daughters by Katrina Monroe. LGBTQ+ Supernatural Thriller. "For fans of Jennifer McMahon and Silvia Moreno-Garcia comes a haunting and atmospheric new novel from debut author Katrina Monroe. They say Cape Disappointment is haunted. That if you can hear the call of the water, it's already too late…" (Poisoned Pen Press)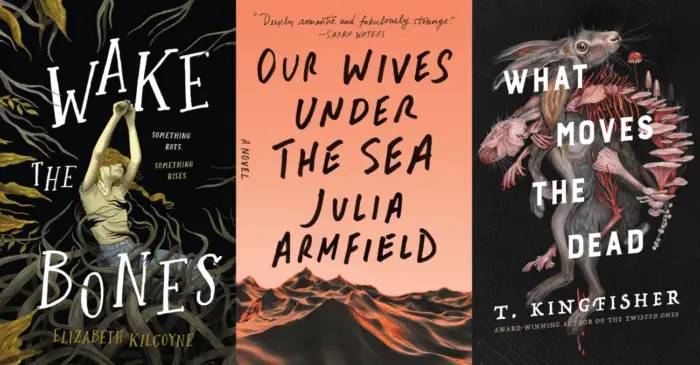 Wake the Bones by Elizabeth Kilcoyne. YA Horror. "Elizabeth Kilcoyne's Wake the Bones is a dark, atmospheric debut about the complicated feelings that arise when the place you call home becomes hostile." (Wednesday Books)
What Moves the Dead by T. Kingfisher. Body Horror/Supernatural/Gothic Horror. "From the award-winning author of The Twisted Ones comes a gripping and atmospheric retelling of Edgar Allan Poe's classic The Fall of the House of Usher." (Tor Nightfire)
Classic Monsters Unleashed , ed. James Aquilone. Anthology Horror. "An anthology starring Dracula, Frankenstein's Monster, The Invisible Man, and The Phantom of the Opera, among many other sinister characters. Launched as a Kickstarter project, Classic Monsters Unleashed quickly became the number one highest funded prose horror anthology on the platform, grossing nearly $60K during its campaign." (Vesuvian Media Group)
The Ghost That Ate Us by Daniel Kraus. Supernatural/Occult Thriller. "Maybe you read about it on Twitter. Maybe a friend sent you a news clip. Maybe you saw it on an episode of Spectral Journeys that night you were flipping through channels, unable to sleep. On June 1, 2017, six people were killed at a Burger City franchise off I-80 near Jonny, Iowa. It was the bizarre and gruesome conclusion to nine months of alleged paranormal activity at the fast-food joint-events popularly known as 'the Burger City Poltergeist.'" (Raw Dog Screaming Press)
Three Days in The Pink Tower by EV Knight. Occult Fiction. "In this work of speculative autofiction, award-winning author EV Knight reclaims the narrative of her own past in an exploration of trauma, agency, and survival." (Creature Publishing)
 Brutal Hearts by Cassie Daley. LGBTQ+ YA Horror. "It's 1997 and Leah just can't seem to catch a break. A year has passed since her fiancé went missing while hiking alone on a mountain, and she can't shake the unanswered questions and nightmares Simon left behind." (Galactic Press)
July 18th–19th
Lure by Tim McGregor. Folklore Horror. "In the chapel of a forsaken fishing village on another world's shore, the seawashed bones of old gods hang from the rafters. When a new god drifts into the bay, the menfolk fear nothing as they reach for their spears; but capturing Her may be their last act of reckless bravado." (Tenebrous Press)
Black Mouth by Ronald Malfi. Supernatural Fantasy. "Perfect for fans of Stephen King's IT, a group of friends return to their hometown to confront a nightmare they first stumbled on as teenagers in this mesmerizing odyssey of terror." (Titan Books)
The Daughter of Doctor Moreau by Silvia Moreno-Garcia. Historical SciFi/Fantasy. "From the New York Times bestselling author of Mexican Gothic and Velvet Was the Night comes a dreamy reimagining of The Island of Doctor Moreau set against the backdrop of nineteenth-century Mexico." (Del Ray)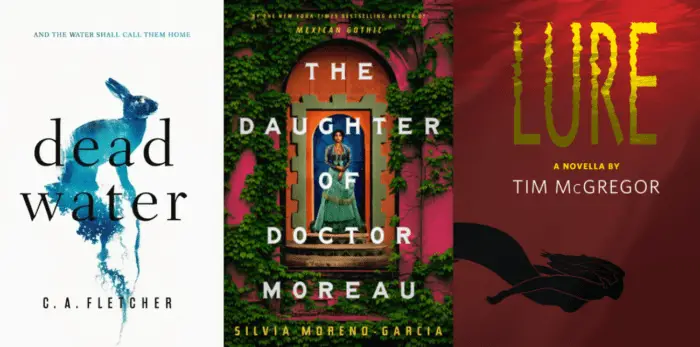 Dead Water by C.A. Fletcher. Supernatural Dystopian Fiction. "On the edge of the Northern Atlantic lies a remote island. The islanders are an outwardly harmonious community—but all have their own secrets, some much darker than others. And when a strange disorder begins to infect them all, those secrets come to light. Ferry service fails and contact with the mainland is lost. Rumors begin to swirl as a temporary inconvenience grows into nightmarish ordeal. The fabric of the once tight-knit island is unnervingly torn apart—and whatever the cause, the question soon stops being how or why it happened, but who, if anyone, will survive." (Redhook)
Just Like Home by Sarah Gailey. Thriller. "A darkly gothic thriller from nationally bestselling author Sarah Gailey, perfect for fans of Netflix's The Haunting of Hill House as well as HBO's true crime masterpiece I'll Be Gone in the Dark—with a twist ending that no one can predict." (Tor Books)
Mary: An Awakening of Terror by Nat Cassidy. Body Horror/Psychological Horror. "Nat Cassidy's debut horror novel Mary blends Midsommar with elements of American Psycho and a pinch of I'll Be Gone in the Dark as a middle-aged woman explores her connection to an infamous serial killer." (Tor Nightfire)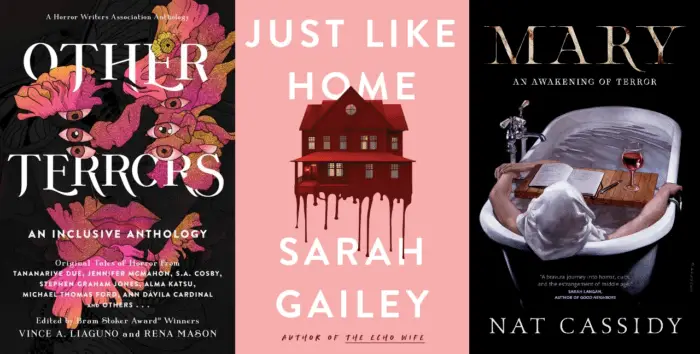 Other Terrors: An Inclusive Anthology, eds. Vince A. Liaguno and Rena Mason. Anthology Horror/Suspense Thriller. "An anthology of original new horror stories edited by Bram Stoker Award winners Vince Liaguno and Rena Mason that showcases authors from underrepresented backgrounds telling terrifying tales of what it means to be, or merely to seem, 'other.'" (William Morrow)
We Will Rise by Tim Waggoner. Supernatural Occult Horror. "In Echo Hill, Ohio, the dead begin to reappear, manifesting in various forms, from classic ghosts and poltergeists, to physical undead and bizarre apparitions for which there is no name. These malign spirits attack the living, tormenting and ultimately killing them in order to add more recruits to their spectral ranks. A group of survivors comes together after the initial attack, all plagued by different ghostly apparitions of their own. Can they make it out of Echo Hill alive?" (Flame Tree Press)
July 26th–31st
Nightmare Fuel: The Science of Horror Films by Nina Nesseth. Horror Nonfiction. "In Nightmare Fuel, Nina Nesseth uses her background in biomedical science to explain the mechanics of what makes what we see on the screen so terrifying and what goes on behind the scenes to create the horror in the first place. With spotlight features of some of horror's most popular films—from classics like The Exorcist to modern hits like A Quiet Place—and interviews with producers, film historians, and creature creators, Nightmare Fuel is both an in-depth dive into the science of fear, and a celebration of the genre." (Tor Nightfire)
Old Country by Matt Query and Harrison Query. Supernatural Horror. "Based on the Reddit sensation, a horror thriller about a former Marine and his wife who buy a perfectly secluded ranch, only to discover it's haunted by a malevolent spirit." (Grans Central Publishing)
The Witchery by S. Isabelle. YA Horror. "A bewitching YA debut by S. Isabelle, perfect for fans of Maggie Stiefvater, Zoraida Córdova, and Leigh Bardugo!" (Scholastic)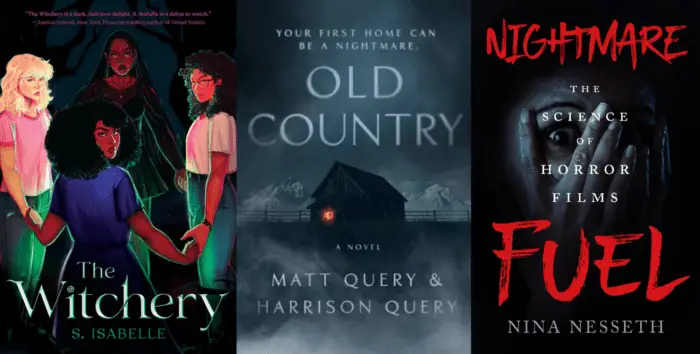 Jedi Summer by John Boden. Coming of Age Horror Fiction. "A boy and his little brother wander through the loosely stitched summer of 1983. It was a magical one. Full of sun and surrealism, of lessons and loss, and of growing up and figuring it out. Nestled in the mountains of Pennsylvania is a small town unlike any other. Things are strange here, always have been. People die but hang around, pets too. Everyone knows your name, and sometimes, a thing as simple as a movie coming to the local theatre is all it takes to keep you going." (Cemetary Dance Publications)
Savages by Greg F. Gifune. Supernatural Horror. "It began as a vacation to the Cook Islands. But when seven friends are lost in the South Pacific after their boat goes down in a storm, they must survive at sea for several days in a small raft. Blown miles off course from their original position, and deep into open waters, they eventually encounter a small uncharted island. Grateful to be alive, they begin their quest for survival, hopeful they'll be rescued sooner than later. But the island is not the paradise it appears to be. Instead, it is a place of horror, death, torture and evil, of terrible secrets thought long buried and forgotten. And they are not alone. Something guards those horrible secrets, something evil and relentlessly violent, an ancient horror born of rage and vengeance, a blood-crazed predator that lives to kill and will stop at nothing to protect the island from those intruding upon its dark legacy. The savage is loose, and there is no escape." (Cemetary Dance Publications)
---
Update: A previous version of this article stated that Stephen Graham Jones' Don't Fear the Reaper and Grady Hendrix's How to Sell A Haunted House were to be published this month, but both of those titles have been pushed back to release in 2023.