Scream (2022) has been a resounding success for Paramount Pictures. Over the last month, the fifth installment in the ongoing Woodsboro saga that has physically, psychologically, and emotionally tormented Sidney Prescott (Neve Campbell) throughout the last twenty-five years coasted to a cool $62.9 million domestically and $106.7 million globally. It seemed inevitable that Ghostface would make a resurgence for another go-round given those kinds of numbers, but today Scream 6 was officially greenlit by the studio.
Directors Matt Bettinelli-Olpin and Tyler Gillett (known as Radio Silence), along with writers James Vanderbilt and Guy Busick, are all planning to return in their roles to bring Scream 6 to life. Spyglass Entertainment and Paramount released an encouraging joint statement earlier today about the project, saying:
We are tremendously grateful to the fans around the world who enthusiastically received our film. We can't wait for audiences to see what Radio Silence, writers Jamie & Guy and Project X have in store for our Woodsboro family.
The Scream franchise began in 1996 with Wes Craven directing and Kevin Williamson writing the first two movies, reteaming again for the fourth film, and directing werewolf film Cursed in between. While Scream (2022) offered heavy tributes to both originators of the highly prolific films, Wes received a special dedication on-screen and in the credits. Williamson returned as an executive producer on the latest movie and plans to do the same for the upcoming Scream 6 as well.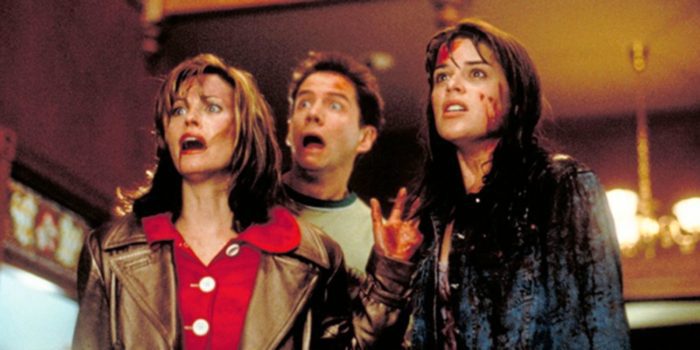 The creators and fans have been hinting that this story is far from finished over the last few weeks. Warning: if you haven't seen Scream (2022) and don't want it spoiled, I encourage you not to click on the links below. The internet has been buzzing about star Melissa Barrera's revelation that scenes involving her and co-star Jenna Ortega's on-screen mother were cut from the script. Meanwhile, others have said there are easter eggs in the film pertaining to the fate of beloved Scream 4 character Kirby (Hayden Panettiere). These clues could establish where Scream 6 (what I'm calling the requel sequel) may go from here.
The cast of the latest Scream was tremendously diverse and fun to watch, and hopefully, some of them will be back. Obviously, some of them won't be. It's very early in the development process, so there isn't very much else to tell right now. Check back often for more news, essays, and everything Scream.