I love the Scream movies. In fact, Scream is my favorite slasher franchise of all time, and it's my second favorite horror franchise overall (behind Evil Dead). So naturally, Scream VI was one of my most anticipated movies of the year. I couldn't wait for it to come out, and after finally getting the chance to see it, I'm happy to report that it does not disappoint.
Scream VI was directed by Matt Bettinelli-Olpin and Tyler Gillett, and it features a pretty big ensemble cast, including Melissa Barrera, Jasmin Savoy Brown, Mason Gooding, Jenna Ortega, Hayden Panettiere, Courteney Cox, Jack Champion, Liana Liberato, Dermot Mulroney, Devyn Nekoda, Tony Revolori, Josh Segarra, and Samara Weaving. Plotwise, this is pretty much what you expect from a Scream film. The four main survivors from the last movie are all living in New York City, and some new psychopaths have taken up the Ghostface mantle and started picking off the people around them one by one.
Sure, Scream VI puts its own unique spin on that basic Scream plot, but let's be honest, this is pretty much the same story we've seen five times before. And you know what? I loved just about every second of it. It beautifully executes all the time-honored tropes fans of the franchise want, but it also subverts our expectations just enough that you're never 100% sure how the narrative is going to play out. It's the best of both worlds, and it makes for hands down the best part six of any film series.
So what exactly makes Scream VI so great? Let's start with the characters. Unsurprisingly, the "core four" survivors from the last movie are the heart and soul of this one. Sam, Tara, Chad, and Mindy are all living in New York, and their shared trauma has bonded them into a little family. Right from the get-go, you can tell that these characters care about each other very much, and once the murders start, they look out for each other just like a family should.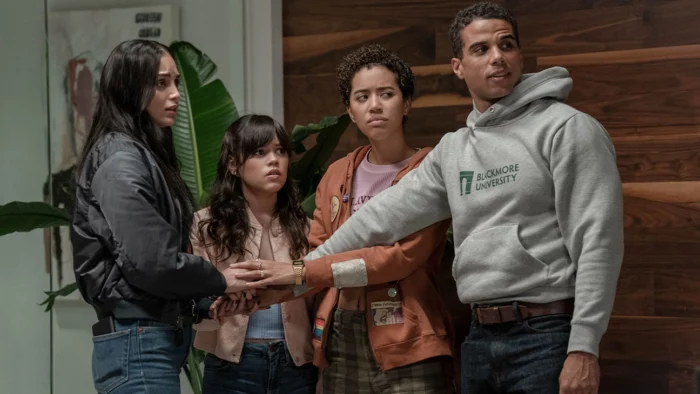 That super tight bond builds on their arcs from Scream (2022) and makes them even better than they were the first time around, so I could watch these characters all day. They're just that good, and their presence alone makes this one of the best horror movies of the year.
Similarly, the two returning legacy characters, Gale and Kirby, are also really fun. Granted, they're not given nearly as much to do as the "core four," but they have just enough screen time that they scratch that nostalgia itch without overstaying their welcome.
That being said, there is one legacy character who's notably absent from Scream VI: Sidney Prescott. It felt a bit weird seeing a Scream film without Sidney, and I definitely would've loved to see her one more time. But thankfully, the characters explain her absence in a way that makes perfect sense, so as much as I missed her, I never felt like the movie was incomplete without her.
On the flipside, the new characters aren't nearly as strong as I would've liked. They're just not fleshed out enough (and I mean that metaphorically; literally, well, that's another story), so they felt more like typical slasher fodder than real people. Sure, they're not terrible, but they don't really add anything to the story.
Next, let's talk about the horror. Much like Scream (2022), Scream VI has some pretty brutal kills, so if that's your thing, you're not going to be disappointed. On top of that, the film also features a bunch of amazingly tense set pieces that had me on the edge of my seat the entire time, and for my money, they're some of the best moments in the entire franchise.
In particular, I have to give special mention to the opening scene. As we all know, every Scream movie opens with a kill, and much like the one in Scream (2022), this one also subverts our expectations in a really cool way. In fact, I'd say the twist here is even better than what we got in the last movie. It's something I never would've expected, so it starts the film off on a really strong note.
Last but not least, let's talk a bit about the killers. I don't want to spoil anything, so I'm going to be really vague here, but if you see the movie, I think you'll know what I'm talking about. Overall, I'm a bit torn about them. On the one hand, there's a really interesting twist that makes these villains different from any others we've seen in the Scream films, and throughout their murderous rampage, they get way more meta than any of their predecessors ever did. I really appreciated both of those qualities, so there are definitely some really great things about these killers.
But on the other hand, once we find out who they are, they're just not that interesting. In fact, I'd even say they're the worst villains in the franchise behind Roman from Scream 3. I was really disappointed by them, so even though I still need some time to let Scream VI as a whole sink in, I'm pretty confident that these weak killers almost single handedly drag it down to the fourth spot in my series ranking (behind the original, part two, and part five).
Thankfully though, just about everything else in this movie is amazing, so that one big flaw didn't even come close to ruining the experience for me. It pales in comparison to the awesome main characters and the edge-of-your-seat horror, so on the whole, I had a really great time with Scream VI. It's one of the best films I've seen all year, and if you're a fan of the Scream movies, I think you'll have a great time with it too.
Scream VI is playing in theaters right now.