This article, written by JP Nunez and read by Jay Rohr, is now available on Audio exclusively for our Patreon supporters. For just $3 a month you will have access to our full library of Audio content, plus three new uploads every week. To sign up visit the 25YL Media Patreon page.
---
Third time's the charm, right? That was my hope going into Fear Street Part Three: 1666. So far, the Fear Street trilogy has been a big letdown for me, but I went into the third movie pretty optimistic. The end of Part Two made me think this final installment would be the one I finally enjoyed, and I'm happy to say that it was….kind of.
Fear Street Part Three: 1666 basically tells two different but connected stories. The first half is set in 1666, and it shows us how the Shadyside curse was born. We learn about Sarah Fier and the people who killed her, and we find out why the town experiences a tragic killing spree about once a decade. Surprisingly, this story only takes up about half of the film's runtime, so when we return to 1994, we spend a good deal of time there. The entire second half is spent in the trilogy's present-day, and it wraps up the story that began in the first movie, putting an end to the horror once and for all.
Those two halves of the film are very different, and not just in their plots. There's a big disparity in quality, as well. I was expecting this movie to be a really cool witch story, like a more fleshed-out version of the opening scene from Black Sunday, but that's not at all what the first half of Fear Street Part Three: 1666 is. Sure, it's a witch story, but it's not cool. It's much more drama than horror, and the drama here is just about the worst thing in the entire Fear Street trilogy.
For starters, a bunch of the actors from the first two movies return to play the townspeople, and they just about completely took me out of the story. The only one who makes any sense being in this part of the film is the actress who plays Sarah Fier. It's Kiana Madeira, who also plays Deena in the 1990s, and I get why she was there.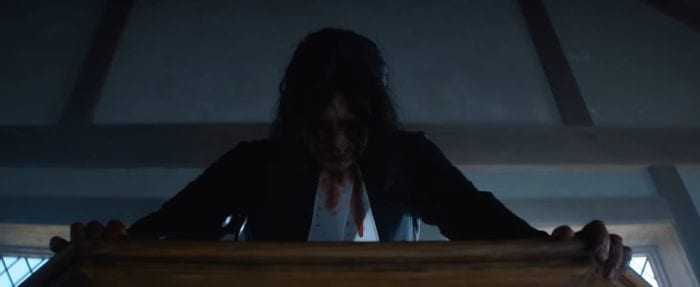 Deena was the one having the vision, so she was in Sarah's shoes, experiencing it all as if it were happening to her. I understand that, but seeing all those other familiar faces was really bizarre. Human faces don't repeat themselves every few hundred years, so these returning actors didn't fit the story. Granted, this is a fairly common technique that a bunch of movies and TV shows employ, but I've always hated it (unless it's used for comedic effect), and this time was no different.
On top of that, the film just didn't feel like the seventeenth century. Much like the characters in Part One, these felt like modern people plucked from their time and simply dropped into the 1600s. Sure, they said a few old-timey words here and there, and they had colonial-era accents (although a lot of them were pretty cringe-worthy), but on the whole, this part of Fear Street Part Three: 1666 felt more like a high school Thanksgiving play than a professionally made period piece.
These problems completely ruined this part of the story for me, so I just couldn't enjoy it. They kept me from forging any emotional bonds with the characters, so I didn't care what happened to them. I found this first half to be a real slog, and if I wasn't writing a review of the film, I would've been very tempted to just turn it off without even getting back to 1994.
But I'm glad I stuck with it. The second half of Fear Street Part Three: 1666 is a lot better. It starts out pretty boring, with a lot of the same issues that plagued Part One, but once the action starts, it's an absolute blast. Like the first two movies, the horror here is more slasher than anything else, but it works the supernatural element into the mix better than anything else we've seen this entire trilogy (even better than the end of Part Two).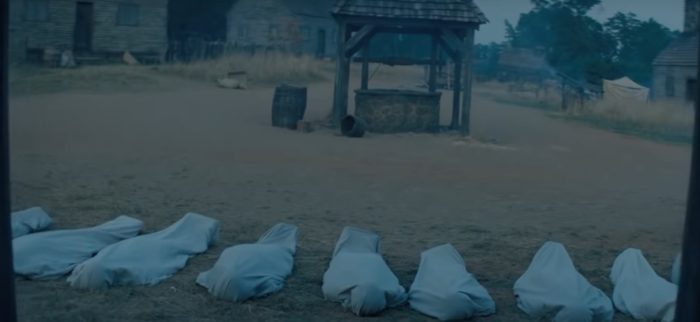 These killers feel like legit monsters, not just regular human beings, and the curse plays a really big role in the cat-and-mouse games that they play with their victims (and that their victims play with them!). It's the perfectly balanced supernatural slasher I was hoping to get from the entire trilogy, and I have to say, it put a real smile on my face to finally see it.
So on the whole, what did I think of Fear Street Part Three: 1666? It's tough to say. On the one hand, the first half and a bit of the second half were a real chore to get through, and as much as I liked the final act, I can't honestly say that it outweighed all the bad that came before it. On the other hand, the end is arguably the most important part of any movie, and the big finale in this one did leave me feeling pretty satisfied.
So I guess my overall opinion of Fear Street Part Three: 1666 is that it's not a great film, but it's worth checking out, especially if you've seen the first two movies in the trilogy. Even if you're like me and you didn't like those previous films, you might as well get the payoff if you've stuck with it this far, and that payoff is worth at least one watch.
Fear Street Part Three: 1666 is available on Netflix now.