Over the past decade there seems to have been a resurgence of haunts and haunted houses, possibly because of films like Haunters: The Art of the Scare, Hell House, LLC, and, The Houses October Built, to name a few. One of the most prolific "haunted houses" (in quotes because it is a genuinely terrible place) called McKamey Manor has made the rounds from extreme haunters and people looking for the next great scare. They have become negatively associated with the haunt industry as they ditched classic and fun efforts to create a haunted house, and fully embraced cruelty and misery in order to…create…something? After Channel Zero: No-End House all I can say is at least Russ McKamey doesn't have supernatural powers.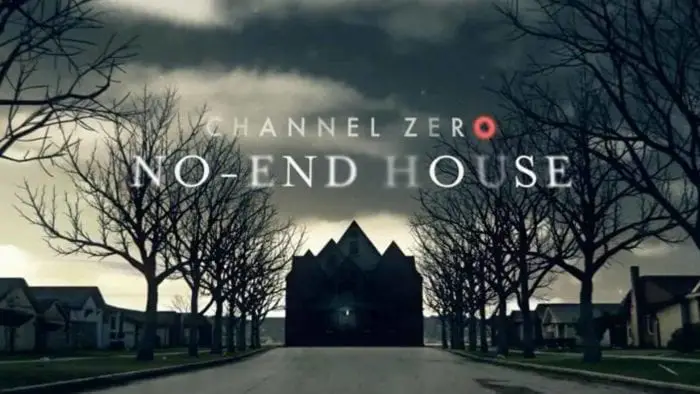 There is no doubt that Channel Zero: Candle Cove had many emotional moments and relied heavily on hitting emotionally psychological horror beats, but this was just a prelude. An overture. They edged us. We weren't ready. Channel Zero: No-End House, unwilling to succumb to the succubus of network executives, took what they learned from creating season 1 and amplified it. They screamed into the ether, and No-End House screamed back. Season 2 is single-handedly one of the most emotionally scarring seasons of a horror TV show to ever air, and on cable television no less. They didn't fall into the AHS trap of thinking bigger means better; instead, they decided to go the quality over quantity route.
This season's tagline is, "What do you dream about when you are trapped inside of a dream?"
This insanely deep question, and great poster tagline to boot, is posed to us in episode 2 "Nice Neighbor" and is a simple way to foreshadow what is to come. How would you act if a deceased family member came back from the dead? Or if you met the version of you you wanted to be?
Enough futzing around.
Channel Zero: No-End House is about Margot (Amy Forsyth) and her friends Jules (Aisha Dee), J.D. (Seamus Patterson), and new friend Seth (Jeff Ward) as they enter a haunted house and change the course of their lives forever. The house is comprised of six rooms, each one scarier than the last. J.D., who is familiar with the No-End House even says, "people who make it to the sixth room aren't seen again." But it's just a haunted house. Things can't actually be that bad…right?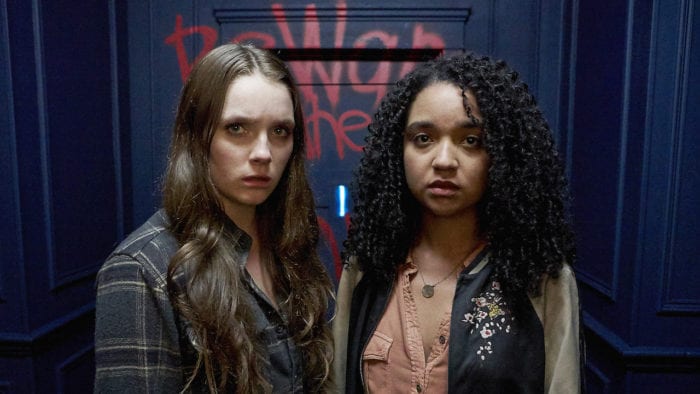 The six rooms are pretty wild. Room 1 poses the threat: "beware of the cannibals." Upon entering the group sees statues of their respective heads. Inherently that is creepy since there were people who went into the house moments before them. J.D. posits that they used facial scanners to make 3D busts. Shortly after entering the room, the lights go out for a moment, and when they pop back on all of the busts are destroyed, sans J.D.'s. Room 2 is a cement room, and definitely the least frightening, but Margot gets a good scare when the Masked Magician whispers something in her ear that her deceased father used to say to her. Room 3 is personal for Margot as it's a long hallway with a singular standing mirror at the end with someone standing behind it, something that Margot said she has recurring nightmares about. Room 4 is just pure torture, where Margot is forced to watch her dad's death. Room 5 is insanity as her dad John (John Carroll Lynch) is dead on the couch, and old family videos of the two together are cacophonously edited and play on a loop. But where is room 6? They're in it.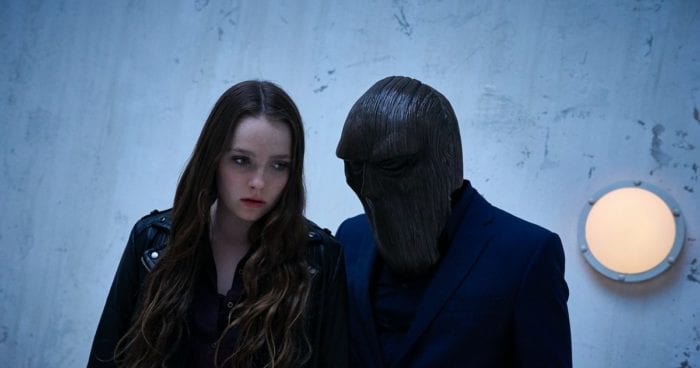 Unbeknownst to the group, they're trapped in room 6. One of the most psychologically jarring moments of episode 1 is when Margot gets back home to find her deceased father in the living room cooking eggs.
While Candle Cove was a very well-written season, Nick Antosca really stepped it up with the script for No-End House. The situations he puts the characters in are way more terrifying and sad than CC. Each character is forced to face their own different issues: Margot and her father, Jules and her guilt, J.D. and his lack of confidence, and depression. The No-End House really feels like a metaphor for our pent-up guilt and anger, the things we bottle up that make us shells of our former selves, the things that make us hollow people. The house feeds off of our pain so that it can thrive.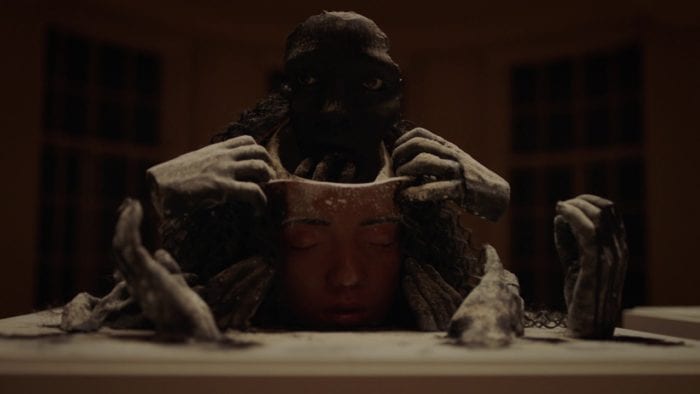 No-End House is flawlessly directed by Steven Piet who directed Uncle John, a few episodes of The Act, and the dope Rosario Dawson vehicle Briarpatch. Piet's directing is complimented by few factors, mainly Isaac Bauman's (Bloodline, Servant) cinematography, and Jeff Russo's (Altered Carbon, Utopia) brilliant score. The cherry on top of the sundae is character actor John Carroll Lynch (American Horror Story: 1984, Zodiac, Paul), or better known as that guy from that one movie. JCL is a brilliant actor and adds such an incredible flair to every project he graces the screen in. He is given so much to work within this season and really knocks it out of the park. His range is impeccable, going from loving father to an avatar of Margot's shattered memories of him.
One of the most visually interesting things is what I call bloodgates (not sure what they are actually called). When Margot, Jules, J.D., and Seth are trapped in the house, their personal antagonists feed on their memories making them forget things from the real world. Their antagonists place a hand on their respective heads and suck their memories out, making a bloodgate appear and feasting on the memory that emerges from it. Visually it is terrifying, and the sounds that are made when they eat the memories are viscerally disgusting.
Channel Zero: No-End House is an emotional and heart-poundingly tense season. This is what season two of a show should be; something where they take the lessons they learned from the first, where they failed and where they succeeded, and making it a more well-rounded show. By the end of Season 2, you feel like a part of you is dead, or maybe…you're still in room 6.
Looking for more Channel Zero content? Try:
Channel Zero: Butcher's Block Is Deeply Unsettling