In San Jose, California, a 160-room mansion stands that includes doors and stairways that lead to nowhere. The owner, Sarah Winchester, passed away in 1922. She was known as an eccentric who dressed in black—which was only reserved for mourning at the time. She built an amazing and bizarre mansion that's become a tourist attraction. The elaborate mansion was once an eight-room unfinished farmhouse in the Santa Clara Valley, three miles west of San Jose, CA. She purchased the property in 1884, and construction was an ongoing project for 38 years.
According to her biography page, "Sarah Winchester: Woman of Mystery," archived from the Winchester Mystery House website, Sarah Lockwood Winchester was married to William Wirt Winchester, whose father manufactured the Winchester rifle, known as "the gun that won the west." Sarah was an accomplished musician and spoke three languages.
William passed away in March of 1881 from tuberculosis. The Winchesters had a daughter, Annie, who passed away in 1866. Sarah contacted a spirit medium who told her that her family was haunted by the spirits of people killed by Winchester rifles. The medium also told her that the spirits caused the deaths of both her husband and daughter and that she may be next. The medium told Sarah that the only way to appease the spirits would be to move west and build a house for them. The Winchesters lived in New Haven, Connecticut at the time. Winchester left New Haven to visit a niece who lived in Menlo Park, CA. In 1884, she purchased the house that would become the now famous, elaborate, and unusual Mystery House.
Winchester found the raw materials and had the funds to do whatever she wanted with it. Sarah inherited millions after her husband's death plus 777 shares of stock in the rifle company. Her mother-in-law passed away in 1897 and left Sarah an additional 2,000 shares. Both inheritances left Sarah the owner of 50 percent of the company's stock, which provided her with a $1,000 a day income. As soon as she bought the house, she got to work immediately. Crews worked around the clock and managed to transform the farmhouse into a seven-story mansion. The land grew to eventually hold apple, plum, and walnut tree orchards, which also added to Sarah's income.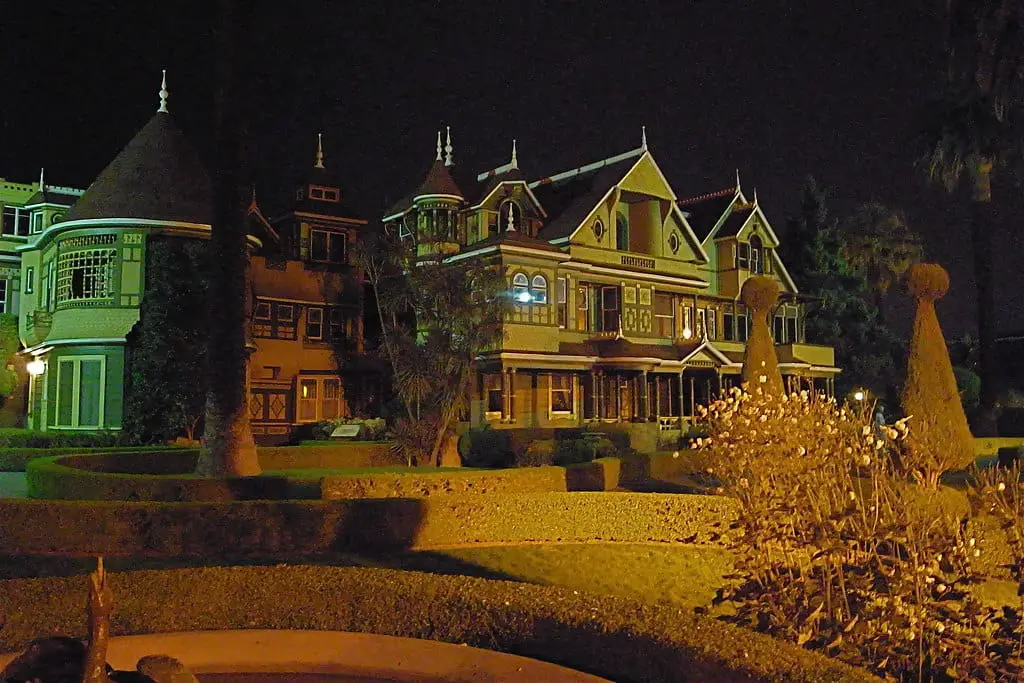 As her estate grew, so did her eccentric reputation. Sarah was a generous employer and paid her servants almost twice the average rate. She paid tradespeople with gold coin. Sarah was also generous with the community and gave donations to orphanages, among other charities. Local children were also invited to play on the grounds where they were served ice cream.  As for the house, its construction grew to many inexplicable and bizarre details, including doors and staircases that lead nowhere and the number 13 baked into decorations.
According to "Everything You Need to Know About the Winchester Mystery House," by the San Francisco Travel Association,
Some of the staircases in this home are truly peculiar. Instead of taking you to another floor, they lead right into the ceiling. There is a vast network of secret passages twisting throughout the property. One cabinet door opens to a hive of 30 additional rooms. Many visitors are fascinated by the vast collection of windows, more than 10,000, and the fact that some of the loveliest Tiffany stained glass is hidden away where no light can reach it.
Sarah reportedly held seances occasionally in a turret room now known as the "Witch's Cap." The morning after these seances, she would give the construction foreman plans to continue construction. Winchester was aware of how unusual the house was and even described it as looking as if a "crazy person" built it in a 1906 letter.
The main theory regarding the house's construction is that guilt fueled the ongoing construction. Winchester felt guilty about the lives taken by the gun bearing her husband's family name. An added detail to this possible theory is that the stairways and doors to nowhere served a supernatural purpose. Winchester put them into the plans as a way to confuse the spirits that she believed were stalking her.
Could the "guilt theory" be an assumption born out of a modern perception of guns' societal impact over the years? Winchester Mystery House historian Janan Boehme commented on this theory and told Vanity Fair, "People back then didn't have a massive guilt complex over guns. They were a useful tool, something that people needed for survival." Then again, not everyone subscribes to popular societal perceptions and beliefs.
Winchester's all-black wardrobe, always topped off with a mourning veil, also lent to her reputation as an eccentric. Black clothing was usually worn for mourning during that time period. Actress Helen Mirren, who played Sarah Winchester in the film Winchester (2018), told Vanity Fair that "she went into mourning and stayed in mourning for the rest of her life. A bit the way Queen Victoria did when she lost her husband. It was a kind of Victorian thing to do, wasn't it?" With regard to Winchester's fascination with spiritualism, Mirren said, "When you lose someone, the losses can be so unbearable, so difficult, that the only way you can deal with your grief is by feeling they are still with you in some way or another."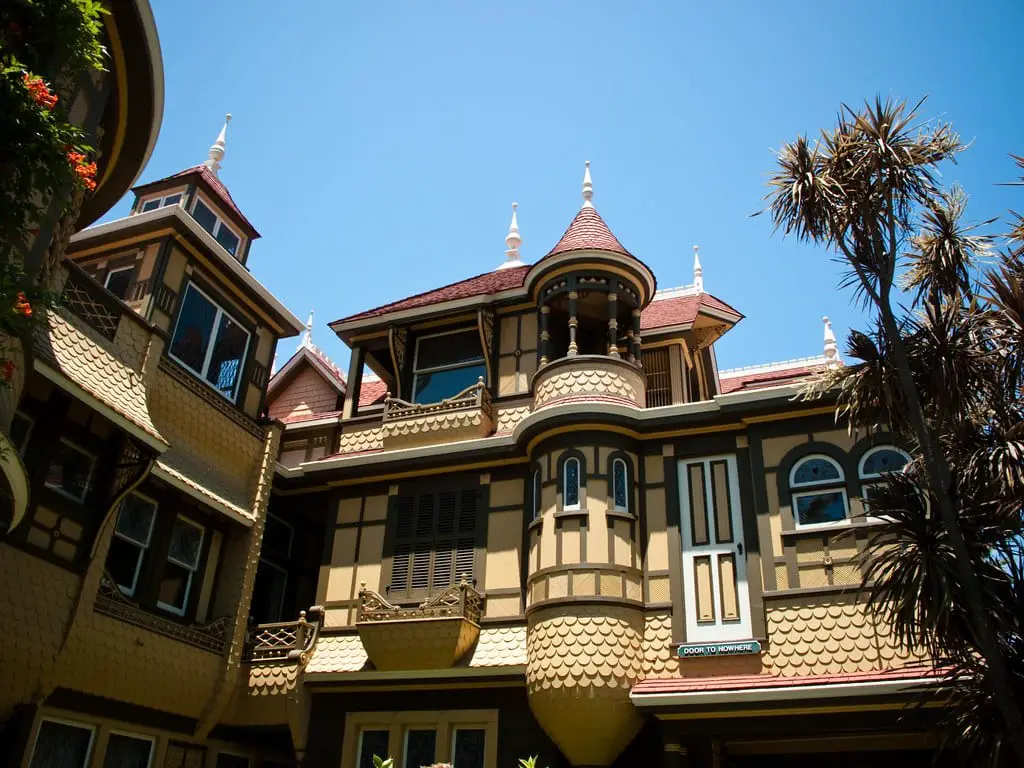 Some unusual features of the house may have more of a practical and earthly explanation. Winchester appreciated modern technology at the time and incorporated it into the house. The house had three elevators, a high-tech heating system, and a communication system to allow her to easily communicate with her staff. Other strange details may have served practical purposes such as low, narrow "claustrophobic" stairwells. Winchester was 4'10" in height and had severe arthritis. The construction would've been more accommodating for her.
Much of the mystery surrounding the house and its eccentric owner is due to Winchester's staff's loyalty. After her death, no one came forward with details about their employer. She spared no expense when it came to her staff and treated them like family. Not one member of the staff spoke to journalists about Winchester or what went on in the house. "I think they probably felt very identified with this house," Mirren said. "Because it was as much their house as it was her house."
In a 2018 article, "Demystifying the Winchester Mystery House" on Atlas Obscura, Walter Magnuson, Winchester Mystery House manager since 2015, relates a story that illustrates how elusive Sarah could be. "There's a story about Teddy Roosevelt making an appearance in San Jose and wanting an audience with the Winchester widow," Magnuson said. "He knocked on the front door and was not even let in."
Construction on the mansion continued up until Sarah Winchester's death on September 5, 1922. She died of heart failure and was buried next to her husband in Evergreen Cemetery in New Haven, CT. She left behind the 160-room mansion that currently includes 2,000 doors, 10,000 windows, 47 stairways, 47 fireplaces, 13 bathrooms, and six kitchens. The house and farm were not listed in Sarah's will. As part of her estate, her trustees, the Union Trust Company of San Francisco, sold them. Sarah's niece Marian Merriman Marriott inherited all of her personal property, including household furnishings. Sarah left a generous amount to the Winchester Clinic of the General Hospital Society of Connecticut. Back then, the clinic was dedicated to the treatment of those suffering from tuberculosis, which claimed her late husband. The Winchester Clinic is currently part of the Yale New Haven Medical Center. Winchester also remembered some of her employees in her will.
Shortly after Winchester's death, a man named John Brown purchased the odd mansion and decided to make it a tourist attraction. According to Vanity Fair, magician Harry Houdini visited the house after Winchester's death. At the time, Houdini was on a mission to expose spiritualism as fraud. He's described as unsure of what to make of the house and gave it its now-famous moniker, Winchester Mystery House.
In a 2018 article in USA Today, Bryan Alexander writes that the staff doesn't have anything to say about personal paranormal experiences but will relate stories about experiences that visitors have had. He quotes Magnuson as saying, "You definitely have folks who are very into the paranormal. They have heard a lot of stories about this place and want to experience it. They may feel something tap their shoulder, things like that. One of Sarah's workers named Clyde apparently still works here, and some guests see him from time to time with a wheelbarrow."  Boehme told USA Today, "There is a good energy here. Even if none of the ghost stories are true, Sarah Winchester was a truly fascinating person." Mirren said that, "l feel it is haunted by something very benign. I feel sort of a great…I feel a sweetness in the house, not a horror. There is a sweetness in it. It is haunted by something sweet. If it's haunted."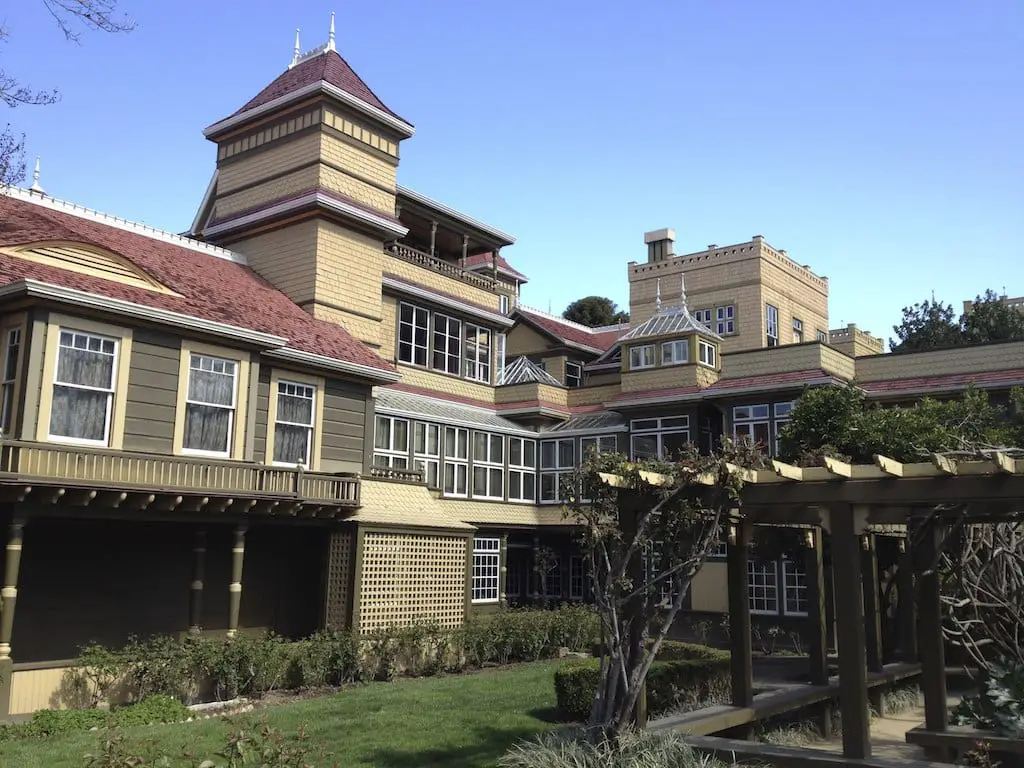 After reading through information available on both the house and its owner, I can say there are many theories and assumptions about its elusive and eccentric owner. Was the house haunted by vengeful spirits who dictated its unusual design through a spirit medium? Did Winchester suffer from guilt over a fortune earned by a weapon that took so many lives? Was the bizarre labyrinth that Winchester Mystery House became a way to elude the angry spirits that she believed followed her? Was she a benevolent person, filled with grief over losing her daughter and husband which caused her obsession with the spirit world? There are so many questions, but all the answers were taken to Sarah Winchester's grave. Only the enigma that is the Winchester Mystery House remains.