Soho Horror Film Festival's Shockdown Saturdays' second feature, 47 Hours to Live, marked the end of week four and the halfway point of the festival's events. Concluding their theme of "Ghost in the Machines" this week, these twisted tales of horror showed us not to trust the machine we so often hold in the palm of our hands.  
In our first short, Hide and Seek, Emma (Julia Robbins) is left in charge of her younger sister Chloe (Eve Foley) after their mom (Mindy Smith) goes out for the evening. The two girls settle in for a night of junk food and scary movies. A power outage cuts their night short and gets Chloe sent to bed, but for Emma, a terrifying evening of cartoon bunny horror is just beginning. An augmented reality game on her phone triggers a search for something hiding in the house. Hide and Seek is a fun short with suspenseful twists and a great ending that I could certainly see directors Thomas Nichol and Andrew Gleason expand upon. It's a pretty original concept for the genre to take an app like Pokémon Go and instill sinister notions, especially when parents are so apt to hand their children their phones while not always knowing what they're doing with them.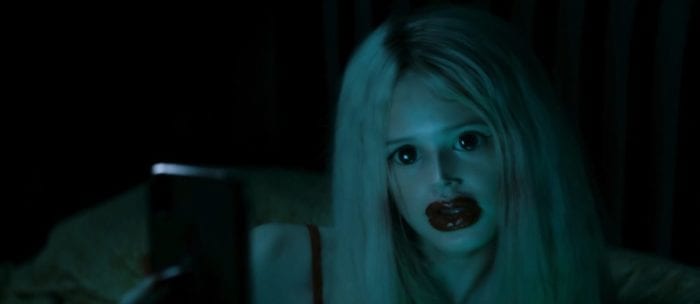 The follow-up short, Selfie, proved just as fun as a social media celebrity, Sarah (Peyton Kennedy), deletes all of her apps during a moment of self-crisis. Looking to restore her actual self over that of her perfect online persona, the audience watches as she deletes every trace of what Sarah has invented to be the perfect version of herself. Her "Selfie" app takes on a life of its own, literally, as the Barbie-esque image Sarah created comes to life to delete her instead. Selfie's lesson here may be to be careful what you put out on social media because it may come back to haunt you, and, for Sarah, it surely does. What John Poliquin has created in Selfie is a creepy short film of Frankenstein level proportion, where the monster and monster maker are one and the same. 
I was rather excited for our second feature today, Patrick Johnson's 47 Hours to Live, a movie that titularly made it known that death was specifically one hour less than two days away. I'm a big fan of Japanese tech horror films like Kairo (Pulse) and One Missed Call, and this film looked like an ambitious American take on modern technology, where your phone can act as an Ouija board. The film is about two outsiders, Cadence (Allie Marie Evans) and Rose (Annie Hamilton), who find inseparability after reciting an incantation they find on the internet that summons a demon to kill you in just under two days. What the audience ends up getting is a bit of a muddy film that seems unsure of what its ultimate goal is. 
I'll admit that right from the start I was getting a very off-putting vibe from 47 Hours to Live, a lot of it generally in the writing. Within the first few minutes, a beautiful blonde woman, Cadence, traveling with a guitar in the passenger seat of her mini cooper nearly gets into two accidents while driving in the rain glued to her social media apps, an act that just upsets me in general. Yes, I am guilty of having done that, but after one near-miss, I become overly cautious, like I've been issued an existential warning. And yes, this is a nit-pick for sure, but adding to it was the way the movie then setup Candace's character while infusing the film's plot.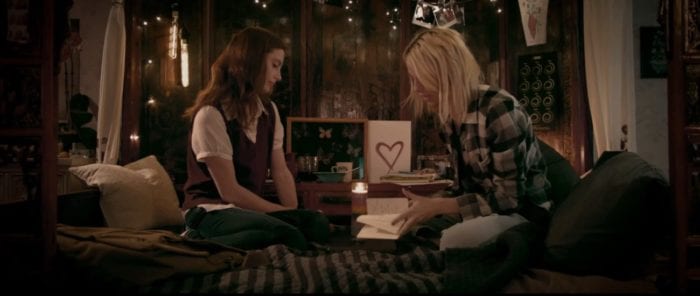 Part of the reason Cadence almost gets into the first accident is because she gets called a "slut" over Instagram for having accused an unknown person of rape. I can understand the film's setup, but I felt it was a little less than gentle with how it presented itself, and it only got worse in this exposition when a school teacher soon insinuates the same thing. This brusque treatment of the character's initial introduction is also blindsided with the presentation of the film's core plot: two teenagers desperately try to avoid their fates by trying to get drivers to lend them their phones. 
There are some cool moments, and that helped 47 hours to Live draw me back in. Bugs started coming out of Rose's phone, solid surfaces became flexible and gooey as Rose fought her way out of a bathroom, and, in one awkwardly-placed dialogue, a great back and forth on the phrase "speak of the devil" really showed some interesting promise. Some of these ideas are well executed, but the issue becomes that they don't flow together entirely well, like an album with a few good songs on it that just doesn't seem to play well as a complete piece of work. As the film continues, it becomes more detached, going around in circles without any real peril and hanging itself up on social themes
47 hours to Live then becomes pretty convoluted, with long stretches in the film in which the characters trade turns of demon haunting. A chunk of the film offers little sense of urgency with relatively flat dialogue that then causes the acting to suffer at times because of it. Generally, it aims to be a J-horror film and, from the initial look of it, I was priming myself for 47 Hours to Live to be more like Countdown or maybe One Missed Call by way of It Follows, but it never becomes that kind of fast, reactionary fun. In fact, as the girls begin investigating the mystery behind the webpage that doomed them, the movie basically falls into the template of The Ring, as they think they can outwit their fates. 
Still, even as the film moves forward it isn't completely bereft of interesting material and, at some point, I was wondering why I so badly wanted to know what was going to happen. The movie gives you the idea that a belief in something makes that thing true. A great example of this is the Slenderman story that Rose tells at the party, concluding that the Slenderman must be real if the two girls who murdered their friend had gone crazy after seeing the photo of Slenderman. I mean, that's one hell of an idea. The film also impresses this idea onto Cadence, who has fallen into a pattern of sleeping around, believing that she is what everyone's calling her. Add in the fact that there is a history of people who have been dying after playing the 47 Hours game, and I began to wonder how the movie was going to combat this ideal and help the characters restore the essence of their former selves. I had this need for that part of the plot to manifest itself into a lesson for the bullies and judgmental teachers out there, but unfortunately, the film never makes a point of this, arguably creating unnecessary drama. 
I think most of us extinguish our ideas of reality when settling into supernatural horror films, expecting the evil overtones to provide us more fun than anything, but the writing and editing in this film make it hard to take seriously when character arcs aren't fully resolved. Maybe 47 Hours to Live will one day claim a spot in the "so bad it's good" category of our hearts like Tommy Wiseau's The Room does for a lot of people or Eric Kripke and Stephen Kay's Boogeyman does for me (I will die on this hill). 47 Hours to Live will hopefully be primed for future groups of friends getting together to have a beer and argue over the thought processes of these high schoolers' motivations. These characters become relatively predictable that you could guess the ending of the film after about twenty minutes of meeting them. Sure, they're bullied, and that's why we're rooting for them, but if I'm considering options for these characters that they don't explore until the third act, what does that say about the film, and then what does it say about its characters?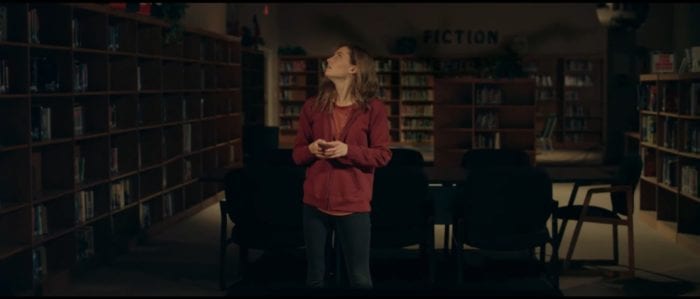 Though Shockdown Saturdays are now officially half over, the fun will continue throughout March. Plus there are many fun interactive events to be a part of like next week's "I Spit on Your Grades" podcast taping or the virtual Murder Mystery Zoom Party happening in two weeks. If you'd like to be a part of the festival, all you have to do is become a member of the festival's Facebook page and click the links in the announcements section when the films are released on Saturday. All showings are based on local time in Soho, England—check with their website and Facebook page for times (often they leave the links open until Sunday at midnight). The festival is free, but Soho Horror Film Festival is operating solely on viewer support donations and entirely without sponsors. So, if you like what you see, I'd strongly encourage you to support them so we can all indulge in future events.    
47 Hours to Live is also currently streaming in the U.S. on Amazon Prime.